Bioactivity-Guided Fractionation of Physical Fatigue-Attenuating Components from Rubus parvifolius L.
Department of Pharmacy, Southwest Hospital, Third Military Medical University, Chongqing 400038, China
*
Author to whom correspondence should be addressed.
Received: 19 July 2013 / Revised: 25 August 2013 / Accepted: 6 September 2013 / Published: 23 September 2013
Abstract
Alleviation of fatigue has been emerging as a serious issue that requires urgent attention. Health professionals and sports physiologists have been looking for active natural products and synthetic compounds to overcome fatigue in humans. This study was designed to define the anti-fatigue property of
Rubus parvifolius
L. (RPL) by characterization of active constituents using a mouse forced swimming test model. Four RPL fractions with different polarities containing anti-fatigue activity were sequentially isolated from the
n
-butanol RPL extract, followed by elution of 50% ethanol-water fraction from D101 macroporous resin chromatography to obtain nigaichigoside F
1
, suavissimoside R
1
and coreanoside F
1
. Active constituents of the 50% ethanol-water eluate of RPL were total saponins. The fractions were examined based on the effect on weight-loaded swimming capacity of mice. Serum levels of urea nitrogen (SUN), triglyceride fatty acids (TG), lactate dehydrogenase (LDH), lactic acid (LA), ammonia and hepatic glycogen (HG) were also examined for potential mechanisms underlying the anti-fatigue effect of RPL extracts. During the experiment, two inflammatory markers, interleukin-6 (IL-6) and tumor necrosis factor (TNF-α) in serum, were measured. We found that total saponins from RPL possess potent capabilities to alleviate mouse fatigue induced by forced swimming and that nigaichigoside F
1
was responsible for the pharmacological effect. The underlying mechanisms include delays of SUN and LA accumulation, a decrease in TG level by increasing fat consumption, increases in HG and LDH so that lactic acid accumulation and ammonia in the muscle were reduced, and suppression of increased immune activation and inflammatory cytokine production. Our findings will be helpful for functional identification of novel anti-fatigue components from natural medicinal herbs.
View Full-Text
►

▼

Figures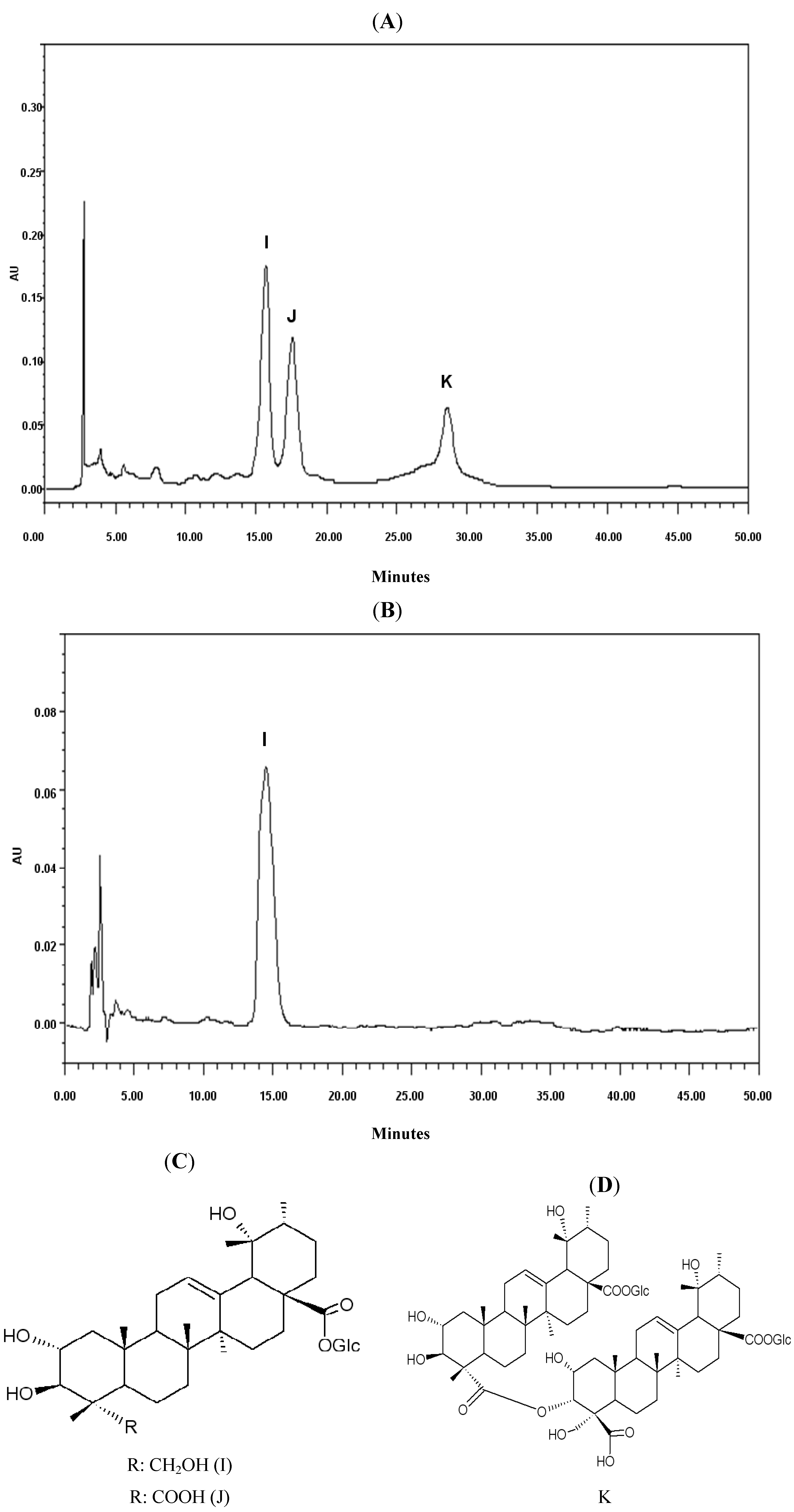 Figure 1
Share & Cite This Article
MDPI and ACS Style
Chen, J.; Wang, X.; Cai, Y.; Tang, M.; Dai, Q.; Hu, X.; Huang, M.; Sun, F.; Liu, Y.; Xia, P. Bioactivity-Guided Fractionation of Physical Fatigue-Attenuating Components from Rubus parvifolius L.. Molecules 2013, 18, 11624-11638.
Related Articles
Comments
[Return to top]