Copper Transporter 2 Content Is Lower in Liver and Heart of Copper-Deficient Rats
1
Nutrition Research Division, Health Products and Food Branch, Health Canada, Sir Frederick G. Banting Research Centre, 251 Sir Frederick Banting Driveway, Ottawa, Ontario, K1A 0K9, Canada
2
Department of Nutritional Sciences, Faculty of Medicine, University of Toronto, FitzGerald Building, 150 College Street, Toronto, Ontario, M5S 3E2, Canada
*
Author to whom correspondence should be addressed.
Received: 20 October 2010 / Revised: 16 November 2010 / Accepted: 17 November 2010 / Published: 19 November 2010
Abstract
Copper (Cu) transporter 2 (Ctr2) is a transmembrane protein that transports Cu across cell membranes and increases cytosolic Cu levels. Experiments using cell lines have suggested that Ctr2 expression is regulated by Cu status. The importance of changes in Ctr2 expression is underscored by recent studies demonstrating that lower Ctr2 content in cells increases the cellular uptake of platinum-containing cancer drugs and toxicity to the drugs. In this study, we examined whether Ctr2 expression is altered by a nutritional Cu deficiency
in vivo
. Ctr2 mRNA and protein in liver and heart from rats fed a normal (Cu-N), moderately deficient (Cu-M) or deficient (Cu-D) Cu diet was measured. Rats fed the Cu-deficient diets showed a dose-dependent decrease in liver Ctr2 protein compared to Cu-N rats. Ctr2 protein was 42% and 85% lower in Cu-M and Cu-D rats, respectively. Liver Ctr2 mRNA was 50% lower in Cu-D rats and unaffected in Cu-M rats. In heart, Ctr2 protein was only lower in Cu-D rats (46% lower). These data show that Cu deficiency decreases Ctr2 content
in vivo
.
View Full-Text
►

▼

Figures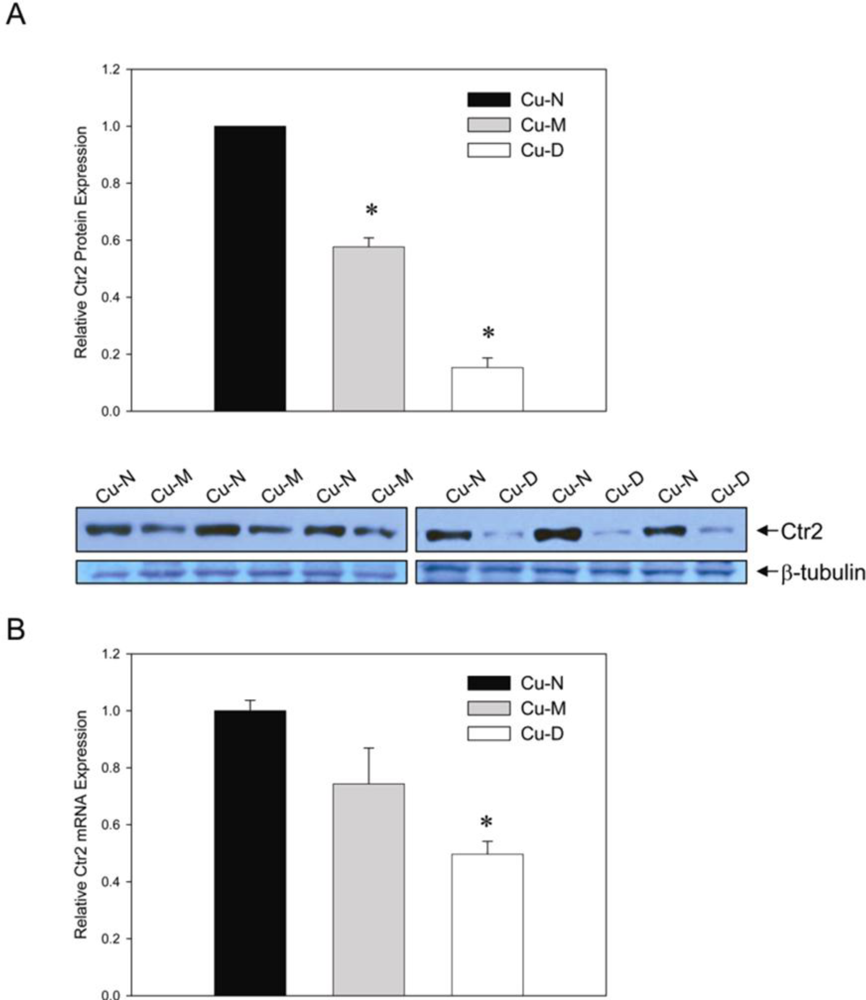 Share & Cite This Article
MDPI and ACS Style
Bertinato, J.; Duval, S.; L'Abbé, M.R. Copper Transporter 2 Content Is Lower in Liver and Heart of Copper-Deficient Rats. Int. J. Mol. Sci. 2010, 11, 4741-4749.
Related Articles
Comments
[Return to top]