Molecular Mechanisms of Pharmaceutical Drug Binding into Calsequestrin
1
Department of Chemistry, Washington State University, Pullman, WA 99164-4630, USA
2
School of Molecular Biosciences, Washington State University, Pullman, WA 99164-4660, USA
3
Herz- und Diabeteszentrum NRW, Klinik der Ruhr Universitaet Bochum, Erich and Hanna Klessmann-Institut für Kardiovaskuläre Forschung und Entwicklung, 32545 Bad Oeynhausen, Germany
*
Author to whom correspondence should be addressed.
Received: 3 September 2012 / Revised: 29 October 2012 / Accepted: 30 October 2012 / Published: 6 November 2012
Abstract
Calsequestrin (CASQ) is a major Ca
2+
-storage/buffer protein present in the sarcoplasmic reticulum of both skeletal (CASQ1) and cardiac (CASQ2) muscles. CASQ has significant affinity for a number of pharmaceutical drugs with known muscular toxicities. Our approach, with
in silico
molecular docking, single crystal X-ray diffraction, and isothermal titration calorimetry (ITC), identified three distinct binding pockets on the surface of CASQ2, which overlap with 2-methyl-2,4-pentanediol (MPD) binding sites observed in the crystal structure. Those three receptor sites based on canine CASQ1 crystal structure gave a high correlation (
R
2
= 0.80) to our ITC data. Daunomycin, doxorubicin, thioridazine, and trifluoperazine showed strong affinity to the S1 site, which is a central cavity formed between three domains of CASQ2. Some of the moderate-affinity drugs and some high-affinity drugs like amlodipine and verapamil displayed their binding into S2 sites, which are the thioredoxin-like fold present in each CASQ domain. Docking predictions combined with dissociation constants imply that presence of large aromatic cores and less flexible functional groups determines the strength of binding affinity to CASQ. In addition, the predicted binding pockets for both caffeine and epigallocatechin overlapped with the S1 and S2 sites, suggesting competitive inhibition by these natural compounds as a plausible explanation for their antagonistic effects on cardiotoxic side effects.
View Full-Text
►

▼

Figures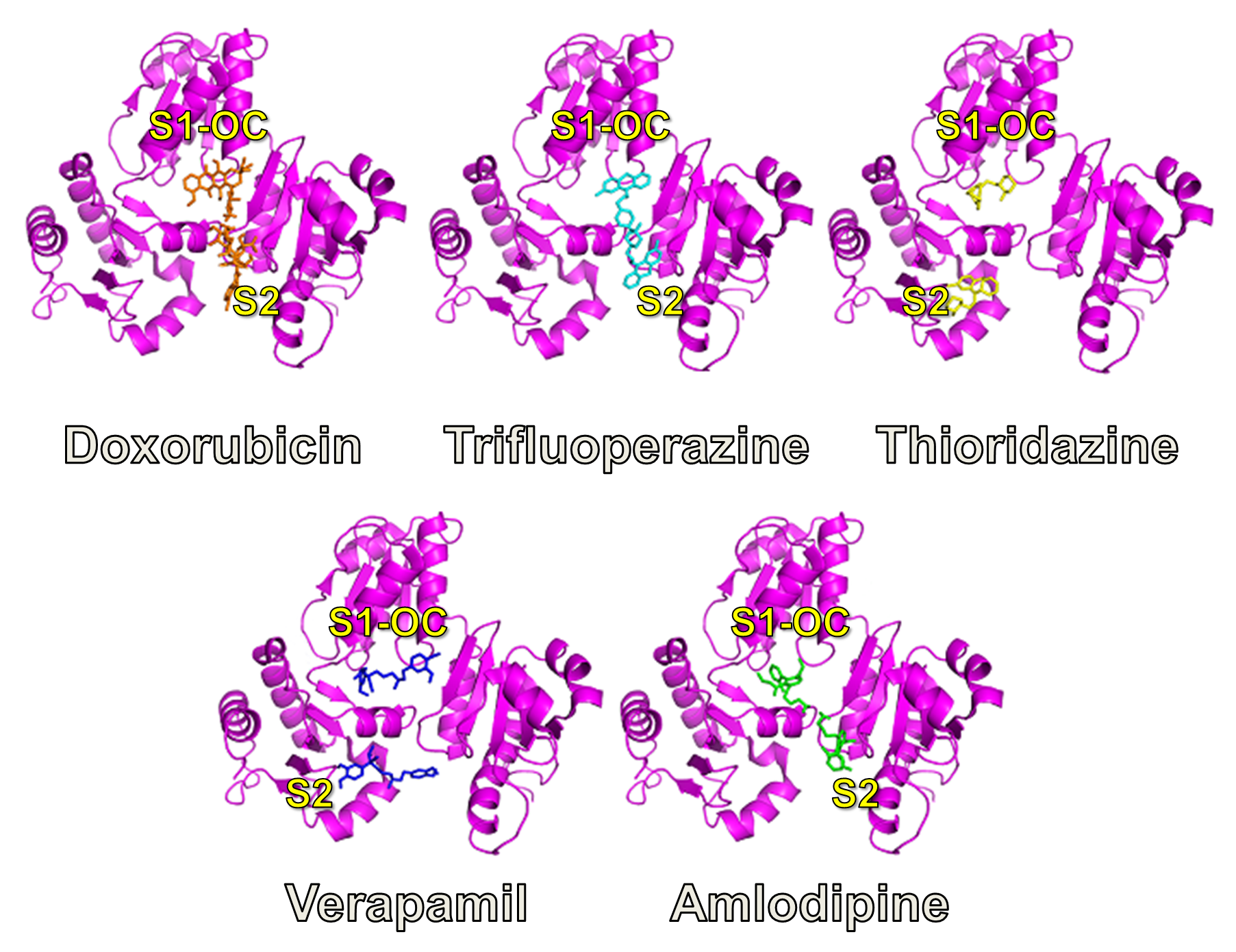 Share & Cite This Article
MDPI and ACS Style
Subra, A.K.; Nissen, M.S.; Lewis, K.M.; Muralidharan, A.K.; Sanchez, E.J.; Milting, H.; Kang, C. Molecular Mechanisms of Pharmaceutical Drug Binding into Calsequestrin. Int. J. Mol. Sci. 2012, 13, 14326-14343.
Related Articles
Comments
[Return to top]