Experimental and Therapeutic Opportunities for Stem Cells in Multiple Sclerosis
1
Anne McLaren Laboratory for Regenerative Medicine, Stem Cell Institute, University of Cambridge, Forvie Site, Robinson Way, Cambridge CB2 0SZ, UK
2
Cambridge Centre for Brain Repair, Department of Clinical Neurosciences, University of Cambridge, Forvie Site, Robinson Way, Cambridge CB2 0PY, UK
3
Euan MacDonald Centre, University of Edinburgh, Chancellor's Building, 49 Little France Crescent, Edinburgh EH16 4SB, UK
*
Author to whom correspondence should be addressed.
Received: 5 September 2012 / Revised: 22 October 2012 / Accepted: 5 November 2012 / Published: 8 November 2012
Abstract
Multiple Sclerosis (MS) is an inflammatory demyelinating neurodegenerative disorder of the brain and spinal cord that causes significant disability in young adults. Although the precise aetiopathogenesis of MS remains unresolved, its pathological hallmarks include inflammation, demyelination, axonal injury (acute and chronic), astrogliosis and variable remyelination. Despite major recent advances in therapeutics for the early stage of the disease there are currently no disease modifying treatments for the progressive stage of disease, whose pathological substrate is axonal degeneration. This represents the great and unmet clinical need in MS. Against this background, human stem cells offer promise both to improve understanding of disease mechanism(s) through
in-vitro
modeling as well as potentially direct use to supplement and promote remyelination, an endogenous reparative process where entire myelin sheaths are restored to demyelinated axons. Conceptually, stem cells can act directly to myelinate axons or indirectly through different mechanisms to promote endogenous repair; importantly these two mechanisms of action are not mutually exclusive. We propose that discovery of novel methods to invoke or enhance remyelination in MS may be the most effective therapeutic strategy to limit axonal damage and instigate restoration of structure and function in this debilitating condition. Human stem cell derived neurons and glia, including patient specific cells derived through reprogramming, provide an unprecedented experimental system to model MS "in a dish" as well as enable high-throughput drug discovery. Finally, we speculate upon the potential role for stem cell based therapies in MS.
View Full-Text
►

▼

Figures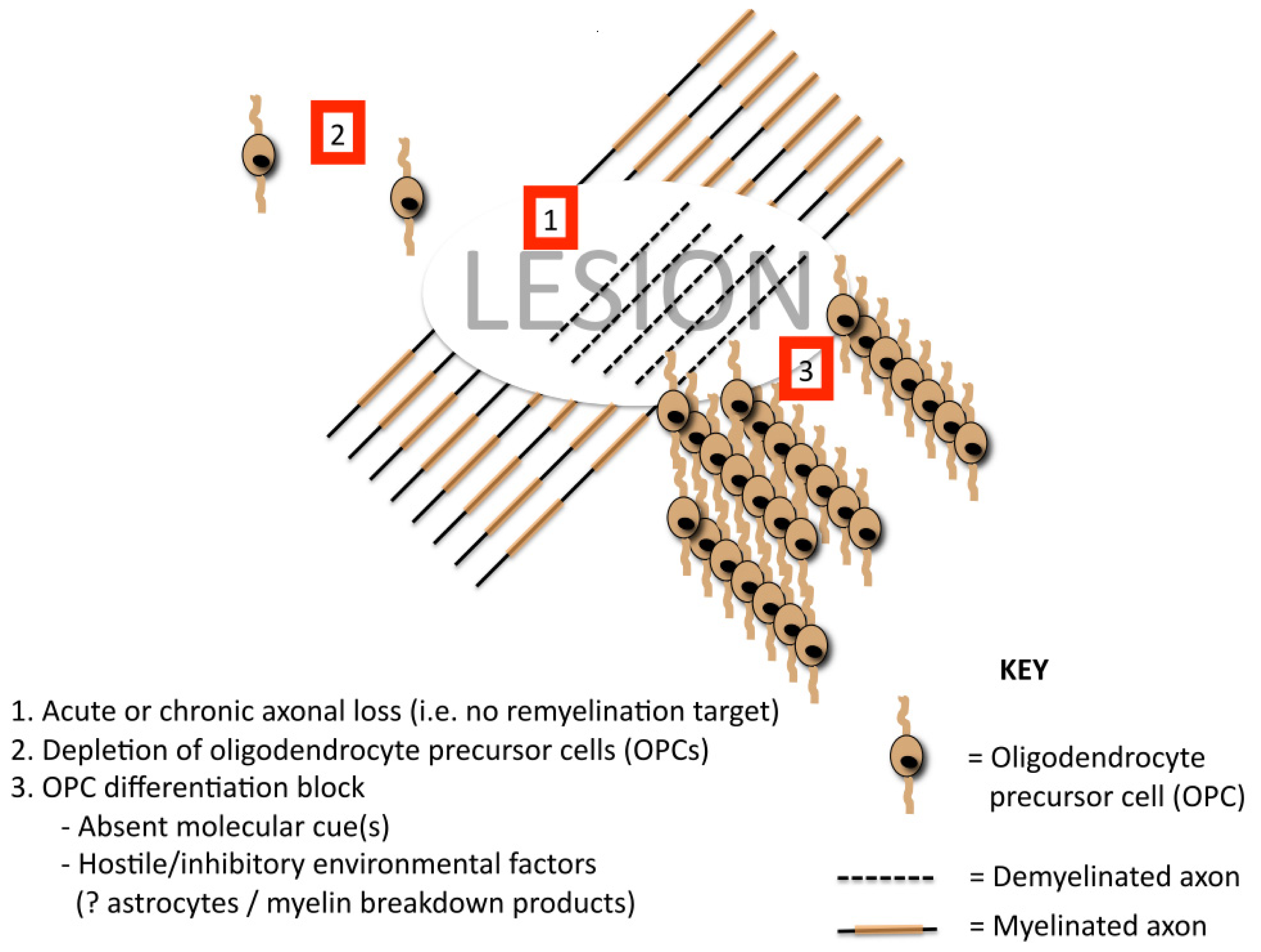 Share & Cite This Article
MDPI and ACS Style
Patani, R.; Chandran, S. Experimental and Therapeutic Opportunities for Stem Cells in Multiple Sclerosis. Int. J. Mol. Sci. 2012, 13, 14470-14491.
Related Articles
Comments
[Return to top]