Role of Btg2 in the Progression of a PDGF-Induced Oligodendroglioma Model
1
San Martino-IST, Largo Rosanna Benzi 10, 16132 Genoa, Italy
2
Department of Experimental Medicine (DiMES), University of Genoa, 16132 Genoa, Italy
*
Author to whom correspondence should be addressed.
Received: 26 September 2012 / Revised: 22 October 2012 / Accepted: 5 November 2012 / Published: 12 November 2012
Abstract
Tumor progression is a key aspect in oncology. Not even the overexpression of a powerful oncogenic stimulus such as platelet derived growth factor-B (PDGF-B) is sufficient
per se
to confer full malignancy to cells. In previous studies we showed that neural progenitors overexpressing PDGF-B need to undergo progression to acquire the capability to give rise to secondary tumor following transplant. By comparing the expression profile of PDGF-expressing cells before and after progression, we found that progressed tumors consistently downregulate the expression of the antiproliferative gene Btg2. We therefore tested whether the downregulation of Btg2 is sufficient and necessary for glioma progression with loss and gain of function experiments. Our results show that downregulation of Btg2 is not sufficient but is necessary for tumor progression since the re-introduction of Btg2 in fully progressed tumors dramatically impairs their gliomagenic potential. These results suggest an important role of Btg2 in glioma progression. Accordingly with this view, the analysis of public datasets of human gliomas showed that reduced level of Btg2 expression correlates with a significantly worse prognosis.
View Full-Text
►

▼

Figures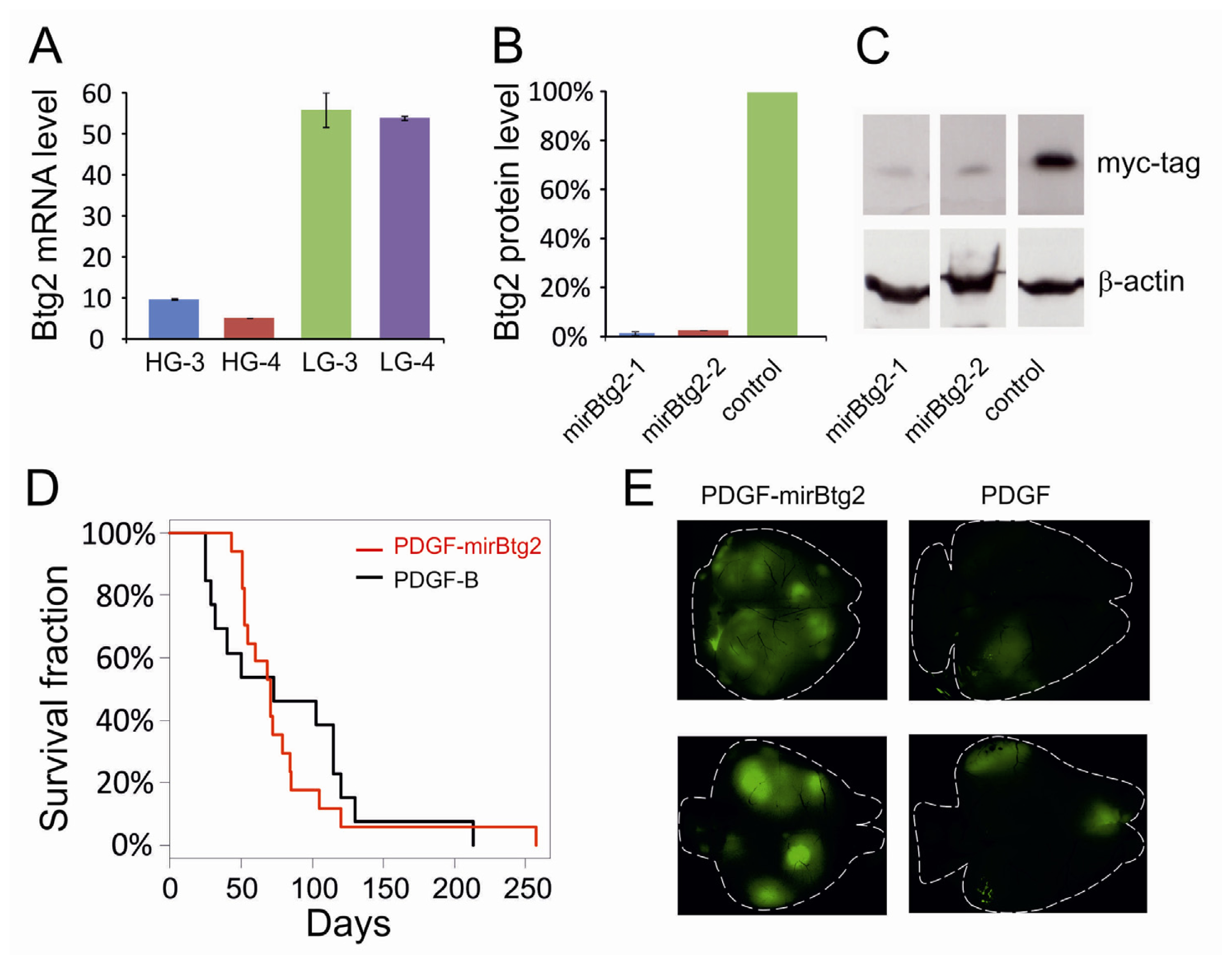 Share & Cite This Article
MDPI and ACS Style
Appolloni, I.; Curreli, S.; Caviglia, S.; Barilari, M.; Gambini, E.; Pagano, A.; Malatesta, P. Role of Btg2 in the Progression of a PDGF-Induced Oligodendroglioma Model. Int. J. Mol. Sci. 2012, 13, 14667-14678.
Related Articles
Comments
[Return to top]