Differential Regulation of CD4+ T Cell Adhesion to Cerebral Microvascular Endothelium by the β-Chemokines CCL2 and CCL3
1
Department of Pathology and Laboratory Medicine, The University of British Columbia, Vancouver, BC V5Z-1M9, Canada
2
Division of Neuropathology, Department of Pathology and Laboratory Medicine, The University of British Columbia, Vancouver General Hospital, 855 West 12th Avenue, Vancouver, BC V5Z 1M9, Canada
*
Author to whom correspondence should be addressed.
Received: 5 September 2012 / Revised: 15 November 2012 / Accepted: 26 November 2012 / Published: 30 November 2012
Abstract
In Multiple sclerosis (MS), circulating lymphocytes cross the blood–brain barrier (BBB) and accumulate at sites of antigenic challenge. This process depends on specific interactions between lymphocytes and cerebral microvascular endothelium that involve endothelial activation by cytokines and the presence of chemokines. Chemokines play a key role in the orchestration of immune responses, acting both as chemoattractants and activators of leukocyte subsets. In the present study, we investigated the effects of the β-chemokines, CCL2 and CCL3, on the adhesion of CD4+ T cell subsets to human brain microvessel endothelial cells (HBMEC). Chemokines added to the lower compartment of a two-chamber chemotaxis system under confluent resting or cytokine-activated HBMEC, diffused through the culture substrate and bound to the basal surface of HBMEC. The low rate of adhesion of naïve, resting and memory CD4+ T cells to resting HBMEC was significantly upregulated following treatment of HBMEC with TNF-α and IFN-g. Recently activated CD4+ T cells readily adhered to resting monolayers. Concentration gradients of CCL2 upregulated the adhesion of activated CD4+ T cells to cytokine treated but not resting HBMEC. The presence of CCL3 in the lower chamber increased the adhesion of memory T cells to both unstimulated and cytokine-treated HBMEC. These findings emphasize the importance of brain endothelial cell activation and the role of CCL2 and CCL3 in regulating the adhesion of CD4+ T cell subsets to BBB endothelium, thus contributing to the specificity of immune responses in MS.
View Full-Text
►

▼

Figures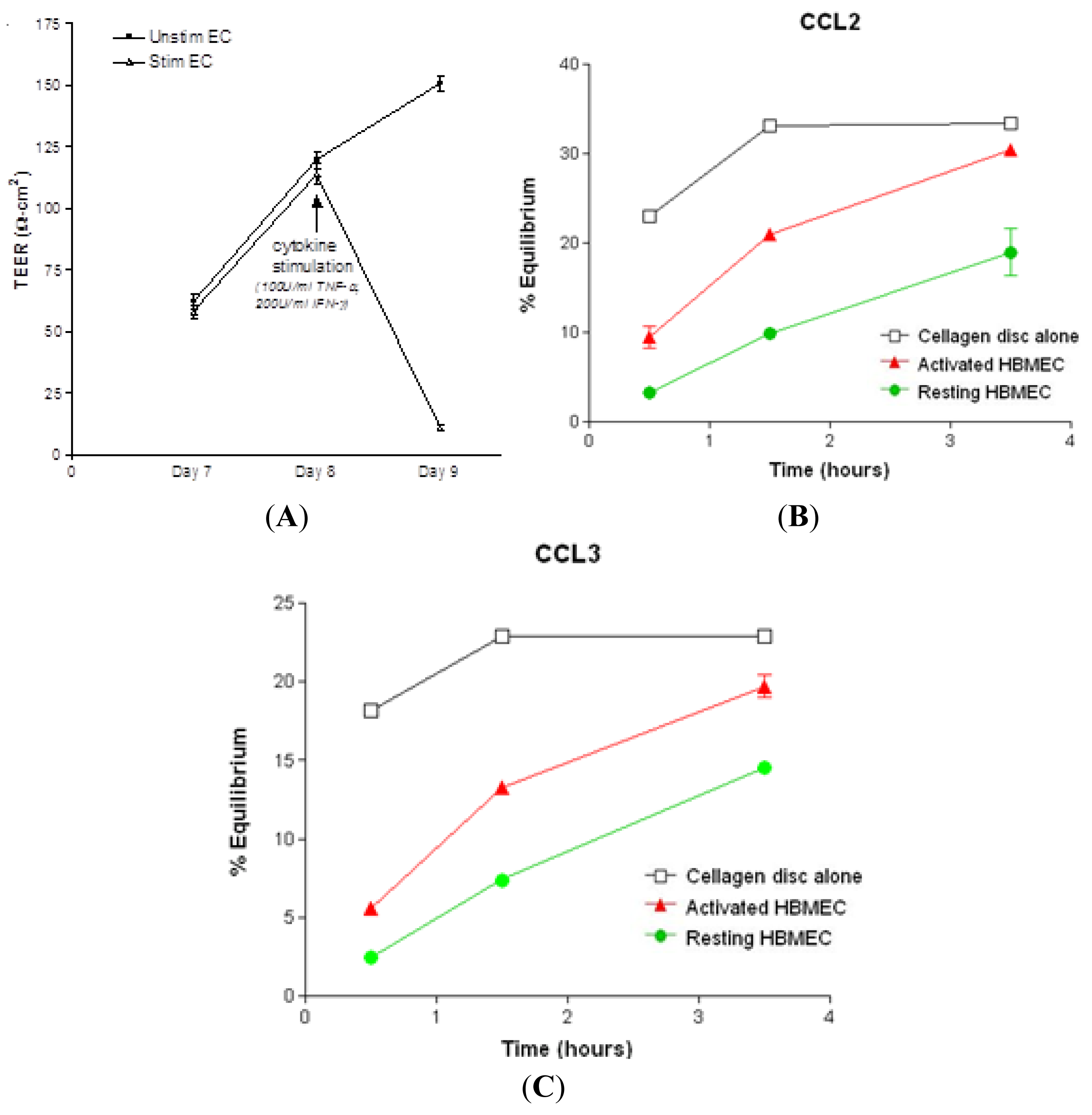 Share & Cite This Article
MDPI and ACS Style
Liu, K.K.; Dorovini-Zis, K. Differential Regulation of CD4+ T Cell Adhesion to Cerebral Microvascular Endothelium by the β-Chemokines CCL2 and CCL3. Int. J. Mol. Sci. 2012, 13, 16119-16140.
Related Articles
Comments
[Return to top]