Helicobacter pylori Disrupts Host Cell Membranes, Initiating a Repair Response and Cell Proliferation
1
Institute of Molecular and Cellular Biology and Department of Life Science, National Taiwan University, Taipei 106, Taiwan
2
Institute of Biomedical Informatics, Center for Systems and Synthetic Biology, National Yang-Ming University, Taipei 112, Taiwan
3
Biological Science, Graduate School of Science, Osaka University, Osaka 560-0043, Japan
4
Department of Microbiology, National Taiwan University College of Medicine, Taipei 100, Taiwan
5
Department of Cellular Biology and Anatomy and Institute of Molecular Medicine and Genetics, Georgia Health Science University, 1120 15th St., Augusta, GA 30912, USA
6
Angiogenesis Research Center, National Taiwan University, Taipei 106, Taiwan
7
Department of Surgery, National Taiwan University Hospital, Taipei 100, Taiwan
*
Authors to whom correspondence should be addressed.
Received: 5 June 2012 / Revised: 3 August 2012 / Accepted: 7 August 2012 / Published: 15 August 2012
Abstract
Helicobacter pylori
(
H. pylori
), the human stomach pathogen, lives on the inner surface of the stomach and causes chronic gastritis, peptic ulcer, and gastric cancer. Plasma membrane repair response is a matter of life and death for human cells against physical and biological damage. We here test the hypothesis that
H. pylori
also causes plasma membrane disruption injury, and that not only a membrane repair response but also a cell proliferation response are thereby activated. Vacuolating cytotoxin A (VacA) and cytotoxin-associated gene A (CagA) have been considered to be major
H. pylori
virulence factors. Gastric cancer cells were infected with
H. pylori
wild type (vacA+/cagA+), single mutant (ΔvacA or ΔcagA) or double mutant (ΔvacA/ΔcagA) strains and plasma membrane disruption events and consequent activation of membrane repair components monitored.
H. pylori
disrupts the host cell plasma membrane, allowing localized dye and extracellular Ca
2+
influx. Ca
2+
-triggered members of the annexin family, A1 and A4, translocate, in response to injury, to the plasma membrane, and cell surface expression of an exocytotic maker of repair, LAMP-2, increases. Additional forms of plasma membrane disruption, unrelated to
H. pylori
exposure, also promote host cell proliferation. We propose that
H. pylori
activation of a plasma membrane repair is pro-proliferative. This study might therefore provide new insight into potential mechanisms of
H. pylori
-induced gastric carcinogenesis.
View Full-Text
►

▼

Figures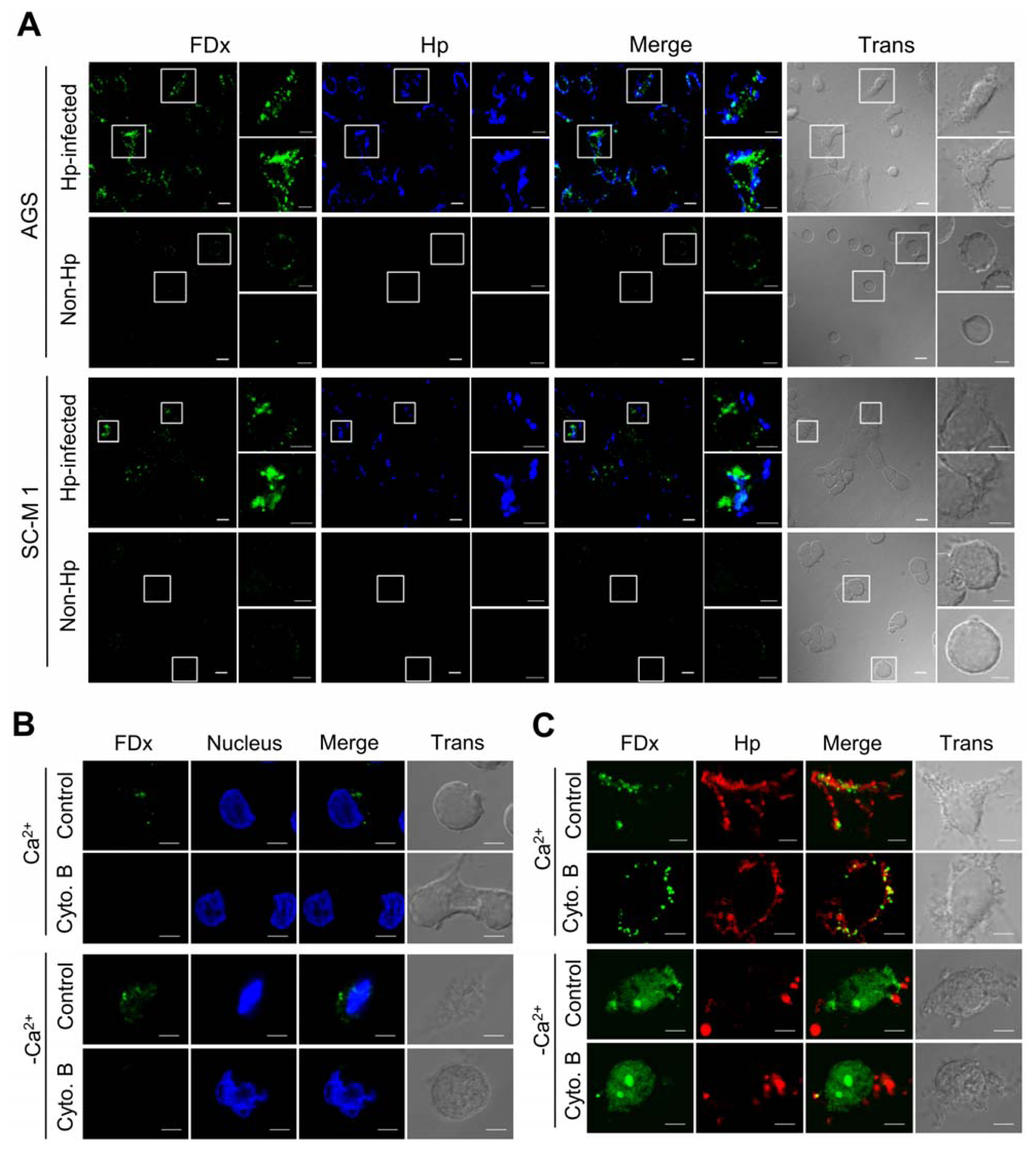 Share & Cite This Article
MDPI and ACS Style
Lin, L.-L.; Huang, H.-C.; Ogihara, S.; Wang, J.-T.; Wu, M.-C.; McNeil, P.L.; Chen, C.-N.; Juan, H.-F. Helicobacter pylori Disrupts Host Cell Membranes, Initiating a Repair Response and Cell Proliferation. Int. J. Mol. Sci. 2012, 13, 10176-10192.
Related Articles
Comments
[Return to top]