Comparative Proteomic Analysis of Puccinellia tenuiflora Leaves under Na2CO3 Stress
1
College of Life and Environmental Sciences, Shanghai Normal University, Shanghai 200234, China
2
Sanquan Medical College, Xinxiang Medical University, Xinxiang 453003, He'nan, China
3
Department of Biology, Genetics Institute, Plant Molecular and Cellular Biology Program, Gainesville, FL 32610, USA
4
Institute of Botany, Chinese Academy of Sciences, Beijing 100093, China
5
Binzhou Polytechnic College, Binzhou 256603, Shandong, China
*
Author to whom correspondence should be addressed.
Received: 17 October 2012 / Revised: 31 December 2012 / Accepted: 6 January 2013 / Published: 15 January 2013
Abstract
Soil salt-alkalinization is a widespread environmental stress that limits crop growth and agricultural productivity. The influence of soil alkalization caused by Na
2
CO
3
on plants is more severe than that of soil salinization. Plants have evolved some unique mechanisms to cope with alkali stress; however, the plant alkaline-responsive signaling and molecular pathways are still unknown. In the present study, Na
2
CO
3
responsive
characteristics in
leaves from
50-day-old
seedlings of halophyte
Puccinellia tenuiflora
were investigated using physiological and proteomic approaches. Comparative proteomics revealed 43 differentially expressed proteins in
P. tenuiflora
leaves in response to Na
2
CO
3
treatment for seven days. These proteins were mainly involved in photosynthesis, stress and defense, carbohydrate/energy metabolism, protein metabolism, signaling, membrane and transport. By integrating the changes of photosynthesis, ion contents, and stress-related enzyme activities, some unique Na
2
CO
3
responsive
mechanisms have been discovered in
P. tenuiflora
. This study provides new molecular information toward improving the alkali tolerance of cereals.
View Full-Text
►

▼

Figures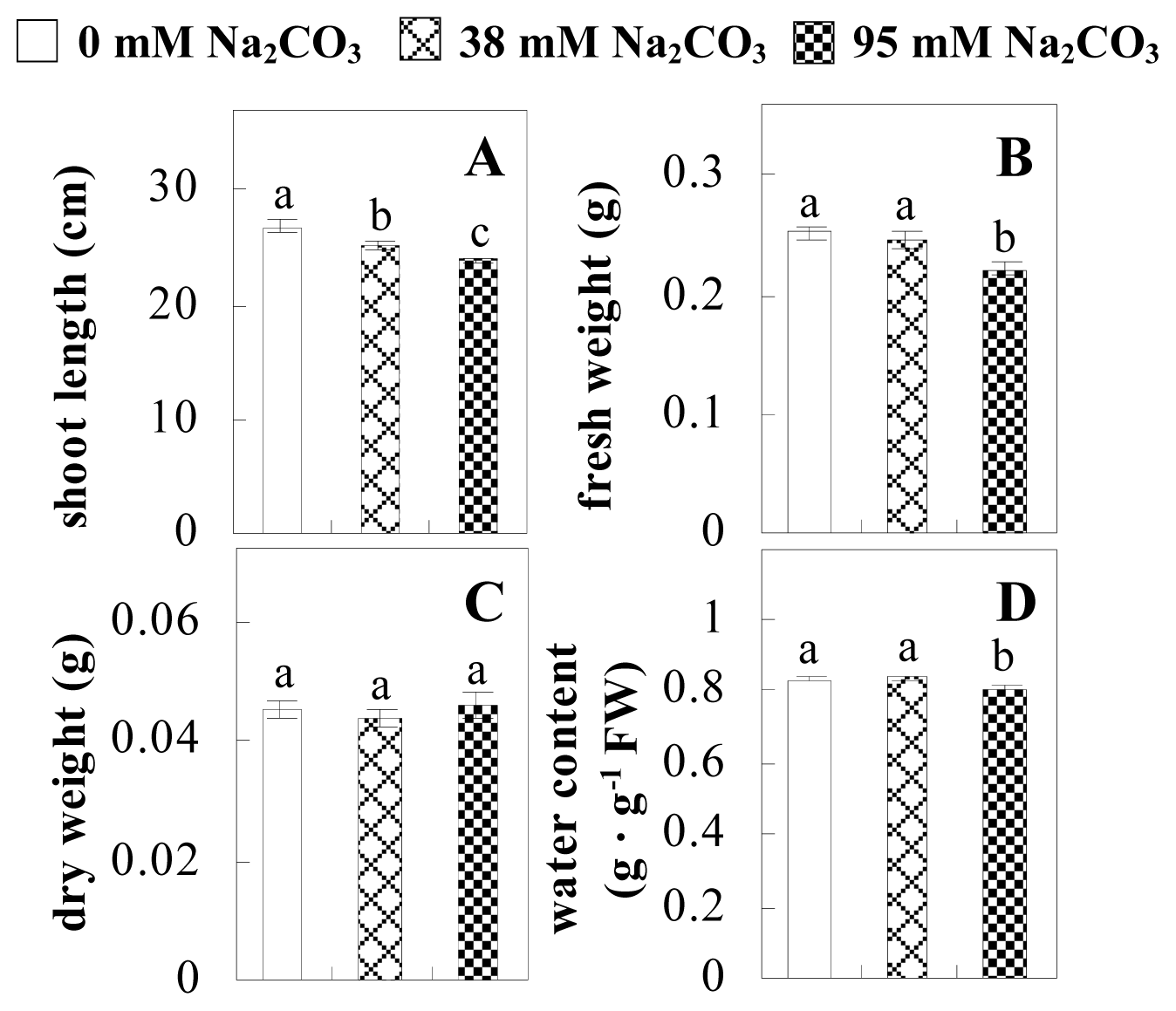 Share & Cite This Article
MDPI and ACS Style
Yu, J.; Chen, S.; Wang, T.; Sun, G.; Dai, S. Comparative Proteomic Analysis of Puccinellia tenuiflora Leaves under Na2CO3 Stress. Int. J. Mol. Sci. 2013, 14, 1740-1762.
Related Articles
Comments
[Return to top]