Stable Isolation of Phycocyanin from Spirulina platensis Associated with High-Pressure Extraction Process
1
Department of Medical Biomaterials Engineering, Kangwon National University, Chuncheon 200-701, Korea
2
DAEBONG LS. Ltd., 122-9, Gojan-dong, Namdong-gu, Incheon 405-820, Korea
3
Department of Biotechnology, Korea National University of Transportation, Chungcheongbuk-do 368-701, Korea
4
Department of Teaics, Seowon University, Cheongju, Chungbuk 361-742, Korea
*
Author to whom correspondence should be addressed.
Received: 18 October 2012 / Revised: 17 December 2012 / Accepted: 7 January 2013 / Published: 16 January 2013
Abstract
A method for stably purifying a functional dye, phycocyanin from
Spirulina platensis
was developed by a hexane extraction process combined with high pressure. This was necessary because this dye is known to be very unstable during normal extraction processes. The purification yield of this method was estimated as 10.2%, whose value is 3%–5% higher than is the case from another conventional separation method using phosphate buffer. The isolated phycocyanin from this process also showed the highest purity of 0.909 based on absorbance of 2.104 at 280 nm and 1.912 at 620 nm. Two subunits of phycocyanin namely α-phycocyanin (18.4 kDa) and β-phycocyanin (21.3 kDa) were found to remain from the original mixtures after being extracted, based on SDS-PAGE analysis, clearly demonstrating that this process can stably extract phycocyanin and is not affected by extraction solvent, temperature,
etc
. The stability of the extracted phycocyanin was also confirmed by comparing its DPPH (α,α-diphenyl-β-picrylhydrazyl)
scavenging activity, showing 83% removal of oxygen free radicals. This activity was about 15% higher than that of commercially available standard phycocyanin, which implies that the combined extraction method can yield relatively intact chromoprotein through absence of degradation. The results were achieved because the low temperature and high pressure extraction effectively disrupted the cell membrane of
Spirulina platensis
and degraded less the polypeptide subunits of phycocyanin (which is a temperature/pH-sensitive chromoprotein) as well as increasing the extraction yield.
View Full-Text
►

▼

Figures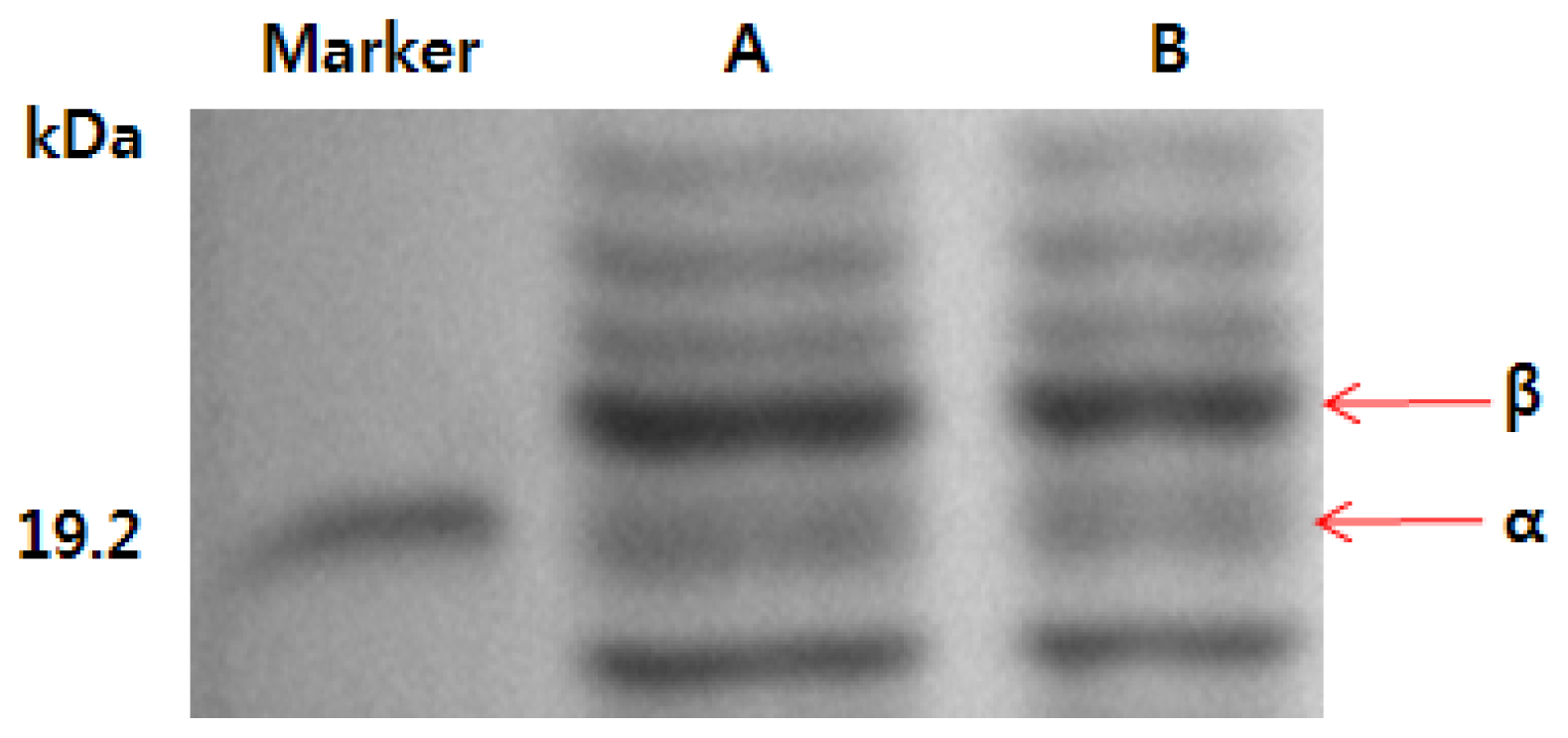 Share & Cite This Article
MDPI and ACS Style
Seo, Y.C.; Choi, W.S.; Park, J.H.; Park, J.O.; Jung, K.-H.; Lee, H.Y. Stable Isolation of Phycocyanin from Spirulina platensis Associated with High-Pressure Extraction Process. Int. J. Mol. Sci. 2013, 14, 1778-1787.
Related Articles
Comments
[Return to top]