Modeling of Anopheles minimus Mosquito NADPH-Cytochrome P450 Oxidoreductase (CYPOR) and Mutagenesis Analysis
1
Department of Biochemistry, Faculty of Science, Burapha University, Chonburi 20131, Thailand
2
Department of Biochemistry, Faculty of Science, Mahidol University, Bangkok 10400, Thailand
3
Faculty of Animal Sciences and Agricultural Technology, Silpakorn University, Petchaburi IT Campus, Petchaburi 76120, Thailand
*
Author to whom correspondence should be addressed.
Received: 25 September 2012 / Revised: 19 November 2012 / Accepted: 5 January 2013 / Published: 16 January 2013
(This article belongs to the Special Issue
Flavins
)
Abstract
Malaria is one of the most dangerous mosquito-borne diseases in many tropical countries, including Thailand. Studies in a deltamethrin resistant strain of
Anopheles minimus
mosquito, suggest cytochrome P450 enzymes contribute to the detoxification of pyrethroid insecticides. Purified
A. minimus
CYPOR enzyme (AnCYPOR), which is the redox partner of cytochrome P450s, loses flavin-adenosine di-nucleotide (FAD) and FLAVIN mono-nucleotide (FMN) cofactors that affect its enzyme activity. Replacement of leucine residues at positions 86 and 219 with phenylalanines in FMN binding domain increases FMN binding, enzyme stability, and cytochrome
c
reduction activity. Membrane-Bound L86F/L219F-AnCYPOR increases
A. minimus
P450-mediated pyrethroid metabolism
in vitro.
In this study, we constructed a comparative model structure of AnCYPOR using a rat CYPOR structure as a template. Overall model structure is similar to rat CYPOR, with some prominent differences. Based on primary sequence and structural analysis of rat and
A. minimus
CYPOR, C427R, W678A, and W678H mutations were generated together with L86F/L219F resulting in three soluble Δ55 triple mutants. The C427R triple AnCYPOR mutant retained a higher amount of FAD binding and increased cytochrome
c
reduction activity compared to wild-type and L86F/L219F-Δ55AnCYPOR double mutant. However W678A and W678H mutations did not increase FAD and NAD(P)H bindings. The L86F/L219F double and C427R triple membrane-bound AnCYPOR mutants supported benzyloxyresorufin
O
-deakylation (BROD) mediated by mosquito CYP6AA3 with a two- to three-fold increase in efficiency over wild-type AnCYPOR. The use of rat CYPOR in place of AnCYPOR most efficiently supported CYP6AA3-mediated BROD compared to all AnCYPORs.
View Full-Text
►

▼

Figures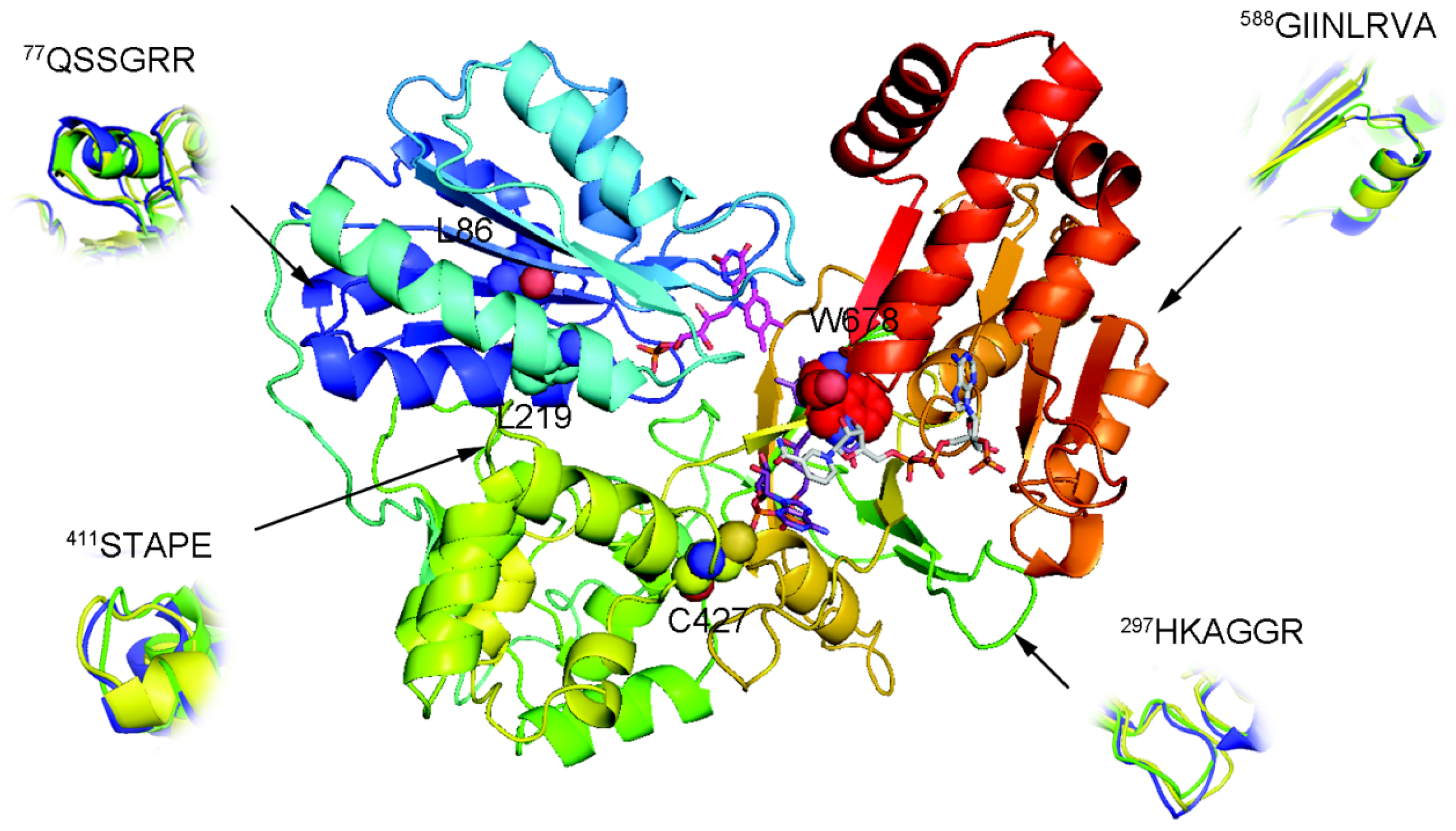 Share & Cite This Article
MDPI and ACS Style
Sarapusit, S.; Lertkiatmongkol, P.; Duangkaew, P.; Rongnoparut, P. Modeling of Anopheles minimus Mosquito NADPH-Cytochrome P450 Oxidoreductase (CYPOR) and Mutagenesis Analysis. Int. J. Mol. Sci. 2013, 14, 1788-1801.
Related Articles
Comments
[Return to top]