Inhibition of Melanogenesis by Gallic Acid: Possible Involvement of the PI3K/Akt, MEK/ERK and Wnt/β-Catenin Signaling Pathways in B16F10 Cells
1
Antai Medical Care Cooperation Antai Tian-Sheng Memorial Hospital, Pingtung 92842, Taiwan
2
Graduate Institute of Veterinary Medicine, National Pingtung University of Science and Technology, Pingtung 91202, Taiwan
3
Kaohsiung District Agricultural Improvement Station, Pingtung 900, Taiwan
4
Graduate Institute of Food Science, National Pingtung University of Science and Technology, Pingtung 91202, Taiwan
5
Department of Beauty Science, Meiho University, Pingtung 91202, Taiwan
6
Graduate Institute of Applied Health and Biotechnology, Meiho University, Pingtung 91202, Taiwan
†
These authors contributed equally to this work.
*
Author to whom correspondence should be addressed.
Received: 10 May 2013 / Revised: 19 September 2013 / Accepted: 25 September 2013 / Published: 14 October 2013
Abstract
Gallic acid is one of the major flavonoids found in plants. It acts as an antioxidant, and seems to have anti-inflammatory, anti-viral, and anti-cancer properties. In this study, we investigated the effects of gallic acid on melanogenesis, including the activation of melanogenesis signaling pathways. Gallic acid significantly inhibited both melanin synthesis and tyrosinase activity in a dose- and time-dependent manner, and decreased the expression of melanogenesis-related proteins, such as microphthalmia-associated transcription factor (MITF), tyrosinase, tyrosinase-related protein-1 (TRP1), and dopachrome tautomerase (Dct). In addition, gallic acid also acts by phosphorylating and activating melanogenesis inhibitory proteins such as Akt and mitogen-activated protein kinase (MEK)/extracellular signal-regulated kinase (ERK). Using inhibitors against PI3K/Akt (LY294002) or MEK/ERK-specific (PD98059), the hypopigmentation effect was suppressed, and the gallic acid-initiated activation of MEK/ERK and PI3K/Akt was also revoked. Gallic acid also increased GSK3β and p-β-catenin expression but down-regulated p-GSK3β. Moreover, GSK3β-specific inhibitor (SB216763) restored gallic acid-induced melanin reduction. These results suggest that activation of the MEK/ERK, PI3K/Akt, and inhibition of Wnt/β-catenin signaling pathways is involved in the melanogenesis signaling cascade, and that activation by gallic acid reduces melanin synthesis via down-regulation of MITF and its downstream signaling pathway. In conclusion, gallic acid may be a potentially agent for the treatment of certain skin conditions.
View Full-Text
►

▼

Figures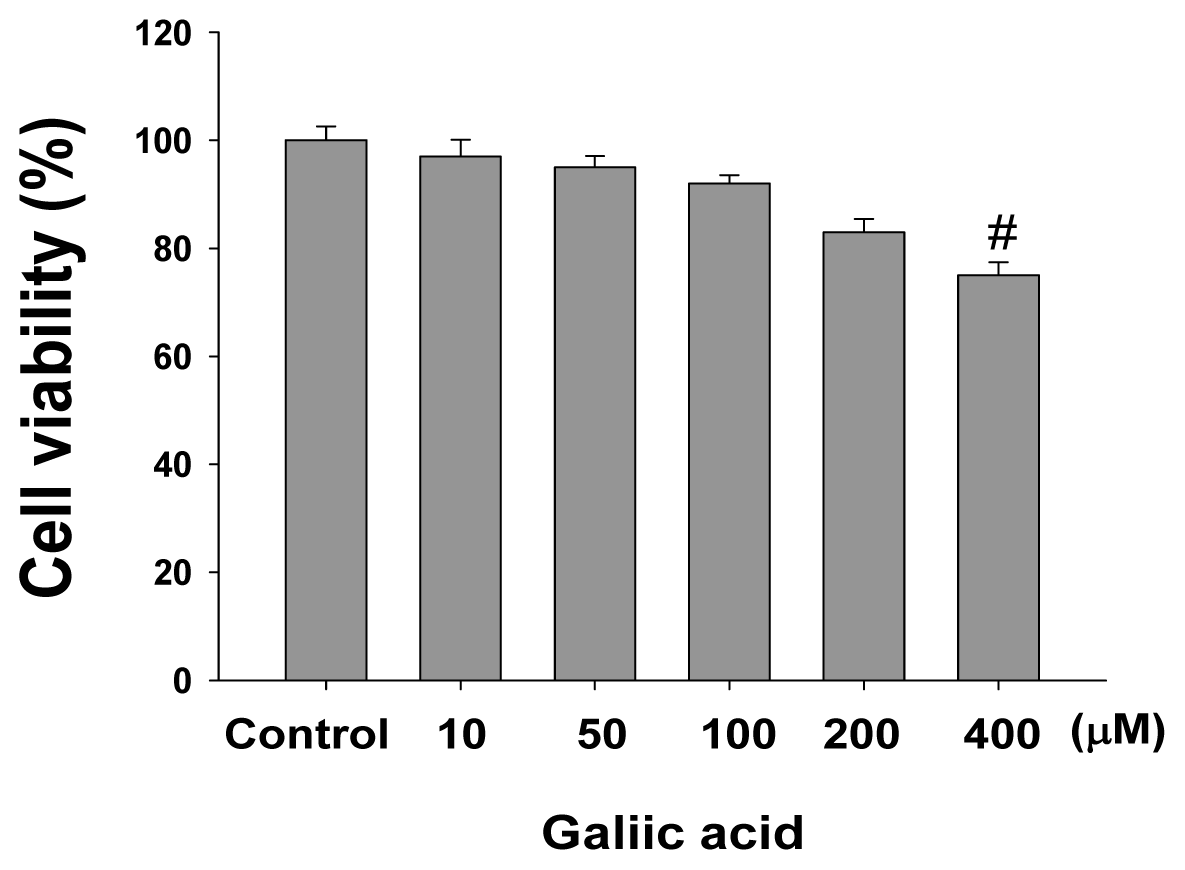 Share & Cite This Article
MDPI and ACS Style
Su, T.-R.; Lin, J.-J.; Tsai, C.-C.; Huang, T.-K.; Yang, Z.-Y.; Wu, M.-O.; Zheng, Y.-Q.; Su, C.-C.; Wu, Y.-J. Inhibition of Melanogenesis by Gallic Acid: Possible Involvement of the PI3K/Akt, MEK/ERK and Wnt/β-Catenin Signaling Pathways in B16F10 Cells. Int. J. Mol. Sci. 2013, 14, 20443-20458.
Related Articles
Comments
[Return to top]