Transcriptome Comparative Profiling of Barley eibi1 Mutant Reveals Pleiotropic Effects of HvABCG31 Gene on Cuticle Biogenesis and Stress Responsive Pathways
1
School of Life Science and Technology, University of Electronic Science and Technology of China, Chengdu 610054, Sichuan, China
2
Extreme Stress Resistance and Biotechnology Laboratory, Cold and Arid Regions Environmental and Engineering Institute, Chinese Academy of Sciences, Lanzhou 730000, Gansu, China
3
Institute of Evolution, University of Haifa, Mount Carmel, Haifa 31905, Israel
*
Author to whom correspondence should be addressed.
Received: 2 September 2013 / Revised: 26 September 2013 / Accepted: 26 September 2013 / Published: 14 October 2013
Abstract
Wild barley
eibi1
mutant with
HvABCG31
gene mutation has low capacity to retain leaf water, a phenotype associated with reduced cutin deposition and a thin cuticle. To better understand how such a mutant plant survives, we performed a genome-wide gene expression analysis. The leaf transcriptomes between the near-isogenic lines
eibi1
and the wild type were compared using the 22-k Barley1 Affymetrix microarray. We found that the pleiotropic effect of the single gene
HvABCG31
mutation was linked to the co-regulation of metabolic processes and stress-related system. The cuticle development involved cytochrome P450 family members and fatty acid metabolism pathways were significantly up-regulated by the
HvABCG31
mutation, which might be anticipated to reduce the levels of cutin monomers or wax and display conspicuous cuticle defects. The candidate genes for responses to stress were induced by
eibi1
mutant through activating the jasmonate pathway. The down-regulation of co-expressed enzyme genes responsible for DNA methylation and histone deacetylation also suggested that
HvABCG31
mutation may affect the epigenetic regulation for barley development. Comparison of transcriptomic profiling of barley under biotic and abiotic stresses revealed that the functions of
HvABCG31
gene to high-water loss rate might be different from other osmotic stresses of gene mutations in barley. The transcriptional profiling of the
HvABCG31
mutation provided candidate genes for further investigation of the physiological and developmental changes caused by the mutant.
View Full-Text
►

▼

Figures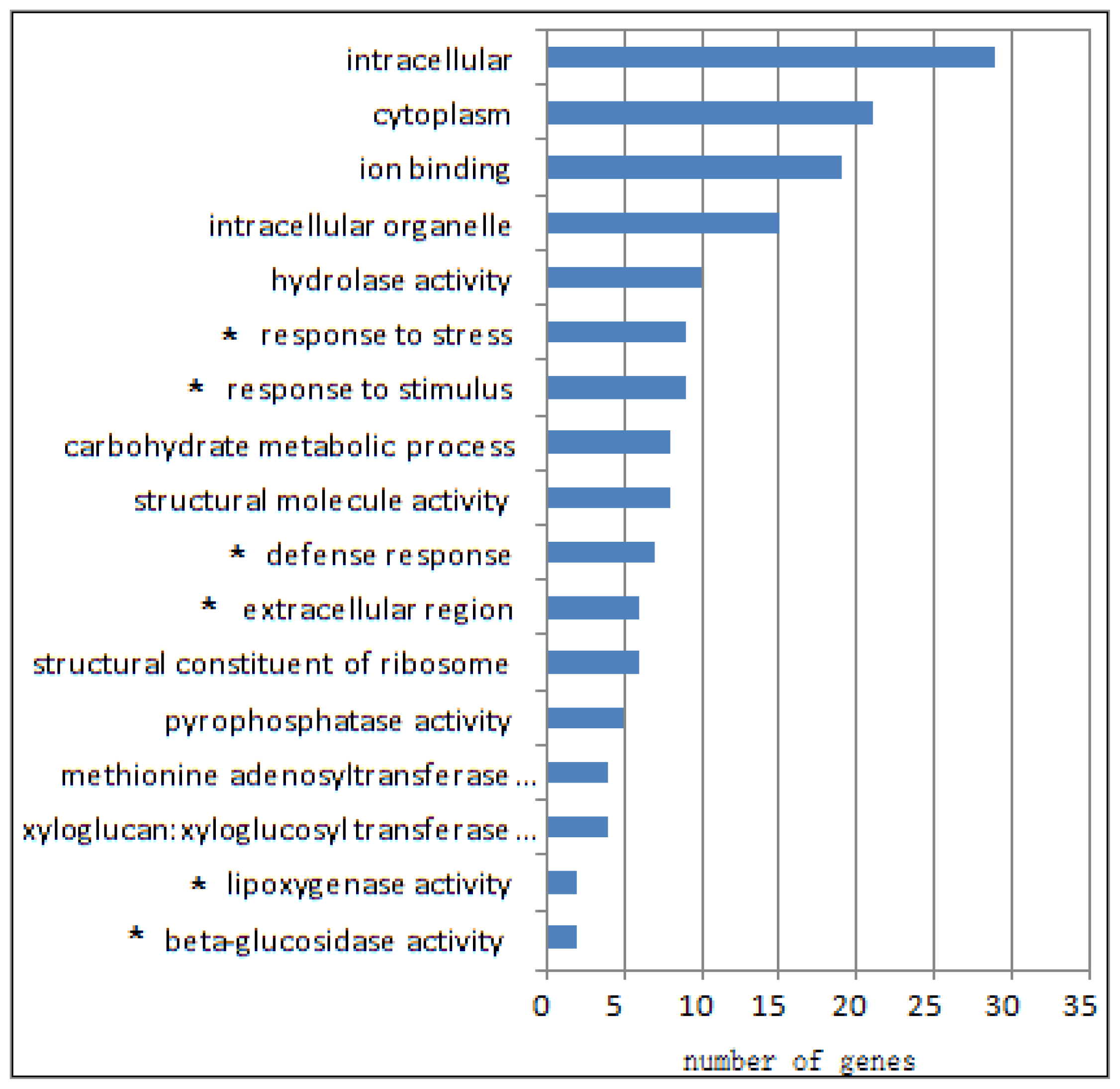 Share & Cite This Article
MDPI and ACS Style
Yang, Z.; Zhang, T.; Lang, T.; Li, G.; Chen, G.; Nevo, E. Transcriptome Comparative Profiling of Barley eibi1 Mutant Reveals Pleiotropic Effects of HvABCG31 Gene on Cuticle Biogenesis and Stress Responsive Pathways. Int. J. Mol. Sci. 2013, 14, 20478-20491.
Related Articles
Comments
[Return to top]