Incidence of Bacteriocins Produced by Food-Related Lactic Acid Bacteria Active towards Oral Pathogens
1
Laboratory of Dairy Research, Department of Food Science and Technology, Agricultural University of Athens, Iera Odos 75, Athens 11855, Greece
2
Department of Periodontology, School of Dentistry, National and Kapodistrian University of Athens, 2 Thivon Str., Athens 11527, Greece
3
Department of Preventive and Community Dentistry, School of Dentistry, National and Kapodistrian University of Athens, 2 Thivon Str., Athens 11527, Greece
4
Laboratory of Chemistry, Department of Science, Agricultural University of Athens, Iera Odos 75, Athens 11855, Greece
†
Present address: European Commission, Joint Research Centre, via E. Fermi 2749, Ispra 21027, Varese, Italy
*
Author to whom correspondence should be addressed.
Received: 8 October 2012 / Revised: 1 February 2013 / Accepted: 18 February 2013 / Published: 26 February 2013
Abstract
In the present study we investigated the incidence of bacteriocins produced by 236 lactic acid bacteria (LAB) food isolates against pathogenic or opportunistic pathogenic oral bacteria. This set of LAB contained several strains (≥17%) producing bacteriocins active against food-related bacteria. Interestingly only
Streptococcus macedonicus
ACA-DC 198 was able to inhibit the growth of
Streptococcus oralis
,
Streptococcus sanguinis
and
Streptococcus gordonii
, while
Lactobacillus fermentum
ACA-DC 179 and
Lactobacillus plantarun
ACA-DC 269 produced bacteriocins solely against
Streptococcus oralis
. Thus, the percentage of strains that were found to produce bacteriocins against oral bacteria was ~1.3%. The rarity of bacteriocins active against oral LAB pathogens produced by food-related LAB was unexpected given their close phylogenetic relationship. Nevertheless, when tested in inhibition assays, the potency of the bacteriocin(s) of
S. macedonicus
ACA-DC 198 against the three oral streptococci was high. Fourier-transform infrared spectroscopy combined with principal component analysis revealed that exposure of the target cells to the antimicrobial compounds caused major alterations of key cellular constituents. Our findings indicate that bacteriocins produced by food-related LAB against oral LAB may be rare, but deserve further investigation since, when discovered, they can be effective antimicrobials.
View Full-Text
►

▼

Figures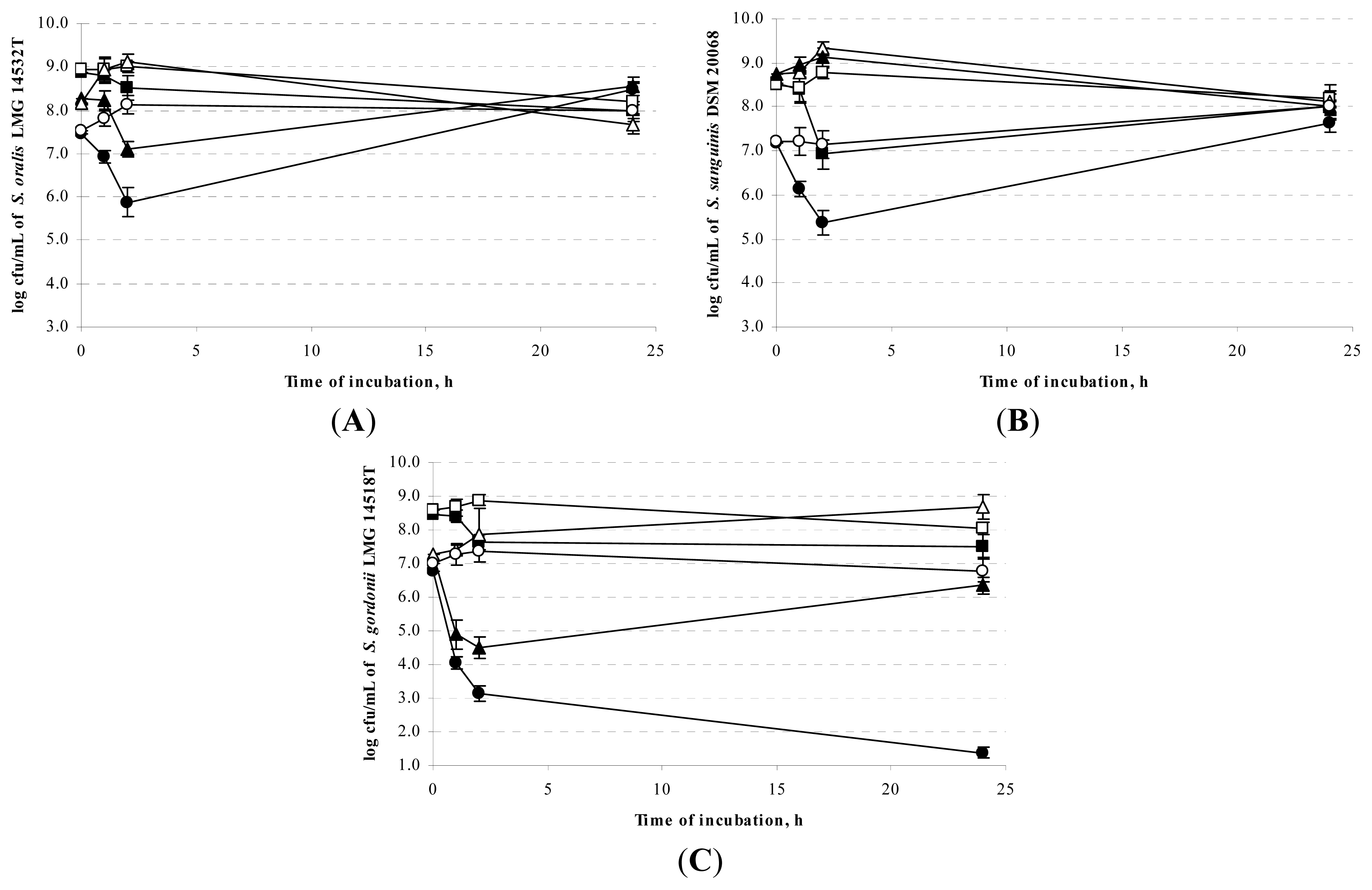 Share & Cite This Article
MDPI and ACS Style
Zoumpopoulou, G.; Pepelassi, E.; Papaioannou, W.; Georgalaki, M.; Maragkoudakis, P.A.; Tarantilis, P.A.; Polissiou, M.; Tsakalidou, E.; Papadimitriou, K. Incidence of Bacteriocins Produced by Food-Related Lactic Acid Bacteria Active towards Oral Pathogens. Int. J. Mol. Sci. 2013, 14, 4640-4654.
Related Articles
Comments
[Return to top]