The Role of the Conjugate Bridge in Electronic Structures and Related Properties of Tetrahydroquinoline for Dye Sensitized Solar Cells
1
State Key Laboratory of Gansu Advanced Non-ferrous Metal Materials, Lanzhou University of Technology, Lanzhou 730050, Gansu, China
2
Department of Applied Physics, Lanzhou University of Technology, Lanzhou 730050, Gansu, China
3
Gansu Computing Center, Lanzhou 730030, Gansu, China
4
Institute of Electronic Information Science and Technology, Lanzhou City University, Lanzhou 730070, Gansu, China
5
College of Physics and Electronic Engineering, Northwest Normal University, Lanzhou 730070, Gansu, China
*
Author to whom correspondence should be addressed.
Received: 7 December 2012 / Revised: 11 January 2013 / Accepted: 4 February 2013 / Published: 8 March 2013
Abstract
To understand the role of the conjugate bridge in modifying the properties of organic dye sensitizers in solar cells, the computations of the geometries and electronic structures for 10 kinds of tetrahydroquinoline dyes were performed using density functional theory (DFT), and the electronic absorption and fluorescence properties were investigated via time dependent DFT. The population analysis, molecular orbital energies, radiative lifetimes, exciton binding energies (EBE), and light harvesting efficiencies (LHE), as well as the free energy changes of electron injection ( ) and dye regeneration ( ) were also addressed. The correlation of charge populations and experimental open-circuit voltage (
V
oc
) indicates that more charges populated in acceptor groups correspond to larger
V
oc
. The elongating of conjugate bridge by thiophene units generates the larger oscillator strength, higher LHE, larger absolute value of , and longer relative radiative lifetime, but it induces the decreasing of EBE and . So the extending of conjugate bridge with thiopene units in organic dye is an effective way to increase the harvest of solar light, and it is also favorable for electron injection due to their larger . While the inversely correlated relationship between EBE and LHE implies that the dyes with lower EBE produce more efficient light harvesting.
View Full-Text
►

▼

Figures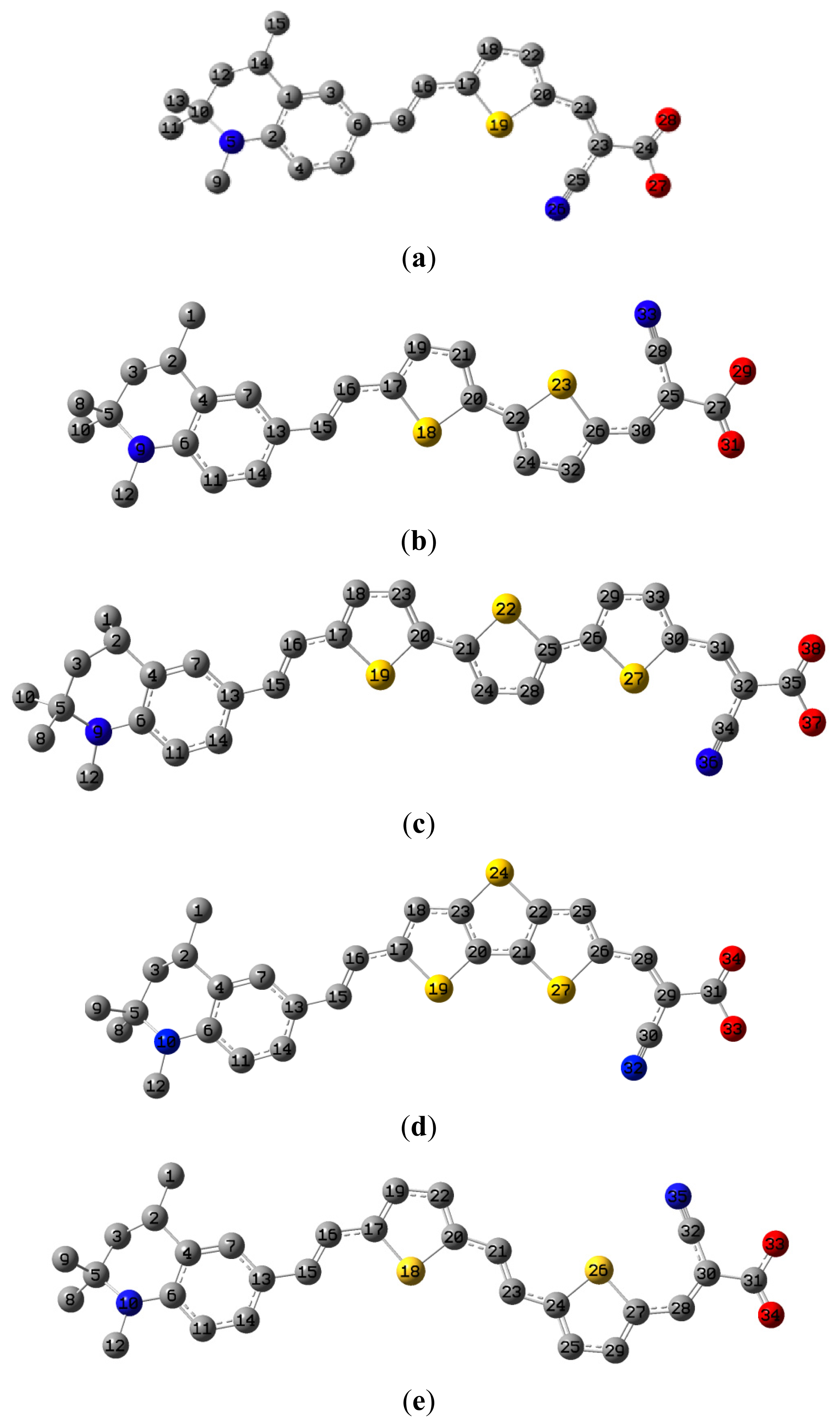 Share & Cite This Article
MDPI and ACS Style
Zhang, C.-R.; Liu, L.; Zhe, J.-W.; Jin, N.-Z.; Ma, Y.; Yuan, L.-H.; Zhang, M.-L.; Wu, Y.-Z.; Liu, Z.-J.; Chen, H.-S. The Role of the Conjugate Bridge in Electronic Structures and Related Properties of Tetrahydroquinoline for Dye Sensitized Solar Cells. Int. J. Mol. Sci. 2013, 14, 5461-5481.
Related Articles
Comments
[Return to top]