Differential Expression of Genes Associated with the Progression of Renal Disease in the Kidneys of Liver-Specific Glucokinase Gene Knockout Mice
1
Department of Pharmacology, Peking University, Health Science Center, Beijing 100191, China
2
Department of Pharmacology, Ningxia Medical University, Yinchuan 750004, China
3
Department of Integrated Traditional Chinese and Western Medicine, Peking University, Health Science Center, Beijing 100191, China
4
Department of Laboratory Medicine and Pathobiology, University of Toronto, Toronto, Ontario M5S 1A8, Canada
5
Beijing N&N Genetech Company, Beijing 100082, China
*
Authors to whom correspondence should be addressed.
Received: 30 January 2013 / Revised: 18 March 2013 / Accepted: 19 March 2013 / Published: 21 March 2013
Abstract
Liver glucokinase (GCK) deficient mice possess mild renal complications associated with diabetes. To investigate the progression of kidney disease and identify candidate genes involved in the pathogenesis of renal damage, we examined changes in tissue structure and gene expression in the kidneys of liver-specific GCK knockout (gck
w/−
) mice and age-matched normal wild-type control (gck
w/w
) mice as they aged. Suppression subtractive hybridization (SSH) was used to identify candidate genes that showed a pattern of differential expression between kidneys of gck
w/−
and gck
w/w
mice at 60 weeks of age. Differential expression of the candidate genes was examined by real-time qPCR in liver-specific gck
w/−
and gck
w/w
mice at 16, 26, 40, 60, and 85 weeks of age. Among the candidate genes, only glutathione peroxidase-3 (GPX3) was confirmed to show differential expression by qPCR in the 60-week old mice, however two others genes, MALAT1 and KEG, showed significant changes at other ages. This study shows that liver-specific glucokinase deficient mice display changes in kidney morphology by 40 weeks of age, and that renal complication may be correlated with a reduction in GPX3 levels. Since decreased GPX3 mRNA expression was observed at 26 weeks, which is younger than the age when pathological changes can be seen in kidney biopsies, GPX3 may serve as an early marker for kidney damage.
View Full-Text
►

▼

Figures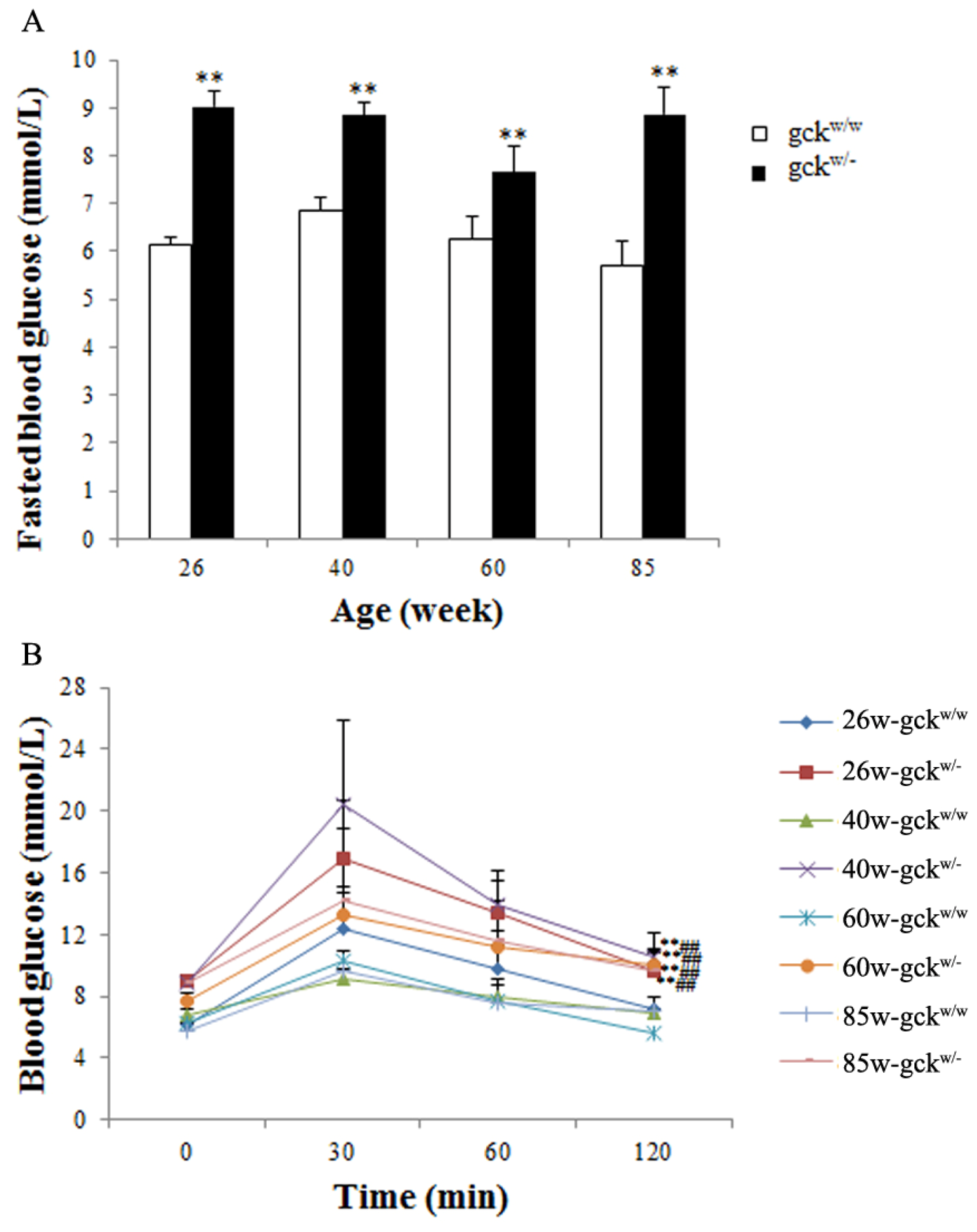 Share & Cite This Article
MDPI and ACS Style
Xu, W.; Li, H.; Wang, R.; Lei, Z.; Mao, Y.; Wang, X.; Zhang, Y.; Guo, T.; Song, R.; Zhang, X.; Jin, L.; Li, Z.; Irwin, D.M.; Niu, G.; Tan, H. Differential Expression of Genes Associated with the Progression of Renal Disease in the Kidneys of Liver-Specific Glucokinase Gene Knockout Mice. Int. J. Mol. Sci. 2013, 14, 6467-6486.
Related Articles
Comments
[Return to top]