Epigenetic Silencing of DKK3 in Medulloblastoma
1
Department of Experimental Medicine (DIMES), University of Genoa-IRCCS A.O.U. San Martino–IST National Cancer Research Institute, Genoa 16132, Italy
2
Laboratory of Tumor Genetics and Epigenetics, IRCCS A.O.U. San Martino–IST National Cancer Research Institute, Genoa 16132, Italy
3
Center of Physiopathology of Human Reproduction, Obstetrics and Gynecology Unit, IRCCS A.O.U. San Martino–IST National Cancer Research Institute, Genoa 16132, Italy
4
Division of Pediatric Neurooncology, German Cancer Research Center (DKFZ), Heidelberg 69120, Germany
5
Department of Pediatric Oncology, Hematology & Immunology, Heidelberg University Hospital, Heidelberg 69120, Germany
6
CNRS-LAMSADE Laboratoire d'Analyse et Modélisation de Systèmes pour l'Aide à la decision Paris 75775, France
7
Université Paris-Dauphine, Paris 75775, France
8
Developmental & Stem Cell Biology Program, the Hospital for Sick Children, Toronto M5G 1X8, Canada
9
Institute of Digestive Disease, Faculty of Medicine, The Chinese University of Hong Kong, Hong Kong
10
Division of Biostatistics German Cancer Research Center (DKFZ), Heidelberg 69120, Germany
11
Division of Pediatric Oncology, Catholic University, Rome 00198, Italy
12
CEINGE, Centro di Ingegneria Genetica e Biotecnologia Avanzate, Naples 80145, Italy
13
Pediatric Neurosurgery, Santobono-Pausilipon Children's Hospital, Naples 80122, Italy
14
Department of Pediatric Oncology and Hematology, University Children's Hospital of Cologne, Cologne 50924, Germany
15
Laboratory of Neuroblastoma, Onco/Hematology Laboratory Department SDB University of Padua, Pediatric Research Institute, Padua 35127, Italy
16
Lung Cancer Unit IRCSS San Martino Hospital-IST National Cancer Research Institute, Genoa 16132, Italy
†
These authors contributed equally to this work.
*
Author to whom correspondence should be addressed.
Received: 6 February 2013 / Revised: 25 March 2013 / Accepted: 27 March 2013 / Published: 8 April 2013
Abstract
Medulloblastoma (MB) is a malignant pediatric brain tumor arising in the cerebellum consisting of four distinct subgroups: WNT, SHH, Group 3 and Group 4, which exhibit different molecular phenotypes. We studied the expression of Dickkopf (DKK) 1–4 family genes, inhibitors of the Wnt signaling cascade, in MB by screening 355 expression profiles derived from four independent datasets. Upregulation of
DKK1
,
DKK2
and
DKK4
mRNA was observed in the WNT subgroup, whereas
DKK3
was downregulated in 80% MBs across subgroups with respect to the normal cerebellum (
p
< 0.001). Since copy number aberrations targeting the
DKK3
locus (11p15.3) are rare events, we hypothesized that epigenetic factors could play a role in DKK3 regulation. Accordingly, we studied 77 miRNAs predicting to repress
DKK3
; however, no significant inverse correlation between miRNA/mRNA expression was observed. Moreover, the low methylation levels in the
DKK3
promoters (median: 3%, 5% and 5% for promoter 1, 2 and 3, respectively) excluded the downregulation of gene expression by methylation. On the other hand, the treatment of MB cells with Trichostatin A (TSA), a potent inhibitor of histone deacetylases (HDAC), was able to restore both
DKK3
mRNA and protein. In conclusion,
DKK3
downregulation across all MB subgroups may be due to epigenetic mechanisms, in particular, through chromatin condensation.
View Full-Text
►

▼

Figures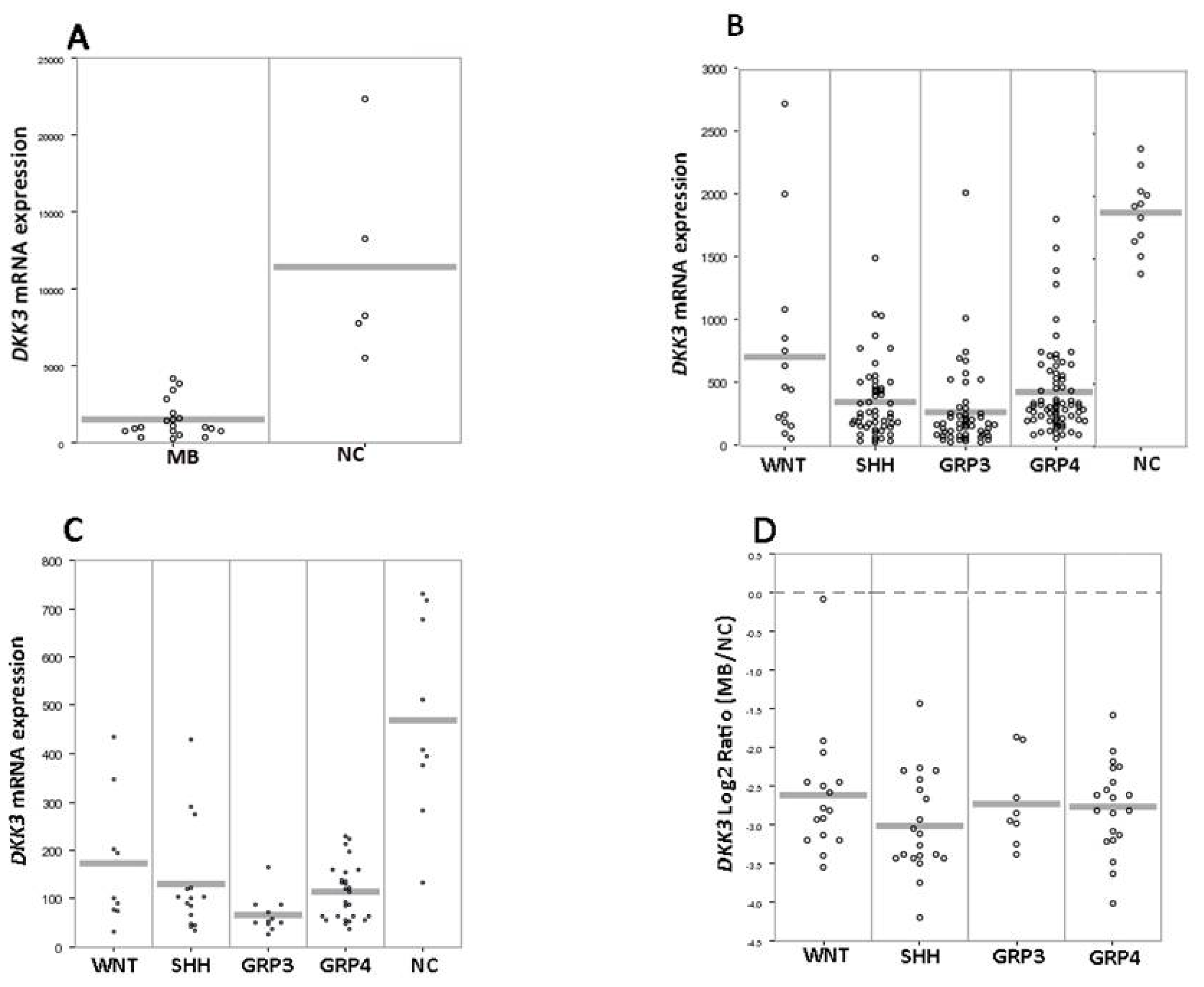 Share & Cite This Article
MDPI and ACS Style
Valdora, F.; Banelli, B.; Stigliani, S.; Pfister, S.M.; Moretti, S.; Kool, M.; Remke, M.; Bai, A.H.; Brigati, C.; Hielscher, T.; Romani, M.; Servidei, T.; Zollo, M.; Cinalli, G.; Oberthuer, A.; Tonini, G.P.; Coco, S. Epigenetic Silencing of DKK3 in Medulloblastoma. Int. J. Mol. Sci. 2013, 14, 7492-7505.
Related Articles
Comments
[Return to top]