Monocyte Chemotactic Protein-1 Promotes the Myocardial Homing of Mesenchymal Stem Cells in Dilated Cardiomyopathy
1
Department of Cardiology, First Affiliated Hospital, Nanjing Medical University, Nanjing 210029, China
2
Cell metabolism lab, School of Life Science, Shanghai University, Shanghai 200444, China
3
Shanghai Cardiovascular Disease Institute, Fudan University, Shanghai 200032, China
†
These authors contributed equally to this work.
*
Authors to whom correspondence should be addressed.
Received: 6 February 2013 / Revised: 8 March 2013 / Accepted: 26 March 2013 / Published: 15 April 2013
Abstract
Dilated cardiomyopathy (DCM) is the most common form of non-ischemic cardiomyopathy that leads to heart failure. Mesenchymal stem cells (MSCs) are under active investigation currently as a potential therapy for DCM. However, little information is available about the therapeutic potential of intravenous administration of MSCs for DCM. Moreover, how MSCs home to the myocardium in DCM is also unclear. DCM was induced by intraperitoneally administering Doxorubicin and MSCs or vehicles were infused through the internal jugular vein. Cardiac functions including the percentage of fractional shortening, left ventricular diastolic dimension, left ventricular end-diastolic pressure, and left ventricular maximum d
p
/d
t
were evaluated by echocardiographic and hemodynamic studies. Fibrosis was determined by Masson's trichrome staining. The mRNA expression levels of monocyte chemotactic protein-1 (MCP-1), stromal cell-derived factor-1 (SDF-1), macrophage inflammatory protein-1α (MIP-1α), and monocyte chemotactic protein-3 (MCP-3) were determined using real time polymerase chain reactions and the protein expression level of MCP-1 was detected with Western blot. The MSCs expression of C-C chemokine receptor type 2 (CCR2), a MCP-1 receptor, was confirmed by Western blot and flow cytometry analysis. The chemotactic effects of MCP-1/CCR2 were checked by assessing the migration
in vitro
and
in vivo
. MSCs transplantation improved the cardiac function and decreased the myocardial fibrosis of mice with DCM. MCP-1 was up-regulated in dilated myocardial tissue both at the mRNA and protein level while SDF-1, MIP-1α and MCP-3 remain unchanged. CCR2 was present in MSCs. MCP-1 promoted MSCs migration
in
vitro
while CCR2 inhibition decreased the migration of MCP-1 to the dilated heart. This study provides direct evidences that peripheral intravenous infusion of MSCs can support the functional recovery of DCM. In addition, novel insights into the myocardial homing factor of MSCs in DCM are presented. Modulation of MCP-1/CCR2 signaling system might be a novel therapeutic strategy for DCM.
View Full-Text
►

▼

Figures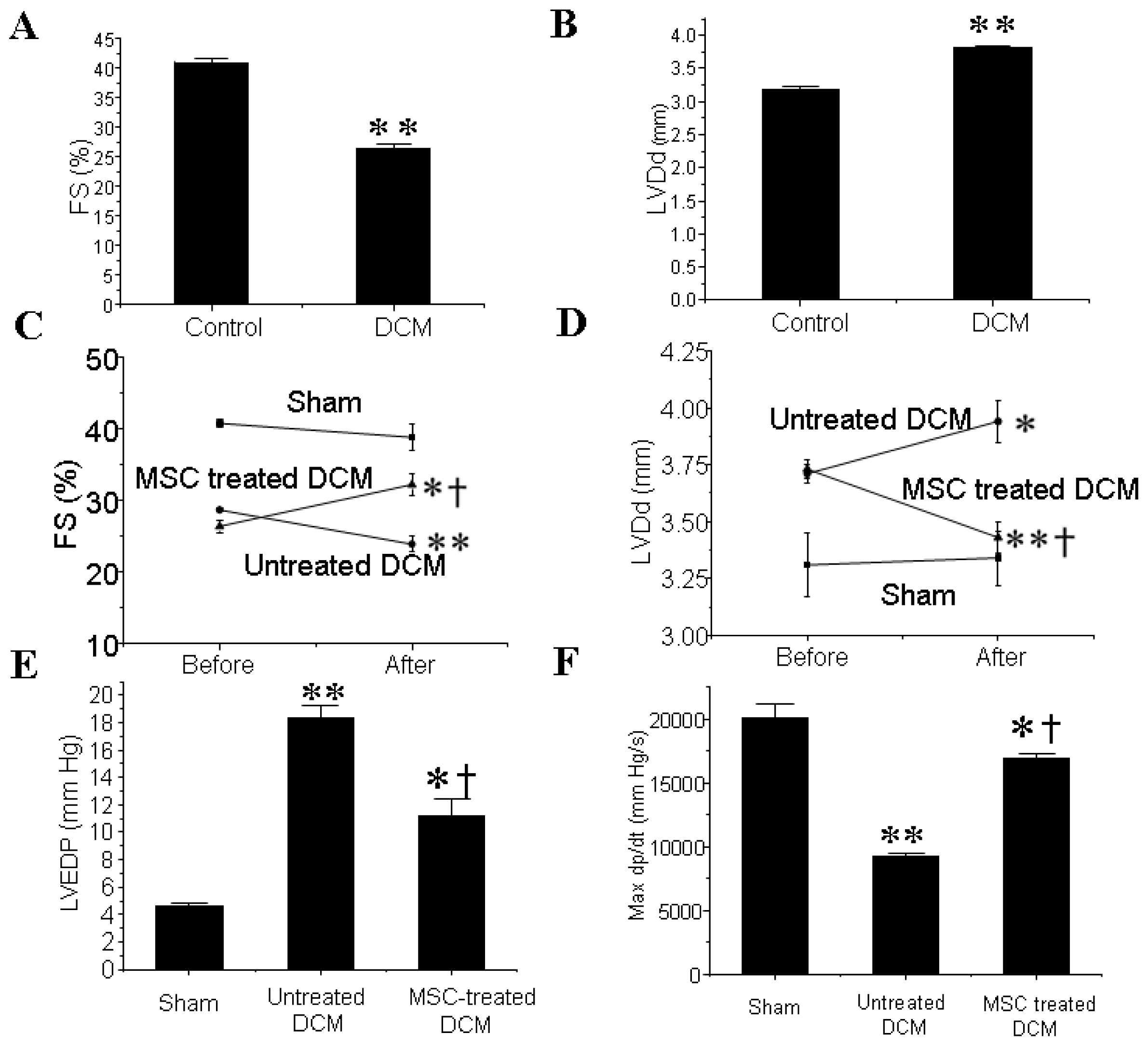 Share & Cite This Article
MDPI and ACS Style
Guo, J.; Zhang, H.; Xiao, J.; Wu, J.; Ye, Y.; Li, Z.; Zou, Y.; Li, X. Monocyte Chemotactic Protein-1 Promotes the Myocardial Homing of Mesenchymal Stem Cells in Dilated Cardiomyopathy. Int. J. Mol. Sci. 2013, 14, 8164-8178.
Related Articles
Comments
[Return to top]