Multiple Functions of the RNA-Binding Protein HuR in Cancer Progression, Treatment Responses and Prognosis
1
Department of Oncology, General Hospital, Jinan Command of the People's Liberation Army, Jinan 250031, China
2
Department of Outpatient, Military Command of Shandong Province, Jinan 250013, China
*
Author to whom correspondence should be addressed.
Received: 14 March 2013 / Revised: 22 April 2013 / Accepted: 25 April 2013 / Published: 10 May 2013
Abstract
The human embryonic lethal abnormal vision-like protein, HuR, is a member of the Hu family of RNA-binding proteins. Over the past decade, this ubiquitously expressed protein has been extensively investigated in cancer research because it is involved in the regulation of mRNA stability and translation in many cell types. HuR activity and function is associated with its subcellular distribution, transcriptional regulation, translational and post-translational modifications. HuR regulation of target mRNAs is based on the interaction between the three specific domains of HuR protein and one or several U- or AU-rich elements (AREs) in the untranslated region of target mRNAs. A number of cancer-related transcripts containing AREs, including mRNAs for proto-oncogenes, cytokines, growth factors, and invasion factors, have been characterized as HuR targets. It has been proposed that HuR has a central tumorigenic activity by enabling multiple cancer phenotypes. In this review, we comprehensively survey the existing evidence with regard to the diverse functions of HuR in caner development and progression. The current data also suggest that HuR might be a novel and promising therapeutic target and a marker for treatment response and prognostic evaluation.
View Full-Text
►

▼

Figures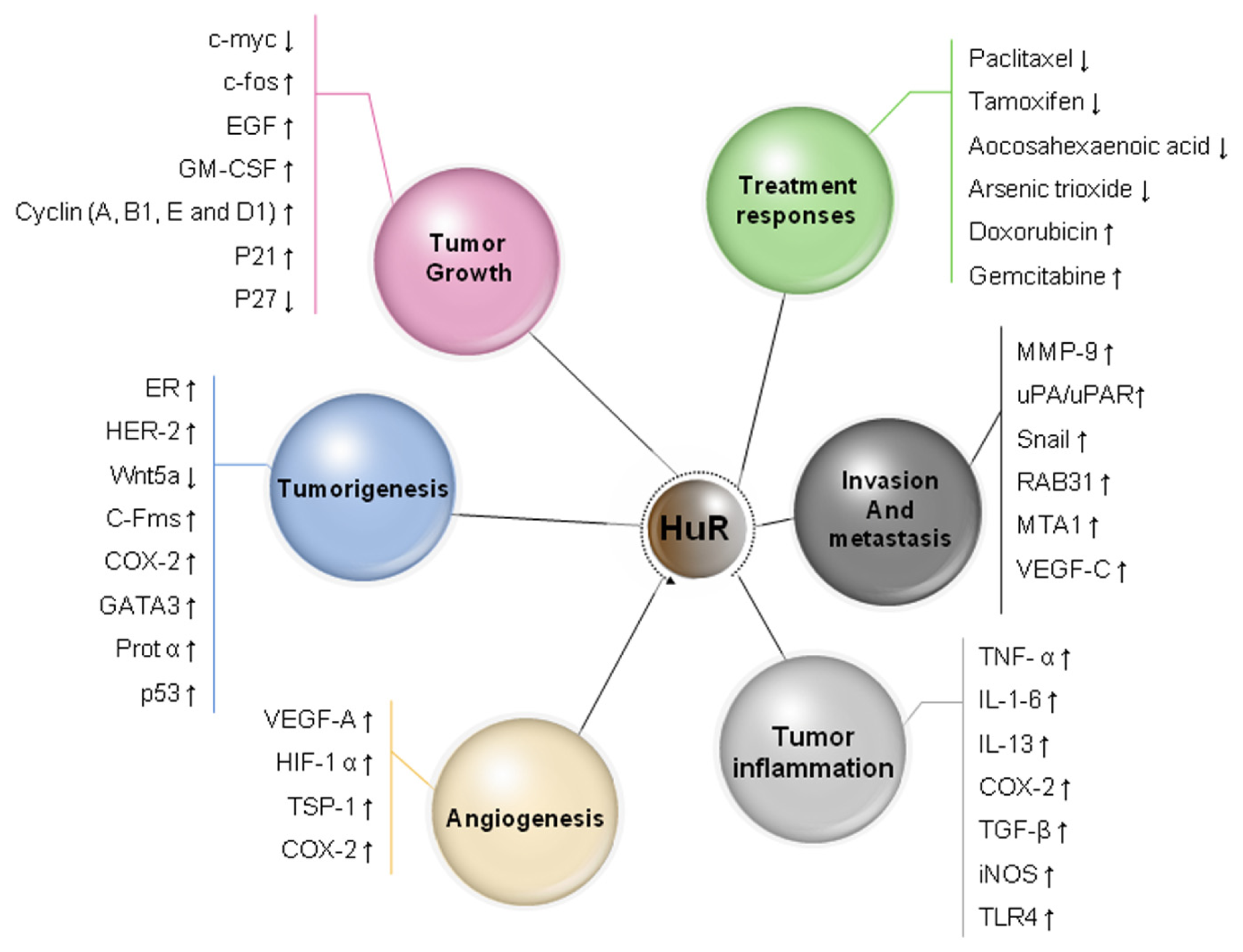 Share & Cite This Article
MDPI and ACS Style
Wang, J.; Guo, Y.; Chu, H.; Guan, Y.; Bi, J.; Wang, B. Multiple Functions of the RNA-Binding Protein HuR in Cancer Progression, Treatment Responses and Prognosis. Int. J. Mol. Sci. 2013, 14, 10015-10041.
Related Articles
Comments
[Return to top]