Human Prostatic Acid Phosphatase: Structure, Function and Regulation
1
Department of Biochemistry and Molecular Biology, College of Medicine, University of Nebraska Medical Center, Omaha, NE 68198, USA
2
College of Medicine, University of Nebraska Medical Center, Omaha, NE 68198, USA
3
Department of Surgery/Urology, College of Medicine, University of Nebraska Medical Center, Omaha, NE 68198, USA
4
Eppley Institute for Research in Cancer and Allied Diseases, University of Nebraska Medical Center, Omaha, NE 68198, USA
5
College of Pharmacy, Kaohsiung Medical University, Kaohsiung 807, Taiwan
*
Author to whom correspondence should be addressed.
Received: 15 April 2013 / Revised: 8 May 2013 / Accepted: 8 May 2013 / Published: 21 May 2013
Abstract
Human prostatic acid phosphatase (PAcP) is a 100 kDa glycoprotein composed of two subunits. Recent advances demonstrate that cellular PAcP (cPAcP) functions as a protein tyrosine phosphatase by dephosphorylating ErbB-2/Neu/HER-2 at the phosphotyrosine residues in prostate cancer (PCa) cells, which results in reduced tumorigenicity. Further, the interaction of cPAcP and ErbB-2 regulates androgen sensitivity of PCa cells. Knockdown of cPAcP expression allows androgen-sensitive PCa cells to develop the castration-resistant phenotype, where cells proliferate under an androgen-reduced condition. Thus, cPAcP has a significant influence on PCa cell growth. Interestingly, promoter analysis suggests that PAcP expression can be regulated by NF-κB, via a novel binding sequence in an androgen-independent manner. Further understanding of PAcP function and regulation of expression will have a significant impact on understanding PCa progression and therapy.
View Full-Text
►

▼

Figures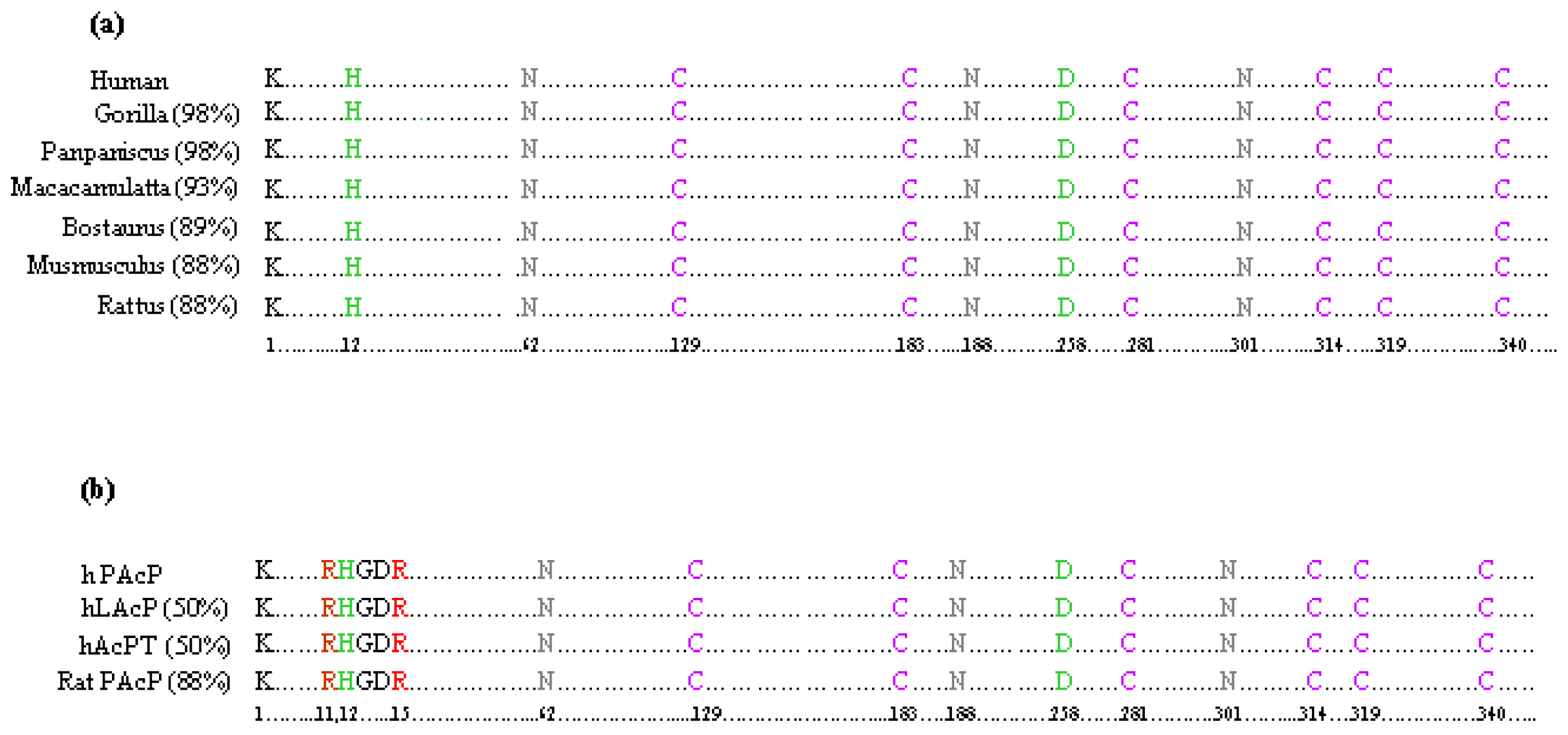 Share & Cite This Article
MDPI and ACS Style
Muniyan, S.; Chaturvedi, N.K.; Dwyer, J.G.; LaGrange, C.A.; Chaney, W.G.; Lin, M.-F. Human Prostatic Acid Phosphatase: Structure, Function and Regulation. Int. J. Mol. Sci. 2013, 14, 10438-10464.
Related Articles
Comments
[Return to top]