Two Distinct Channels Mediated by m2mAChR and α9nAChR Co-Exist in Type II Vestibular Hair Cells of Guinea Pig
1
Department of Otorhinolaryngology, Union Hospital, Tongji Medical College, Huazhong University of Science and Technology, 1277 Jiefang Avenue, Wuhan 430022, China
2
Institute of Otorhinolaryngology, Union Hospital, Tongji Medical College, Huazhong University of Science and Technology, 1277 Jiefang Avenue, Wuhan 430022, China
3
Key Laboratory of Neurological Disorders of Education Ministry, Tongji Medical College, Huazhong University of Science and Technology, Wuhan 430022, China
†
These authors contributed equally to this work.
*
Author to whom correspondence should be addressed.
Received: 25 February 2013 / Revised: 29 March 2013 / Accepted: 17 April 2013 / Published: 24 April 2013
Abstract
Acetylcholine (ACh) is the principal vestibular efferent neurotransmitter among mammalians. Pharmacologic studies prove that ACh activates a small conductance Ca
2+
-activated K
+
channels (KCa) current (SK2), mediated by α9-containing nicotinic ACh receptor (α9nAChR) in mammalian type II vestibular hair cells (VHCs II). However, our studies demonstrate that the m2 muscarinic ACh receptor (m2mAChR) mediates a big conductance KCa current (BK) in VHCs II. To better elucidate the correlation between these two distinct channels in VHCs II of guinea pig, this study was designed to verify whether these two channels and their corresponding AChR subtypes co-exist in the same VHCs II by whole-cell patch clamp recordings. We found that m2mAChR sensitive BK currents were activated in VHCs II isolated by collagenase IA, while α9nAChR sensitive SK2 currents were activated in VHCs II isolated by trypsin. Interestingly, after exposing the patched cells isolated by trypsin to collagenase IA for 3 min, the α9nAChR sensitive SK2 current was abolished, while m2mAChR-sensitive BK current was activated. Therefore, our findings provide evidence that the two distinct channels and their corresponding AChR subtypes may co-exist in the same VHCs II, and the alternative presence of these two ACh receptors-sensitive currents depended on isolating preparation with different enzymes.
View Full-Text
►

▼

Figures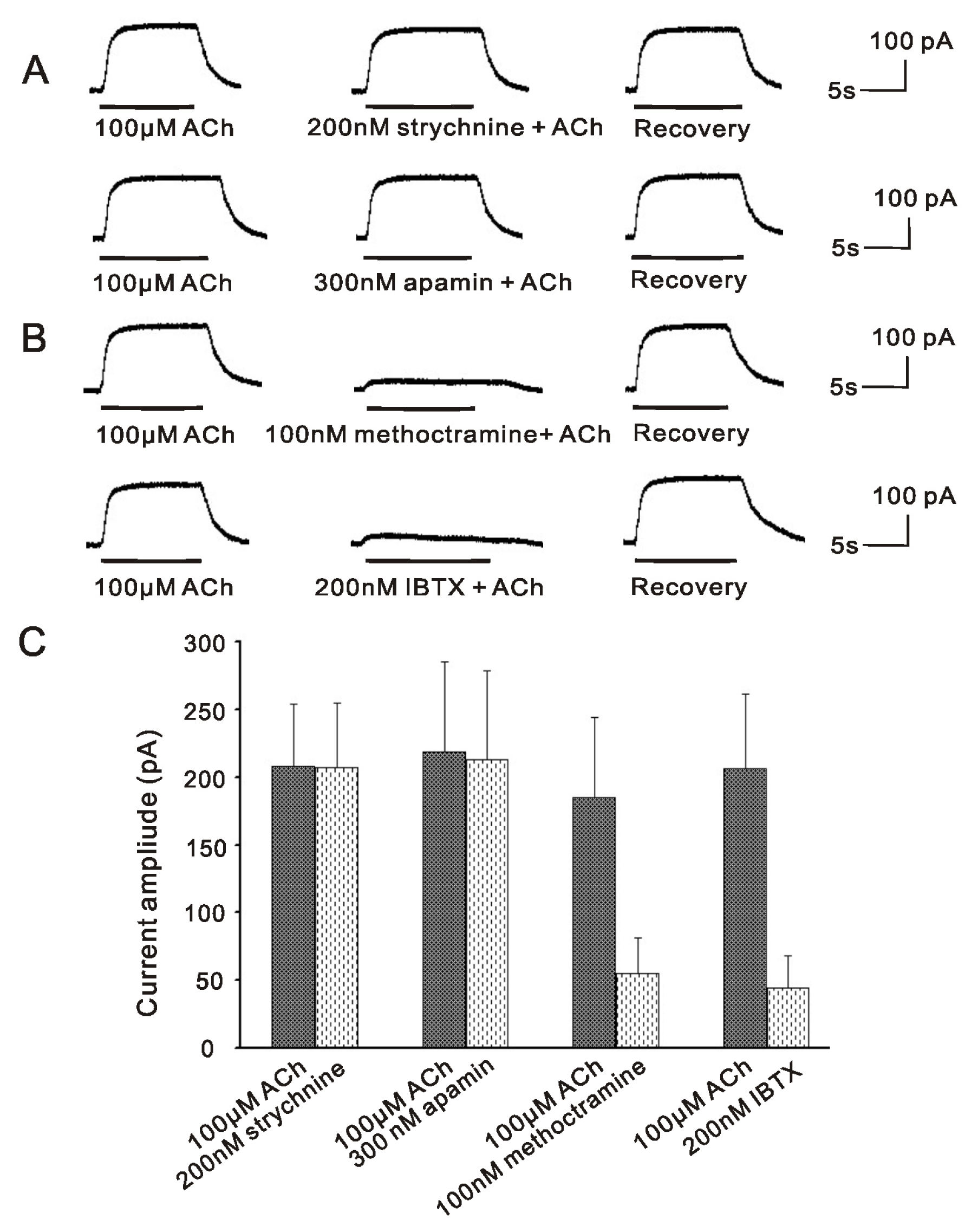 Share & Cite This Article
MDPI and ACS Style
Zhou, T.; Wang, Y.; Guo, C.-K.; Zhang, W.-J.; Yu, H.; Zhang, K.; Kong, W.-J. Two Distinct Channels Mediated by m2mAChR and α9nAChR Co-Exist in Type II Vestibular Hair Cells of Guinea Pig. Int. J. Mol. Sci. 2013, 14, 8818-8831.
Related Articles
Comments
[Return to top]