Effect of GABA, a Bacterial Metabolite, on Pseudomonas fluorescens Surface Properties and Cytotoxicity
1
Laboratory of Microbiology Signal and Microenvironment LMSM, EA 4312, Normandie University, Rouen University, GRRs SSE, IRIB, VASI, Evreux F-27000, France
2
Laboratoire de Biotechnologie et Chimie Marines, Université de Bretagne-Sud B.P. 92116, Lorient cedex 56321, France
*
Author to whom correspondence should be addressed.
Received: 6 May 2013 / Revised: 23 May 2013 / Accepted: 27 May 2013 / Published: 6 June 2013
Abstract
Different bacterial species and, particularly
Pseudomonas fluorescens
, can produce gamma-aminobutyric acid (GABA) and express GABA-binding proteins. In this study, we investigated the effect of GABA on the virulence and biofilm formation activity of different strains of
P. fluorescens
. Exposure of a psychotropic strain of
P. fluorescens
(MF37) to GABA (10
−5
M) increased its necrotic-like activity on eukaryotic (glial) cells, but reduced its apoptotic effect. Conversely, muscimol and bicuculline, the selective agonist and antagonist of eukaryote GABA
A
receptors, respectively, were ineffective.
P. fluorescens
MF37 did not produce biosurfactants, and its caseinase, esterase, amylase, hemolytic activity or pyoverdine productions were unchanged. In contrast, the effect of GABA was associated to rearrangements of the lipopolysaccharide (LPS) structure, particularly in the lipid A region. The surface hydrophobicity of MF37 was marginally modified, and GABA reduced its biofilm formation activity on PVC, but not on glass, although the initial adhesion was increased. Five other
P. fluorescens
strains were studied, and only one, MFP05, a strain isolated from human skin, showed structural differences of biofilm maturation after exposure to GABA. These results reveal that GABA can regulate the LPS structure and cytotoxicity of
P. fluorescens
, but that this property is specific to some strains.
View Full-Text
►

▼

Figures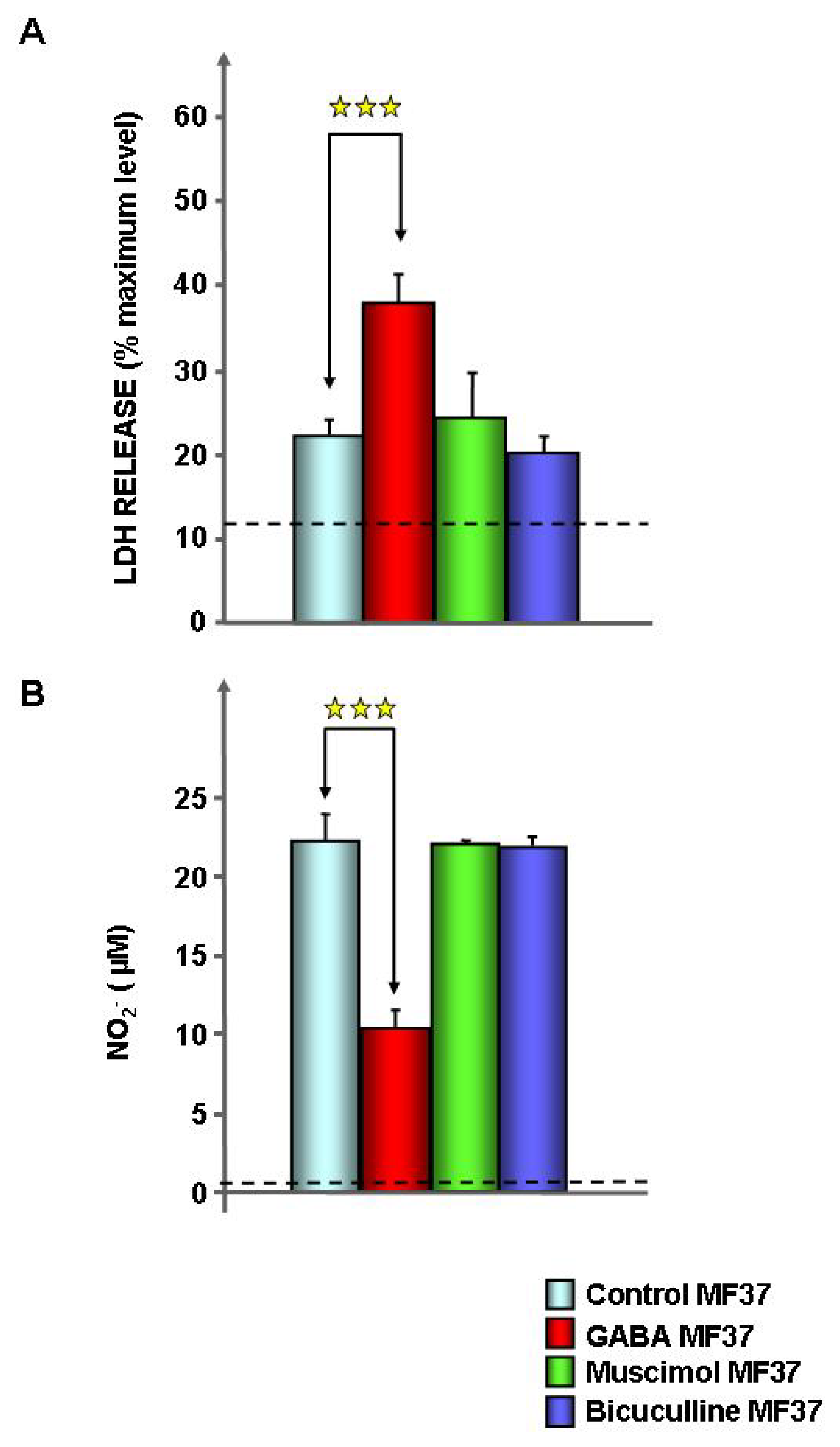 Share & Cite This Article
MDPI and ACS Style
Dagorn, A.; Chapalain, A.; Mijouin, L.; Hillion, M.; Duclairoir-Poc, C.; Chevalier, S.; Taupin, L.; Orange, N.; Feuilloley, M.G.J. Effect of GABA, a Bacterial Metabolite, on Pseudomonas fluorescens Surface Properties and Cytotoxicity. Int. J. Mol. Sci. 2013, 14, 12186-12204.
Related Articles
Comments
[Return to top]