Involvement of Intercellular Adhesion Molecule-1 Up-Regulation in Bradykinin Promotes Cell Motility in Human Prostate Cancers
1
Graduate Institute of Basic Medical Science, China Medical University, Taichung 40402, Taiwan
2
Department of Urology, Buddhist Tzu Chi General Hospital Taichung Branch, Taichung 42743, Taiwan
3
School of Chinese Medicine, China Medical University, Taichung 40402, Taiwan
4
Department of Pharmacology, School of Medicine, China Medical University, Taichung 40402, Taiwan
5
Department of Biotechnology, College of Health Science, Asia University, Taichung 41354, Taiwan
*
Author to whom correspondence should be addressed.
Received: 10 May 2013 / Revised: 4 June 2013 / Accepted: 5 June 2013 / Published: 26 June 2013
Abstract
Prostate cancer is the most commonly diagnosed malignancy in men and shows a predilection for metastasis to distant organs. Bradykinin (BK) is an inflammatory mediator and has recently been shown to mediate tumor growth and metastasis. The adhesion molecule intercellular adhesion molecule-1 (ICAM-1) plays a critical role during tumor metastasis. The aim of this study was to examine whether BK promotes prostate cancer cell migration via ICAM-1 expression. The motility of cancer cells was increased following BK treatment. Stimulation of prostate cancer cells with BK induced mRNA and protein expression of ICAM-1. Transfection of cells with ICAM-1 small interfering RNA reduced BK-increased cell migration. Pretreatment of prostate cancer cells with B2 receptor, phosphatidylinositol 3-kinase (PI3K), Akt, and activator protein 1 (AP-1) inhibitors or mutants abolished BK-promoted migration and ICAM-1 expression. In addition, treatment with a B2 receptor, PI3K, or Akt inhibitor also reduced BK-mediated AP-1 activation. Our results indicate that BK enhances the migration of prostate cancer cells by increasing ICAM-1 expression through a signal transduction pathway that involves the B2 receptor, PI3K, Akt, and AP-1. Thus, BK represents a promising new target for treating prostate cancer metastasis.
View Full-Text
►

▼

Figures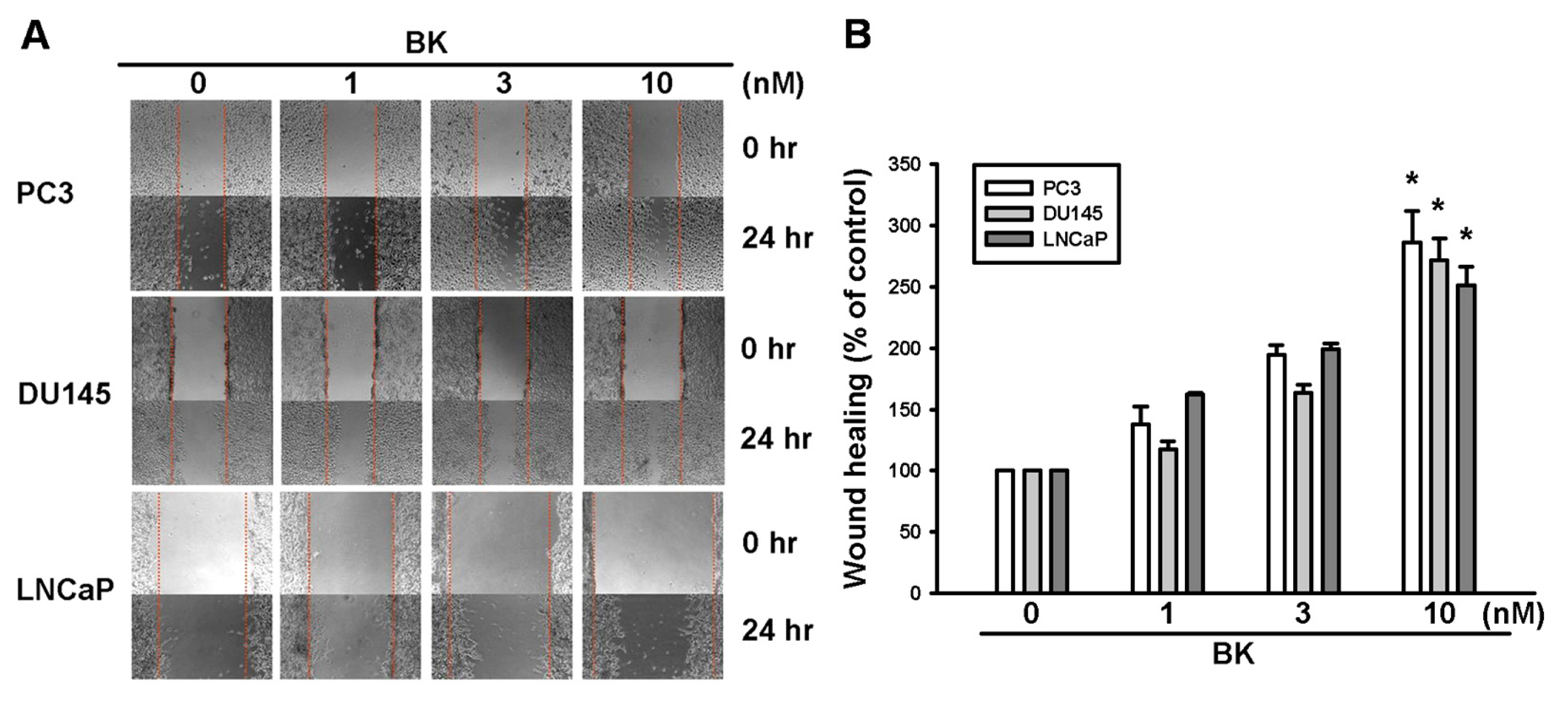 Share & Cite This Article
MDPI and ACS Style
Yu, H.-S.; Lin, T.-H.; Tang, C.-H. Involvement of Intercellular Adhesion Molecule-1 Up-Regulation in Bradykinin Promotes Cell Motility in Human Prostate Cancers. Int. J. Mol. Sci. 2013, 14, 13329-13345.
Related Articles
Comments
[Return to top]