Up-Regulation of Rhoa/Rho Kinase Pathway by Translationally Controlled Tumor Protein in Vascular Smooth Muscle Cells
1
Graduate School of Pharmaceutical Sciences, College of Pharmacy, Ewha Womans University, Seoul 120-750, Korea
2
Department of Pharmacology, Pusan National University—School of Medicine, Yangsan 626-870, Korea
3
Institute of Molecular Biology, Academia Sinica, Taipei 11529, Taiwan
*
Author to whom correspondence should be addressed.
Received: 25 April 2014 / Revised: 30 May 2014 / Accepted: 3 June 2014 / Published: 10 June 2014
Abstract
Translationally controlled tumor protein (TCTP), a repressor for Na,K-ATPase has been implicated in the development of systemic hypertension, as proved by TCTP-over-expressing transgenic (TCTP-TG) mice. Aorta of TCTP-TG exhibited hypercontractile response compared to that of non-transgenic mice (NTG) suggesting dys-regulation of signaling pathways involved in the vascular contractility by TCTP. Because dys-regulation of RhoA/Rho kinase pathway is implicated in increased vascular contractility, we examined whether TCTP induces alterations in RhoA pathway in vascular smooth muscle cells (VSMCs). We found that TCTP over-expression by adenovirus infection up-regulated RhoA pathway including the expression of RhoA, and its downstream signalings, phosphorylation of myosin phosphatase target protein (MYPT-1), and myosin light chain (MLC). Conversely, lentiviral silencing of TCTP reduced the RhoA expression and Rho kinase signalings. Using immunohistochemical and Western blotting studies on aortas from TCTP-TG confirmed the elevated expression of RhoA and increase in p-MLC (phosphorylated MLC). In contrast, down-regulation of RhoA and p-MLC were found in aortas from heterozygous mice with deleted allele of TCTP (TCTP
+/−
). We conclude that up-regulation of TCTP induces RhoA-mediated pathway, and that TCTP-induced RhoA plays a role in the regulation in vasculature. Modulation of TCTP may offer a therapeutic target for hypertension and in vascular contractility dysfunction.
View Full-Text
►

▼

Figures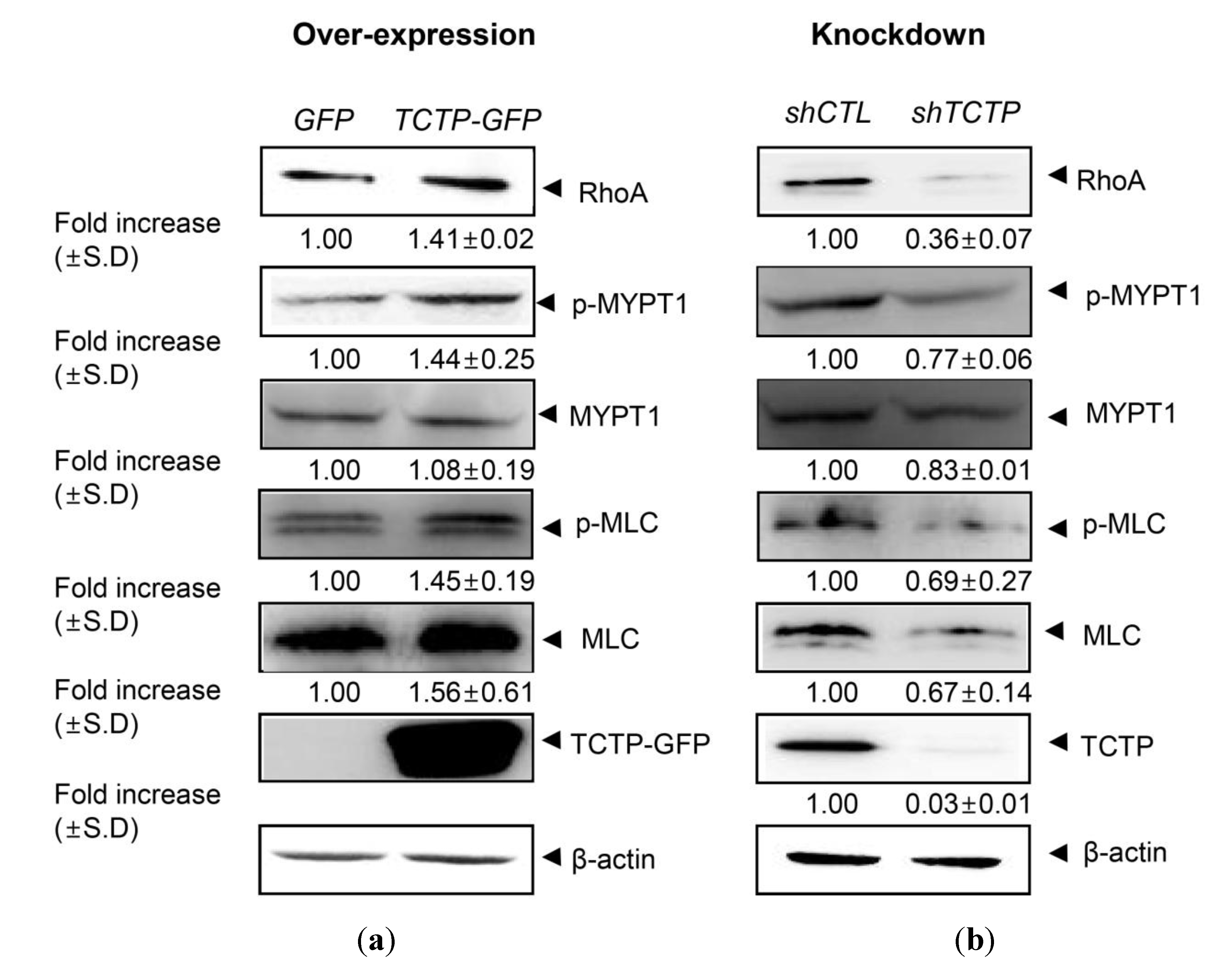 Figure 1
Share & Cite This Article
MDPI and ACS Style
Maeng, J.; Sheverdin, V.; Shin, H.; Ha, I.; Bae, S.S.; Yang-Yen, H.-F.; Lee, K. Up-Regulation of Rhoa/Rho Kinase Pathway by Translationally Controlled Tumor Protein in Vascular Smooth Muscle Cells. Int. J. Mol. Sci. 2014, 15, 10365-10376.
Related Articles
Comments
[Return to top]