Functional Characterization of NIPBL Physiological Splice Variants and Eight Splicing Mutations in Patients with Cornelia de Lange Syndrome
1
Unit of Clinical Genetics and Functional Genomics, Departments of Pharmacology-Physiology and Pediatrics, School of Medicine, University of Zaragoza, E-50009 Zaragoza, Spain
2
Sektion für Funktionelle Genetik am Institut für Humangenetik, Universität zu Lübeck, D-23538 Lübeck, Germany
3
Institut für Humangenetik, Universität zu Lübeck, D-23538 Lübeck, Germany
4
Department of Pediatrics, Hospital Pablo Tobon Uribe, 05001000 Medellín, Colombia
5
Institute of Medical and Molecular Genetics, Hospital Universitario La Paz, E-28046 Madrid, Spain
6
Department of Pediatrics, Hematology, Oncology and Endocrinology and Department of General Nursery Medical University of Gdańsk, P80-211 Gdańsk, Poland
7
Department of Molecular Biology, Science School, National University of Rio Cuarto, 5800 Córdoba, Argentina
8
Genetics Clinic, Service of Pediatrics, University Clinic Hospital "Lozano Blesa", E-50009 Zaragoza, Spain
*
Authors to whom correspondence should be addressed.
Received: 9 April 2014 / Revised: 12 May 2014 / Accepted: 20 May 2014 / Published: 10 June 2014
Abstract
Cornelia de Lange syndrome (CdLS) is a congenital developmental disorder characterized by distinctive craniofacial features, growth retardation, cognitive impairment, limb defects, hirsutism, and multisystem involvement. Mutations in five genes encoding structural components (
SMC1A
,
SMC3
,
RAD21
)
or functionally associated factors (
NIPBL
,
HDAC8
) of the cohesin complex have been found in patients with CdLS. In about 60% of the patients, mutations in
NIPBL
could be identified. Interestingly, 17% of them are predicted to change normal splicing, however, detailed molecular investigations are often missing. Here, we report the first systematic study of the physiological splicing of the
NIPBL
gene, that would reveal the identification of four new splicing isoforms ΔE10, ΔE12, ΔE33,34, and B'. Furthermore, we have investigated nine mutations affecting splice-sites in the
NIPBL
gene identified in twelve CdLS patients. All mutations have been examined on the DNA and RNA level, as well as by
in silico
analyses. Although patients with mutations affecting
NIPBL
splicing show a broad clinical variability, the more severe phenotypes seem to be associated with aberrant transcripts resulting in a shift of the reading frame.
View Full-Text
►

▼

Figures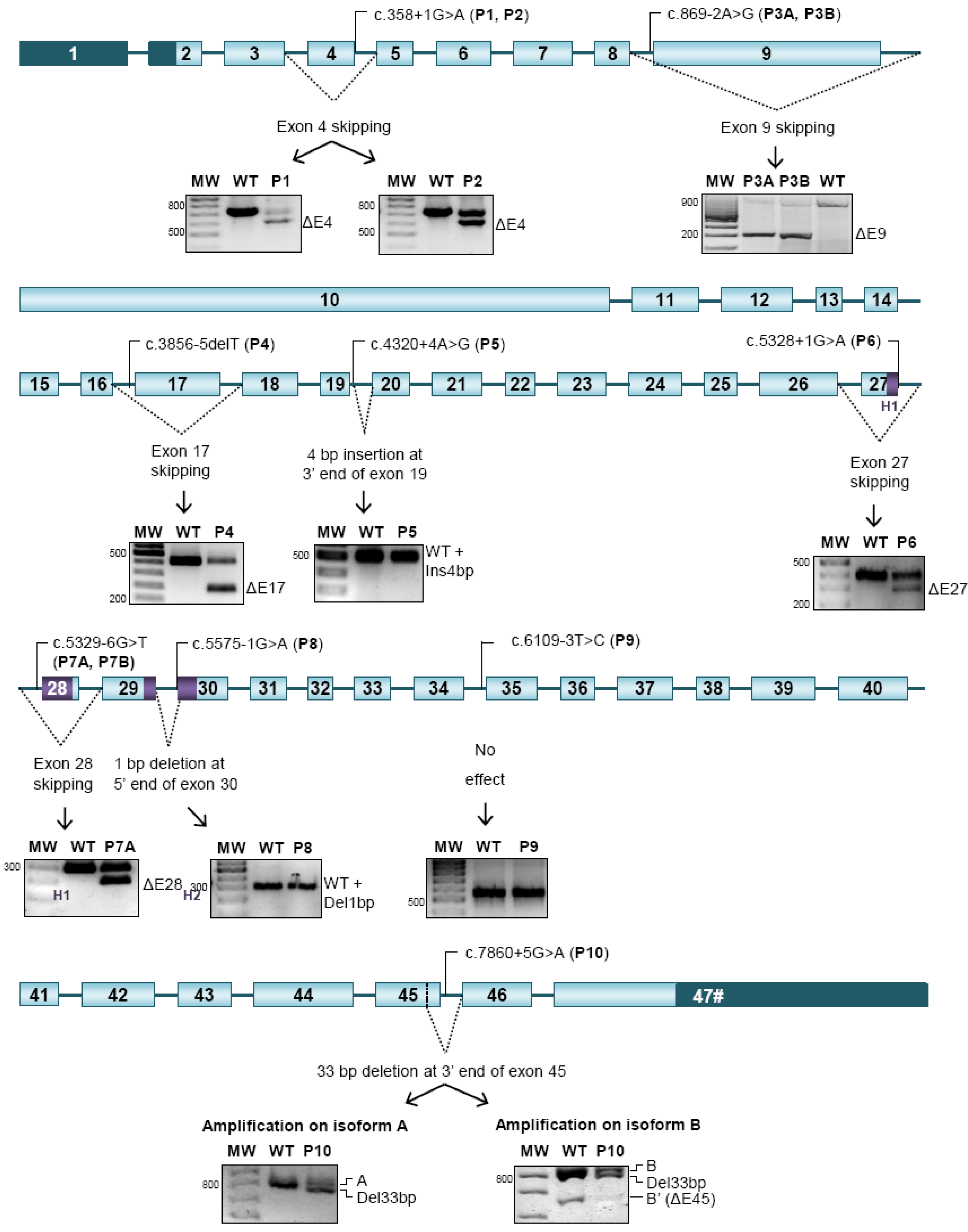 Figure 1
Share & Cite This Article
MDPI and ACS Style
Teresa-Rodrigo, M.E.; Eckhold, J.; Puisac, B.; Dalski, A.; Gil-Rodríguez, M.C.; Braunholz, D.; Baquero, C.; Hernández-Marcos, M.; de Karam, J.C.; Ciero, M.; Santos-Simarro, F.; Lapunzina, P.; Wierzba, J.; Casale, C.H.; Ramos, F.J.; Gillessen-Kaesbach, G.; Kaiser, F.J.; Pié, J. Functional Characterization of NIPBL Physiological Splice Variants and Eight Splicing Mutations in Patients with Cornelia de Lange Syndrome. Int. J. Mol. Sci. 2014, 15, 10350-10364.
Related Articles
Comments
[Return to top]