High-Salt Intake Suppressed MicroRNA-133a Expression in Dahl SS Rat Myocardium
1
Department of Cardiovascular Medicine, First Affiliated Hospital of Medical College of Xi'an Jiaotong University, No. 277 Yanta West Road, Xi'an 710061, China
2
Department of Cardiovascular Medicine, Xi'an No. 4 Hospital, No. 21 Jiefang Road, Xi'an 710004, China
†
These authors contributed equally to this work.
*
Author to whom correspondence should be addressed.
Received: 3 May 2014 / Revised: 6 June 2014 / Accepted: 9 June 2014 / Published: 16 June 2014
Abstract
Salt-sensitive individuals show earlier and more serious cardiac damage than nonsalt-sensitive ones. Some studies have suggested that microRNA-133a could reduce cardiac hypertrophy and myocardial fibrosis. The current study aims to investigate the different functions of high-salt intake on salt-sensitive (SS) rats and Sprague-Dawley (SD) rats and the involvement of microRNA-133a in these roles. After high-salt intervention, the left ventricular mass (LVW) and left ventricular mass index (LVMI) of the salt-sensitive high salt (SHS) group were obviously higher than those of the salt-sensitive low salt (SLS) group. However, the difference between the Sprague-Dawley high salt (DHS) group and the Sprague-Dawley low salt (DLS) group was not significant. Compared with SLS group, collagen I and connective tissue growth factor (CTGF) in the heart of SHS group were significantly higher, whereas no statistical difference was observed between the DHS group and the DLS group. Compared with low-salt diet, microRNA-133a in the heart of both strains were significantly decreased, but that in the SHS group decreased more significantly. These results suggest that high salt intervention could down-regulate the expression of myocardial microRNA-133a, which may be one of the mechanisms involved in myocardial fibrosis in salt-sensitive hypertension.
View Full-Text
►

▼

Figures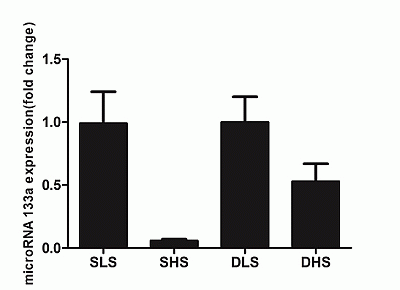 Share & Cite This Article
MDPI and ACS Style
Guo, T.-S.; Zhang, J.; Mu, J.-J.; Liu, F.-Q.; Yuan, Z.-Y.; Ren, K.-Y.; Wang, D. High-Salt Intake Suppressed MicroRNA-133a Expression in Dahl SS Rat Myocardium. Int. J. Mol. Sci. 2014, 15, 10794-10805.
Related Articles
Comments
[Return to top]