A Single Nucleotide Polymorphism in the Stromal Cell-Derived Factor 1 Gene Is Associated with Coronary Heart Disease in Chinese Patients
1
Department of Laboratory Medicine, Nanfang Hospital, Southern Medical University, Guangzhou 510515, China
2
Department of Laboratory, People's Hospital of Yuxi City, Yuxi 653100, China
3
Intensive Care Unit, People's Hospital of Yuxi City, Yuxi 653100, China
4
Department of Cardiology, People's Hospital of Yuxi City, Yuxi 653100, China
*
Author to whom correspondence should be addressed.
Received: 26 May 2014 / Revised: 6 June 2014 / Accepted: 13 June 2014 / Published: 19 June 2014
Abstract
Coronary heart disease (CHD) is highly prevalent globally and a major cause of mortality. Genetic predisposition is a non-modifiable risk factor associated with CHD. Eighty-four Chinese patients with CHD and 253 healthy Chinese controls without CHD were recruited. Major clinical data were collected, and a single nucleotide polymorphism (SNP) in the
stromal cell-derived factor 1
(
SDF-1
) gene at position 801 (G to A, rs1801157) in the 3'-untranslated region was identified. The correlation between rs1801157 genotypes and CHD was evaluated by a multivariate logistic regression analysis. The allele frequency in the CHD and control groups was in Hardy-Weinberg equilibrium (HWE) (
p
> 0.05). The frequency of the GG genotype in the CHD group (59.5%) was significantly higher than that in the control group (49.8%) (
p
= 0.036). A number of variables, including male sex, age, presence of hypertension, and the levels of low-density lipoprotein cholesterol (LDL-C), high-density lipoprotein cholesterol (HDL-C), triglycerides (TG), uric acid, and total bilirubin, were associated with CHD in a primary univariate analysis. In a multivariable logistic regression analysis, the GG genotype (GG:AA, odds ratio (OR) = 2.31, 95% confidence interval (CI) = 1.21–5.23), male sex, advanced age (≥60 years), presence of hypertension, LDL-C level ≥ 3.33 mg/dL, HDL-C level < 1.03 mg/dL, and TG level ≥ 1.7 mg/dL were independent risk factors for CHD.
View Full-Text
►

▼

Figures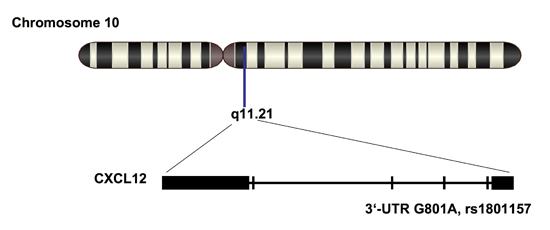 Share & Cite This Article
MDPI and ACS Style
Feng, L.; Nian, S.-Y.; Hao, Y.-L.; Xu, W.-B.; Ye, D.; Zhang, X.-F.; Li, D.; Zheng, L. A Single Nucleotide Polymorphism in the Stromal Cell-Derived Factor 1 Gene Is Associated with Coronary Heart Disease in Chinese Patients. Int. J. Mol. Sci. 2014, 15, 11054-11063.
Related Articles
Comments
[Return to top]