Abiotic and Biotic Soil Characteristics in Old Growth Forests and Thinned or Unthinned Mature Stands in Three Regions of Oregon
1
Department of Forest Ecosystems and Society, Oregon State University, Corvallis, OR 97331, USA
2
Department of Botany and Plant Pathology, Oregon State University, Corvallis, OR 97331, USA
*
Author to whom correspondence should be addressed.
Received: 1 August 2012 / Revised: 30 August 2012 / Accepted: 30 August 2012 / Published: 20 September 2012
Abstract
We compared forest floor depth, soil organic matter, soil moisture, anaerobic mineralizable nitrogen (a measure of microbial biomass), denitrification potential, and soil/litter arthropod communities among old growth, unthinned mature stands, and thinned mature stands at nine sites (each with all three stand types) distributed among three regions of Oregon. Mineral soil measurements were restricted to the top 10 cm. Data were analyzed with both multivariate and univariate analyses of variance. Multivariate analyses were conducted with and without soil mesofauna or forest floor mesofauna, as data for those taxa were not collected on some sites. In multivariate analysis with soil mesofauna, the model giving the strongest separation among stand types (
P
= 0.019) included abundance and richness of soil mesofauna and anaerobic mineralizable nitrogen. The best model with forest floor mesofauna (
P
= 0.010) included anaerobic mineralizable nitrogen, soil moisture content, and richness of forest floor mesofauna. Old growth had the highest mean values for all variables, and in both models differed significantly from mature stands, while the latter did not differ. Old growth also averaged higher percent soil organic matter, and analysis including that variable was significant but not as strong as without it. Results of the multivariate analyses were mostly supported by univariate analyses, but there were some differences. In univariate analysis, the difference in percent soil organic matter between old growth and thinned mature was due to a single site in which the old growth had exceptionally high soil organic matter; without that site, percent soil organic matter did not differ between old growth and thinned mature, and a multivariate model containing soil organic matter was not statistically significant. In univariate analyses soil mesofauna had to be compared nonparametrically (because of heavy left-tails) and differed only in the Siskiyou Mountains, where they were most abundant and species rich in old growth forests. Species richness of mineral soil mesofauna correlated significantly (+) with percent soil organic matter and soil moisture, while richness of forest floor mesofauna correlated (+) with depth of the forest floor. Composition of forest floor and soil mesofauna suggest the two groups represent a single community. Soil moisture correlated highly with percent soil organic matter, with no evidence for drying in sites that were sampled relatively late in the summer drought, suggesting losses of surface soil moisture were at least partially replaced by hydraulic lift (which has been demonstrated in other forests of the region).
View Full-Text
►

▼

Figures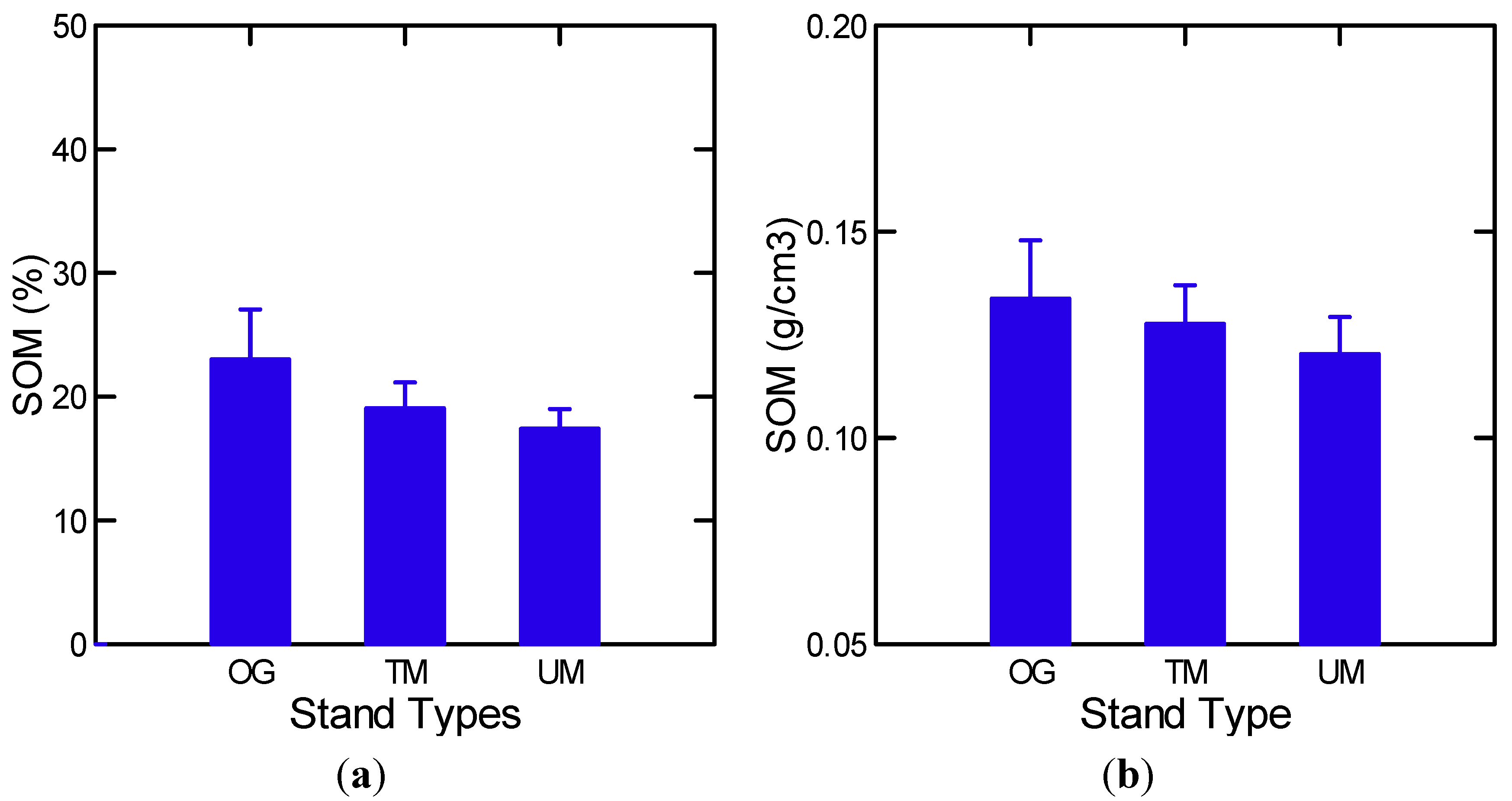 Figure 1
Share & Cite This Article
MDPI and ACS Style
Perry, D.A.; Griffiths, R.P.; Moldenke, A.R.; Madson, S.L. Abiotic and Biotic Soil Characteristics in Old Growth Forests and Thinned or Unthinned Mature Stands in Three Regions of Oregon. Diversity 2012, 4, 334-362.
Comments
[Return to top]