Half-Cell Potential Analysis of an Ammonia Sensor with the Electrochemical Cell Au | YSZ | Au, V2O5-WO3-TiO2
1
Department of Functional Materials, University of Bayreuth, Bayreuth 95440, Germany
2
Corporate Technology, Siemens AG, Munich 81739, Germany
*
Author to whom correspondence should be addressed.
Received: 19 March 2013 / Revised: 1 April 2013 / Accepted: 8 April 2013 / Published: 10 April 2013
Abstract
Half-cell potentials of the electrochemical cell Au, VWT | YSZ | Au are analyzed in dependence on oxygen and ammonia concentration at 550 °C. One of the gold electrodes is covered with a porous SCR catalyst, vanadia-tungstenia-titania (VWT). The cell is utilized as a potentiometric ammonia gas sensor and provides a semi-logarithmic characteristic curve with a high NH
3
sensitivity and selectivity. The analyses of the Au | YSZ and Au, VWT | YSZ half-cells are conducted to describe the non-equilibrium behavior of the sensor device in light of mixed potential theory. Both electrode potentials provide a dependency on the NH
3
concentration, whereby VWT, Au | YSZ shows a stronger effect which increases with increasing VWT coverage. The potential shifts in the anodic direction confirm the formation of mixed potentials at both electrodes resulting from electrochemical reactions of O
2
and NH
3
at the three-phase boundary. Polarization curves indicate Butler-Volmer-type kinetics. Modified polarization curves of the VWT covered electrode show an enhanced anodic reaction and an almost unaltered cathodic reaction. The NH
3
dependency is dominated by the VWT coverage and it turns out that the catalytic properties of the VWT thick film are responsible for the electrode potential shift
View Full-Text
►

▼

Figures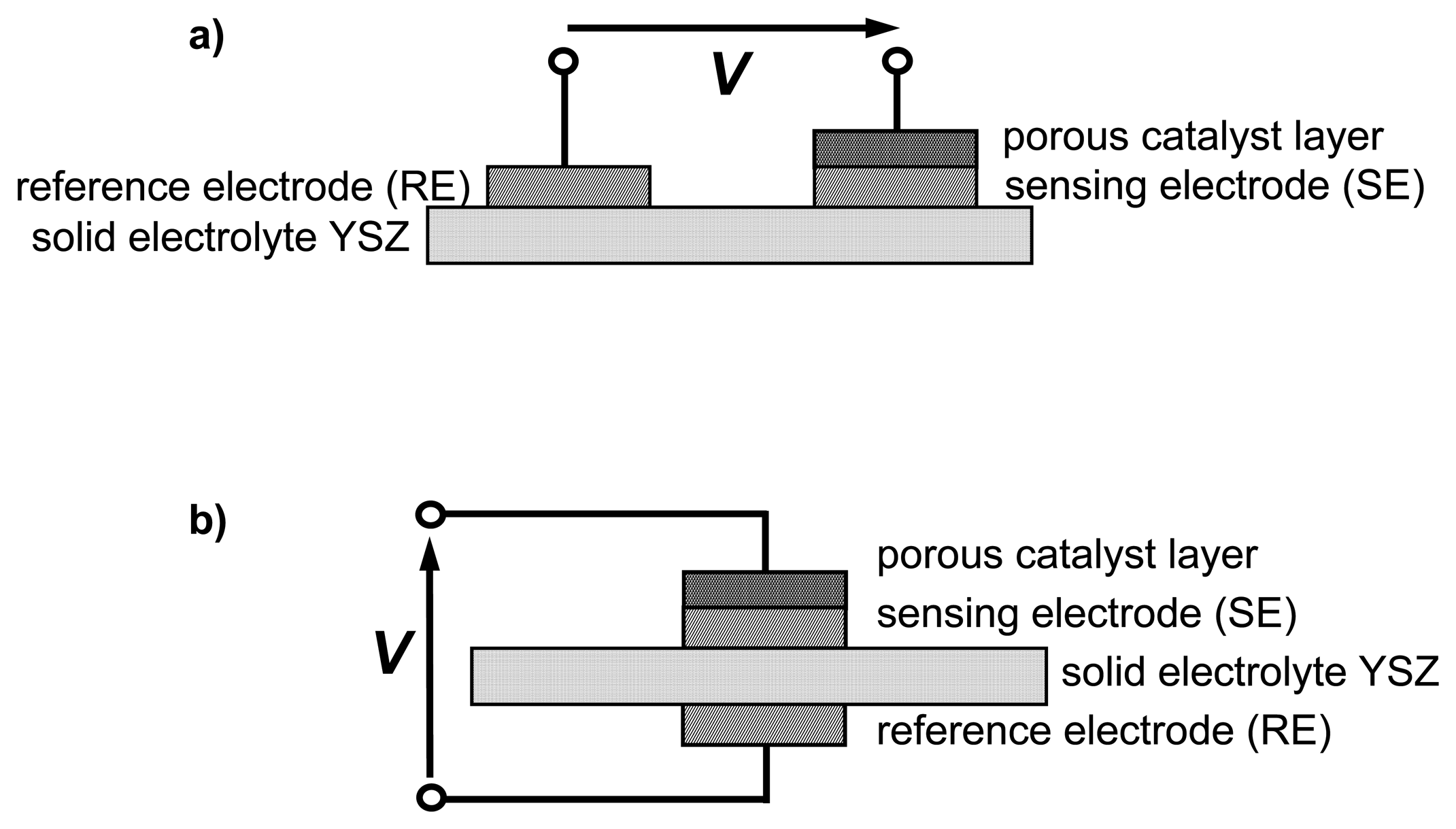 Share & Cite This Article
MDPI and ACS Style
Schönauer-Kamin, D.; Fleischer, M.; Moos, R. Half-Cell Potential Analysis of an Ammonia Sensor with the Electrochemical Cell Au | YSZ | Au, V2O5-WO3-TiO2. Sensors 2013, 13, 4760-4780.
Related Articles
Comments
[Return to top]