Open Access This article is
freely available
re-usable
Review
Intermittent Smoothing Approaches for Wind Power Output: A Review
1
Department of Electrical Engineering, Faculty of Engineering, University of Malaya, 50603 Kuala Lumpur, Malaysia
2
Department of Electrical Engineering, NFC IET, Multan 60000, Pakistan
*
Author to whom correspondence should be addressed.
Academic Editor: Rui Xiong
Received: 12 September 2017 / Accepted: 6 October 2017 / Published: 12 October 2017
Abstract
:
Wind energy is one of the most common types of renewable energy resource. Due to its sustainability and environmental benefits, it is an emerging source for electric power generation. Rapid and random changes of wind speed makes it an irregular and inconsistent power source when connected to the grid, causing different technical problems in protection, power quality and generation dispatch control. Due to these problems, effective intermittent smoothing approaches for wind power output are crucially needed to minimize such problems. This paper reviews various intermittent smoothing approaches used in smoothing the output power fluctuations caused by wind energy. Problems associated with the inclusion of wind energy resources to grid are also briefly reviewed. From this review, it has been found that battery energy storage system is the most suitable and effective smoothing approach, provided that an effective control strategy is available for optimal utilization of battery energy system. This paper further demonstrates different control strategies built for battery energy storage system to obtain the smooth output wind power.
Keywords:
intermittent sources; power fluctuations; voltage variations; frequency variations; power smoothing; battery energy storage system (BESS)
1. Introduction
The total amount of electricity generated from wind is directly related to the speed of air. The wind penetration depends on the speed of wind, which varies day to day, hour-hour and even smaller duration of time (min and s). Determination of wind speed is essential to determine the amount of power produced by the wind generation system (WGS) and helpful in wind power smoothing. Wind speed can be determined by wind forecasting.
2. Problems Related to Intermittent Wind Power Sources
The inclusion of wind-based energy sources into the utility grid causes power quality issues. The issues include voltage variation, unintentional islanding from the grid, reverse power flow and power fluctuations in grid connected systems and impact on utility frequency. Brief descriptions of these issues are given below:
3. Intermittent Smoothing Approaches for Wind Output
To interconnect the wind-based energy sources with the power system, the ramp rate should be controlled within prescribed limits. If it exceeds the limits, the power quality of the grid will be badly affected. In addition, a ramp rate penalty will be imposed on the wind-based energy utility. The Electric Reliability Council of Texas (ERCOT) imposed a ramp rate penalty to a few wind-based power plants for violating ramp rate limits [
36
].
The ramp rate of wind-based energy sources is controlled by using smoothing methods. However, this will increase the overall system and operating costs. The smoothing methods are classified into two groups; (i) without utilization of energy storage devices and (ii) by utilizing energy storage devices [
24
,
25
]. The first group is based on pitch angle control [
37
] and the kinetic energy of inertia control [
38
]. These approaches require low expenditure and often fail to catch the maximum available wind power. The second category smoothen the wind power by using wind energy conversion systems (WECSs) and can catch the maximal amount of wind power. An example includes a 254-MWh NAS battery, which was installed to stabilize a 51-MW wind farm (WF) [
39
].
3.1. Smoothing by Using Pitch Control
The output power from wind-based energy sources depends on the pitch angle and the wind speed. The output power is directly proportional to the cube of wind speed [
40
]. Wind turbines work in two different operating regions based on wind speed: (i) weak wind speed and (ii) strong wind speed operating regions. In the weak wind speed operating region, the wind power is less than the rated output power. This problem can be resolved by capturing the maximum wind energy. In the strong wind speed operating region, the maximum power is obtained as the wind speed is higher than the rated speed. However, this will reduce the efficiency and requires a control mechanism for wind rotors. The pitch control of wind turbines is an efficient method to obtain the maximum power. It has an active control system to vary the pitch angle of the blade as shown in
Figure 4
. The rotational speed of a wind turbine depends on the torque produced by the blades and it can vary as the pitch angle changes. Burton et al. [
40
] used a classical pitch control system to control the rotor speed and obtained the rated power at high wind speed.
The smoothing of the output power by the pitch angle using regulated generalized predictive control (GPC) is proposed in [
41
]. The GPC used the average and standard deviation of wind speed to smooth the output power. This mechanism is normally used for medium-to large-size wind turbine generators due to the low cost [
42
].
There are several other methods to control the pitch angle. The back-stepping [
43
] and feed-forward [
44
] methods are used if the wind speed is above the rated speed. A static and dynamic performance based wind turbine using Doubly Fed Induction Generator (DFIG) and pitch control algorithm is proposed in [
45
]. It smoothens the output power efficiently if the wind speed is higher than the rated speed. According to the authors in [
46
], smoothing the output power by alteration of blade pitch angle according to the wind speed is a dominant method, but wind turbine overall dynamics can be influenced in the case of malfunction of blade pitch control. Pitch regulated WT can smoothen the wind generator power until a certain limit of high wind speed and it should be stopped from operation above the limit [
47
,
48
].
3.2. Smoothing by Utilizing Energy Storage System
Storage devices can reduce the uncertainty or power fluctuation of wind generation, shift the generation pattern, enhance flexibility, mitigate price hikes or sags and offer protection in the absence of wind power [
49
,
50
,
51
].
3.2.1. Flywheel Energy Storage System
The machine in the flywheel plays a vital role in storing the energy due to its electromechanical interface. Various types of machine used in the Flywheel Energy Storage Systems (FESSs) are induction machines (IMs), permanent magnet synchronous machines (PMSMs), homopolar machines (HMs), brushless direct current machines (BLDCMs), bearing less machines (BMs) and synchronous machines (SMs).
3.2.2. Battery Energy Storage System (BESS)
Battery energy storage (BES) plays the same role as FWs to smooth the power. It is advantageous for long-term energy storage having minimum standby losses and high efficiency. It can respond rapidly in both charging and discharging modes. It consists of a number of batteries connected in series-parallel combinations for supplying the necessary power to the system. The basic part of a battery is its electrochemical cell, which is composed of a chemical electrolyte, positive electrode (anode) and a negative electrode (cathode). In discharge mode, an electrochemical reaction of the electrolyte takes place at the two electrodes, generating a flow of electrons from an external circuit. However, in charging mode, the electrical voltages are applied across the electrode to store energy in chemical form.
3.2.3. Superconductive Magnetic Energy Storage SYSTEM (SMESS)
3.3. Curtailment of Active Power by maximum power point tracking (MPPT) Control
4. Control Strategy for BESS
5. Discussion
Wind output power curtailment is not preferred because it restricts the owners' profit but it is still considered as a key method that can smooth wind power output. Effects such as reverse power flow, voltage variation and frequency digression occur due to wind output variations that can be minimized by aiding wind with fast energy storage systems consisting of batteries and capacitors with better control. A comparison based on the performance among different mitigation methods is provided in
Table 1
.
The performance comparison based on essential features reveals that MPPT control and pitch control are reliable methods but they have drawbacks for overcoming wind power fluctuations as it decreases the owner's profit. Energy storage systems consisting of batteries, capacitors or SMES are the most favorable options to overcome wind power fluctuation issues. Fast variations in wind power output may produce undesirable frequency or voltage oscillations at the PCC. These undesirable variations can be efficiently reduced with the use of battery or capacitor-based energy storage systems. Battery energy storage is considered as the most favorable for MW scale wind installations as it is found that batteries offer high energy density, helping to release power for larger period of times. On another aspect, flywheels and ultra-capacitors are high power density generators that will release power rapidly within seconds and can be employed to control power variations in small wind farms. In addition, capacitors/SMES/EDLC have great benefits over batteries because they are less costly, require less charging time and have longer life. This is why they are preferred for small wind installations at a commercial level. When considering capacitors or SMES, energy density increments proved to be a crucial limitation that restricts them for being applied in multi MW scale wind projects.
From this discussion, we can see that the energy storage in batteries is the most preferred option for resolving wind output power fluctuations for any size of wind turbine. Energy storage in battery form in most situations has to be incorporated along with wind turbine power converters, system operation and construction that depend mainly on the topology of the wind plant wind turbine types and control strategies. Operational restrictions such as: (i) charging rate limits; (ii) state of charge constraints; (iii) depth of discharge (DOD) restrictions; (iv) voltage limits and (v) current limits are important in limitation of batteries energy storage (BES). Recently, numerous steps that can promote the life cycles and efficiencies of available battery storage techniques have been adopted, which can also help to reduce overall capital expenditures. A synchronized operational dispatch scheme is suggested in [
72
], which can lessen the errors related to power forecast and boost the life of BESS. A semi-distributed BESS configuration is suggested to lessen the total expenditure of the BESS control system [
73
]. BESS dual-layer limitation plans are suggested to control wind power fluctuations while increasing the battery life cycle [
75
]. A definite time frame conjunction robust control algorithm of a battery energy storage system (BESS) is proposed for regular and even power ramp without being over-charged or discharged [
76
]. In [
78
], it is described that battery optimal capacity reduces as the number of batteries is higher in a BESS. It was suggested in [
79
] that a dual battery energy storage system can counter the ramp rate and wind power with lower system operating expenses.
Upon examination of the expenses of the various energy storage systems, the main expense for a battery system is somehow lesser as compared to flywheels but the operation and sustaining cost for the flywheel is less than for batteries. The utilization of flywheels is restricted to only multi MW scale wind farm and applying flywheel systems to overcome wind output power oscillations must be studied for small wind plants. It was also studied that the life cycle of flywheel system is better than that of batteries although they require more capital investment. However, it is still provident to install a flywheel system collateral with large wind farms for longer coverage.
6. Conclusions and Future Recommendations
This paper provides a comprehensive review of smoothing approaches for intermittent wind power output. The need for wind power smoothing approaches can be seen from the brief discussion of problems due to intermittent of wind power output when connected to the grid. From the reviews of various intermittent smoothing approaches, it is found that battery energy storage devices are more suitable in controlling the wind output power fluctuations provided the control strategy is effective.
Review of this paper also reveals the possible future research areas that can be explored for improving the intermittent smoothing approaches. These include new control strategies for battery storage, where modern control techniques such as fuzzy logic, predictive control and empirical mode decomposition control can be explored. Wind forecasting techniques are also a potential research area that will help in improving the intermittent approach in terms of technique and optimal battery sizing. Since the intermittent approach is commonly required in the energy management system, further works on improving EMS in terms of optimized economy design, size and efficiency of battery energy storage systems should be conducted as well.
Acknowledgments
The authors would like to thank the Government of Punjab, Pakistan for providing financial support under the research grant SSMS 2016. This research is also funded by University of Malaya under BKP special grant (Grant No. BKS061-2017).
Author Contributions
Muhammad Jabir, Safdar Raza, Hazlee Azil Illias and Hazlie Mokhlis has collected the information. Muhammad Jabir wrote the paper and improved it further with the feedback from Safdar Raza, Hazlee Azil Illias and Hazlie Mokhlis.
Conflicts of Interest
The authors declare no conflict of interest.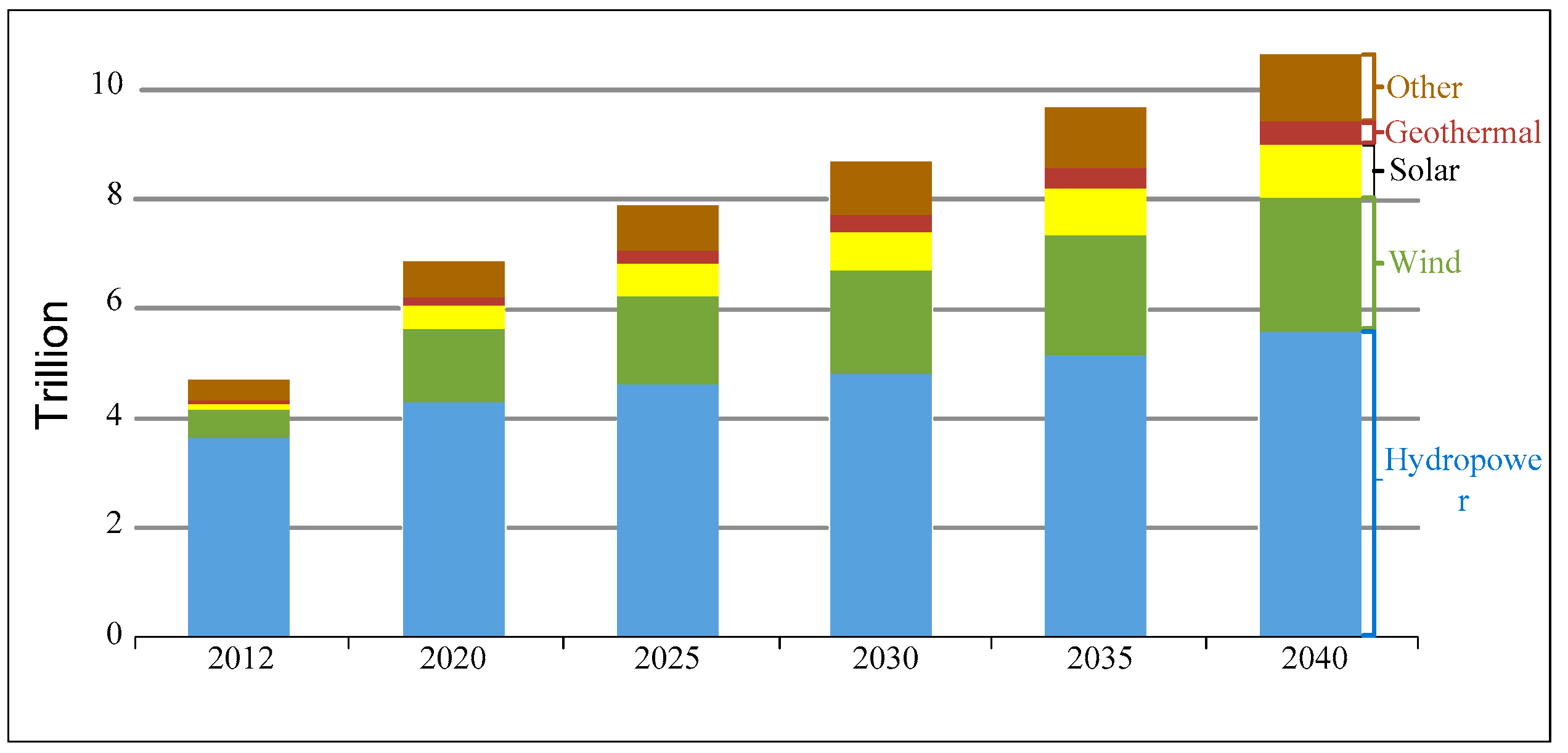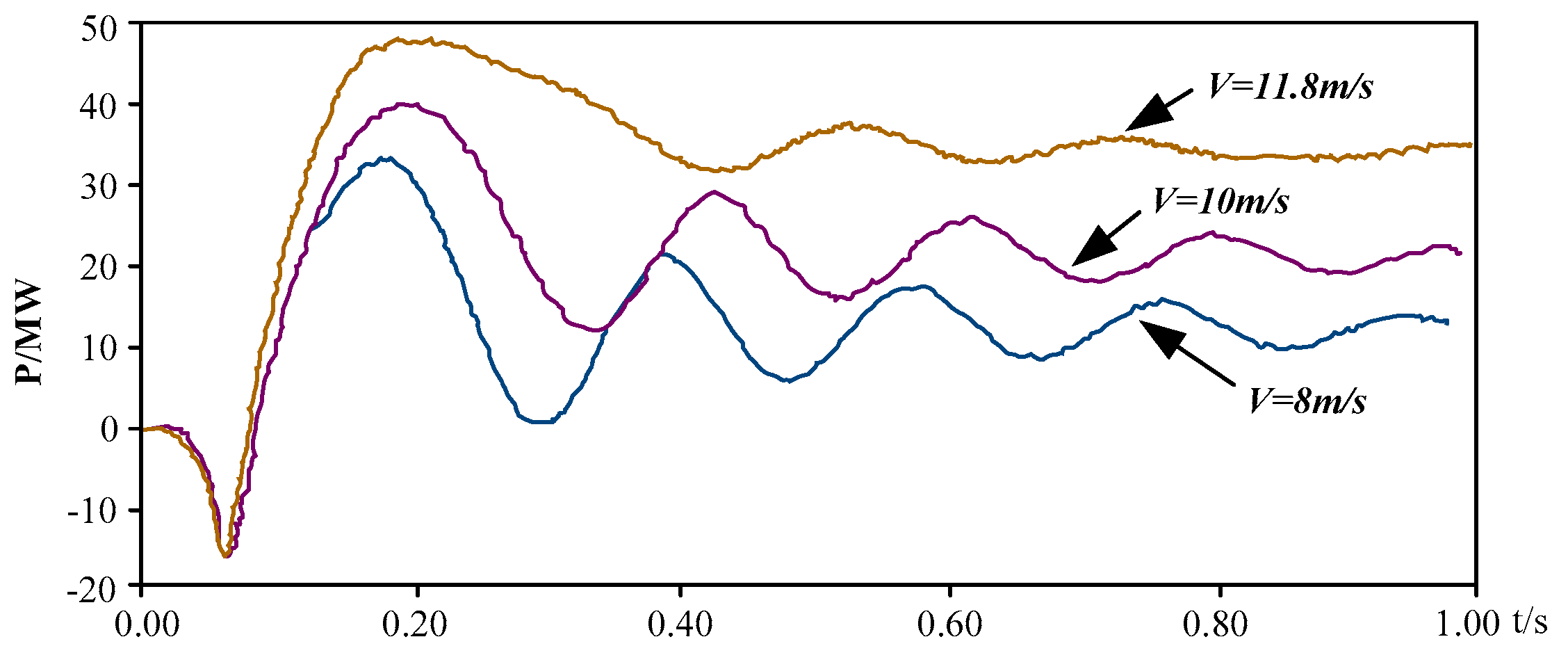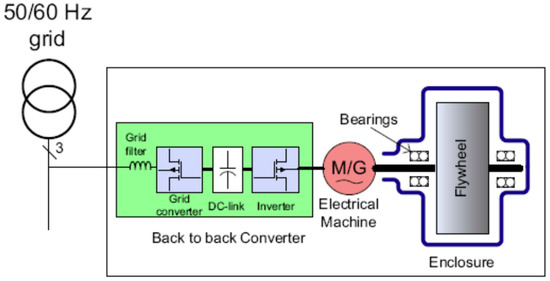 Figure 5.
Components of the Flywheel Energy Storage System (FESS). Reprint with permission [
53
]; Copyright 2017, Elsevier.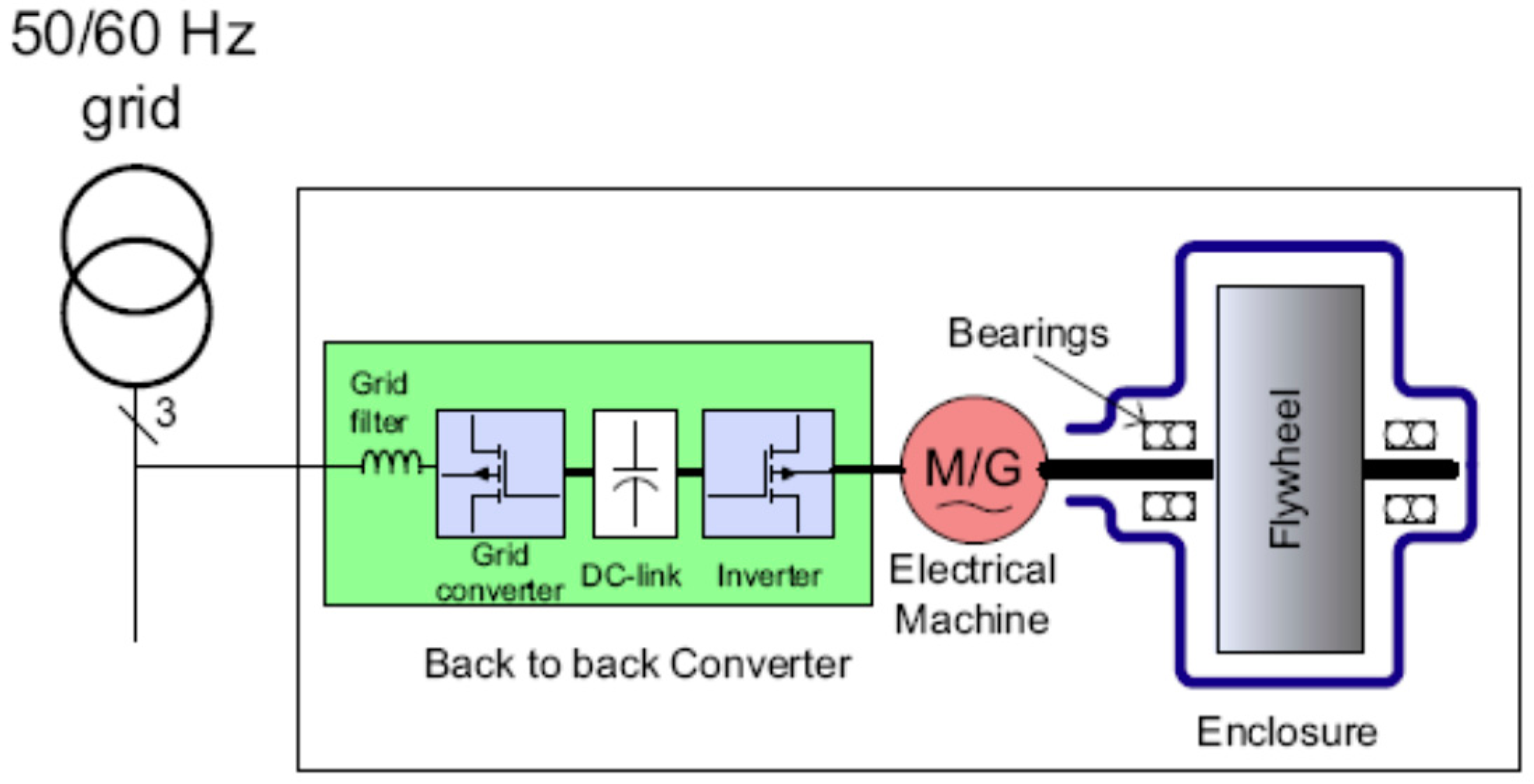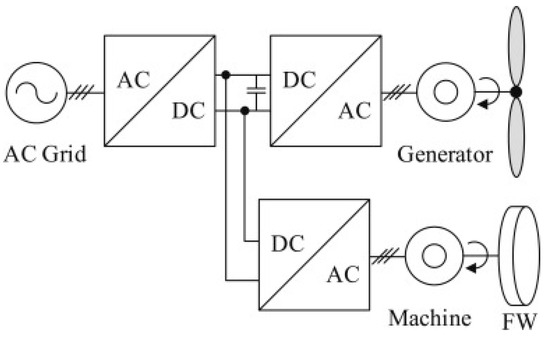 Figure 6.
Back-to-back (BTB) plus DC-AC converter connected in DC-link. Reprint with permission [
54
]; Copyright 2006, IEEE.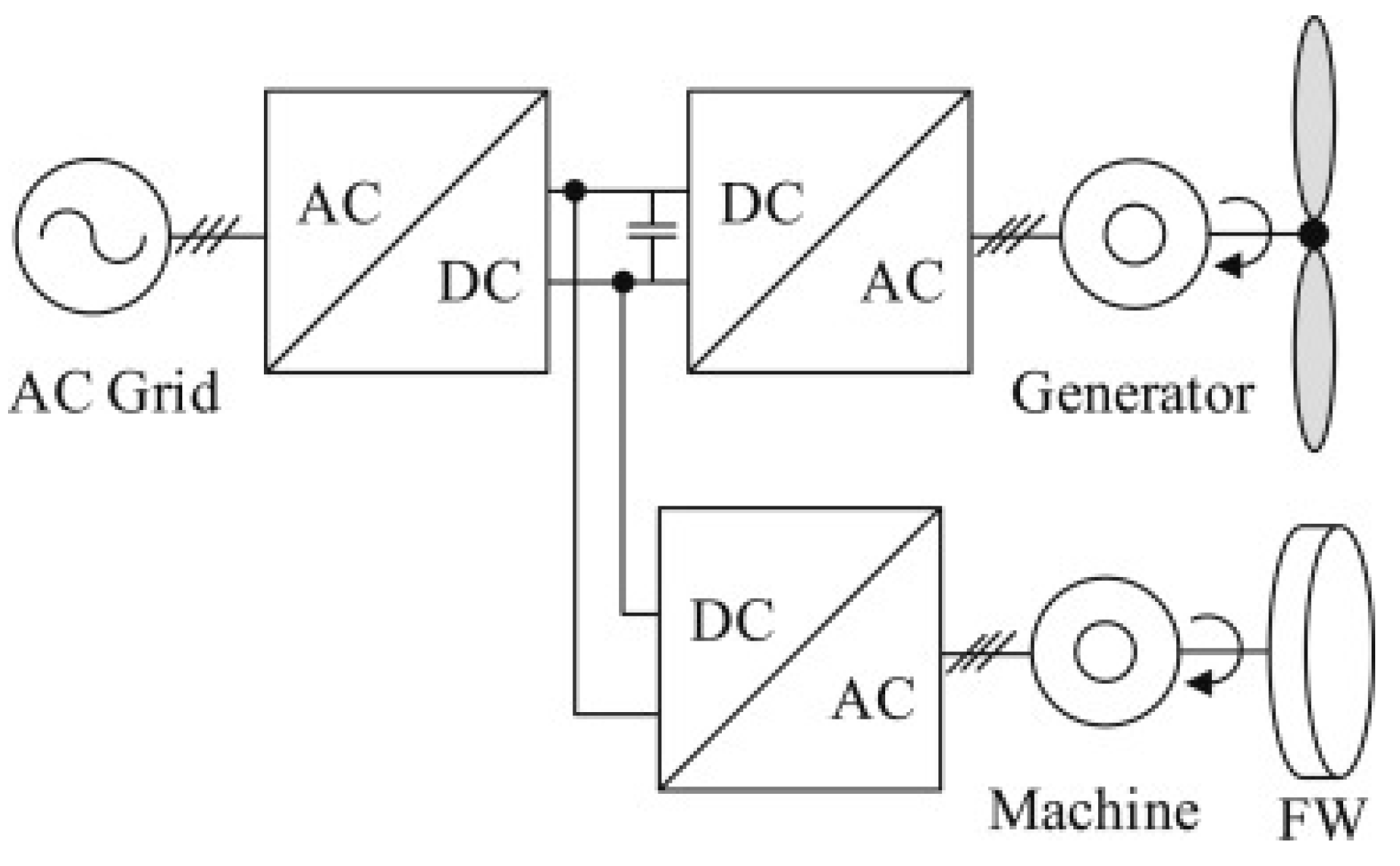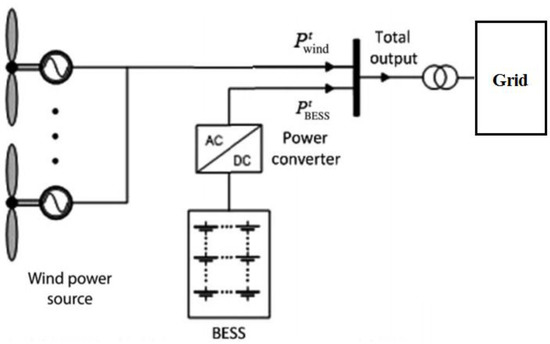 Figure 7.
Battery energy storage system (BESS) for smoothing wind output connected to the grid. Reprint with permission [
70
]; Copyright 2016, IEEE.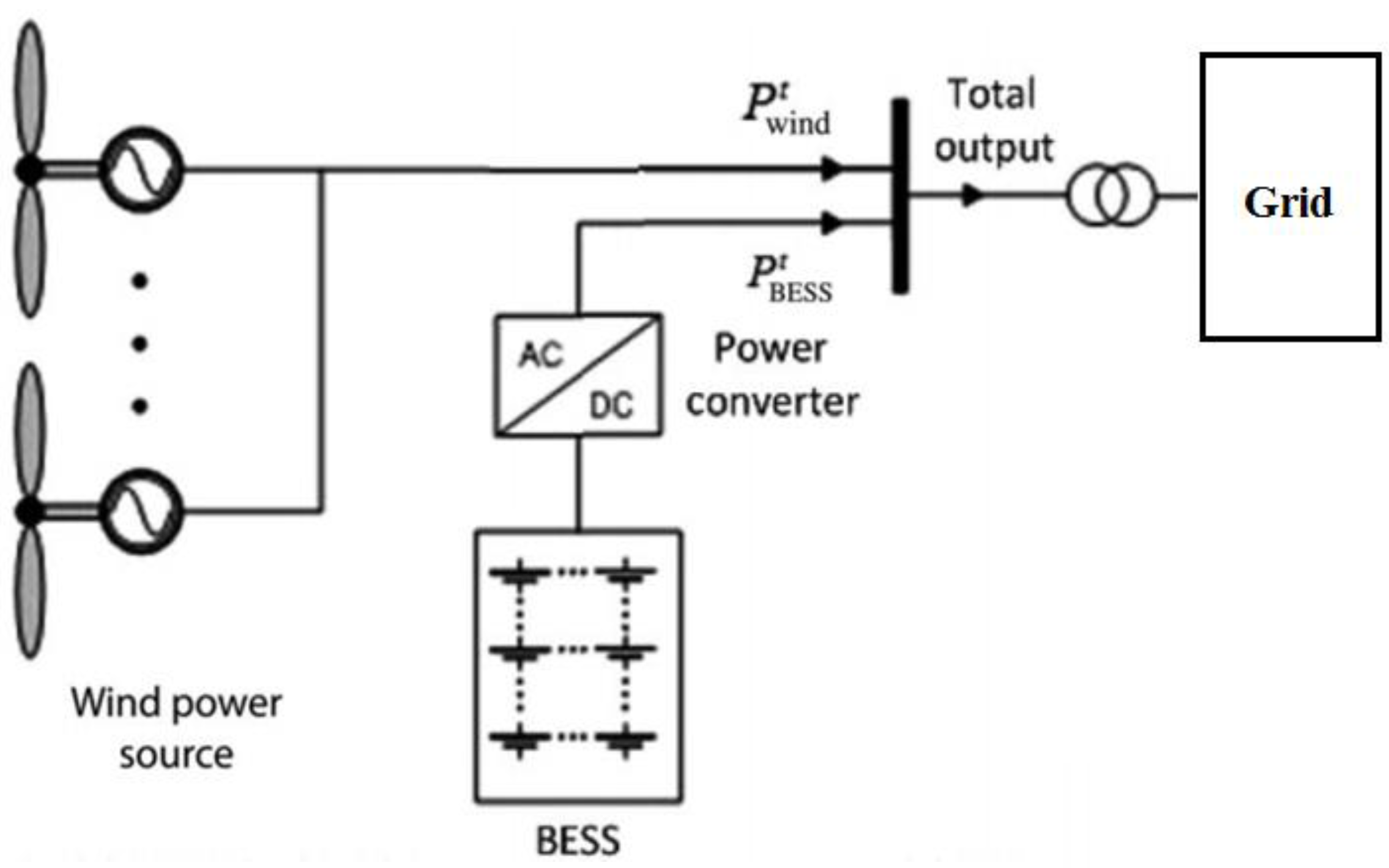 Figure 8.
Semi-distributed BESS configuration. Reprint with permission [
73
]; Copyright 2014, Elsevier.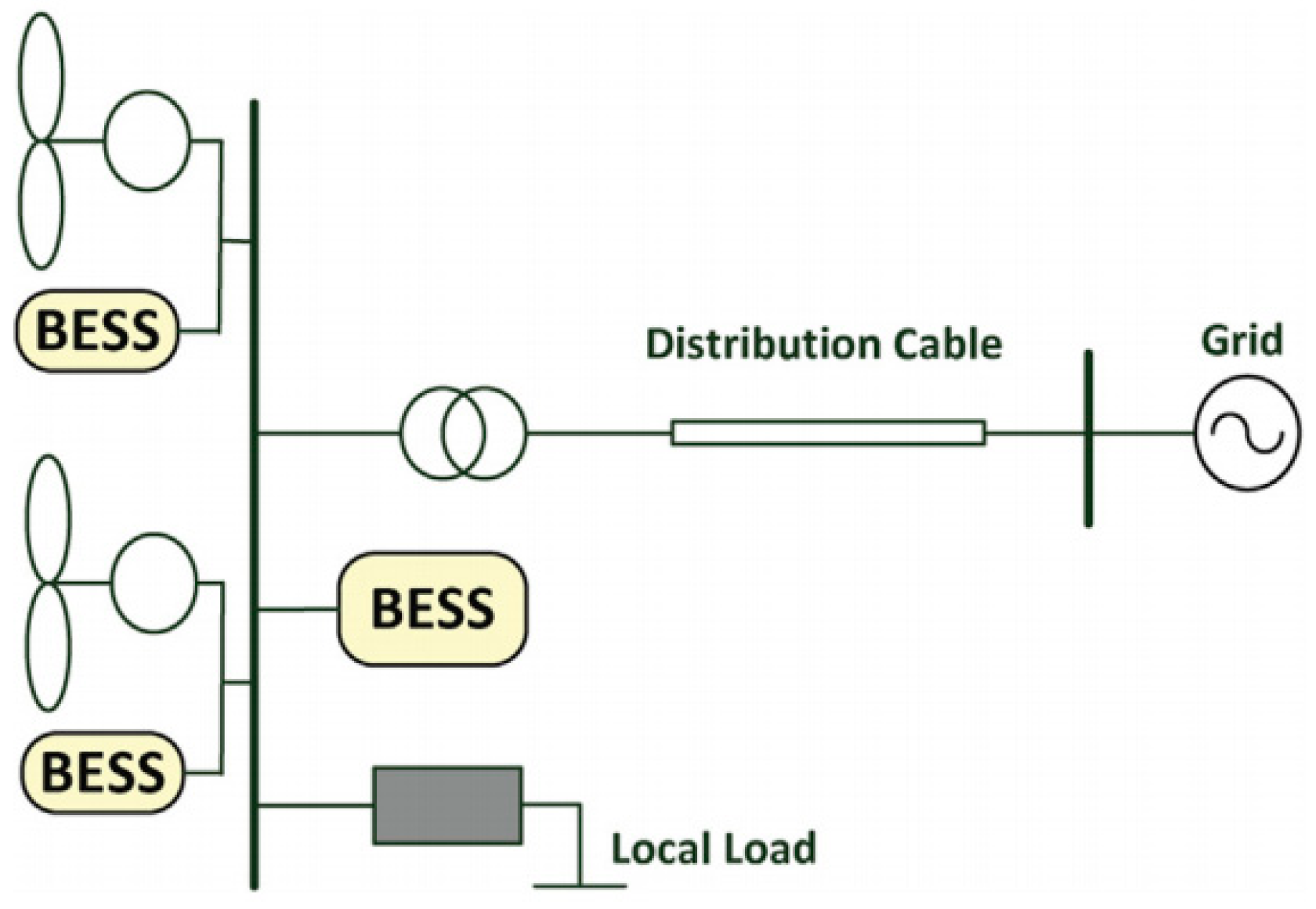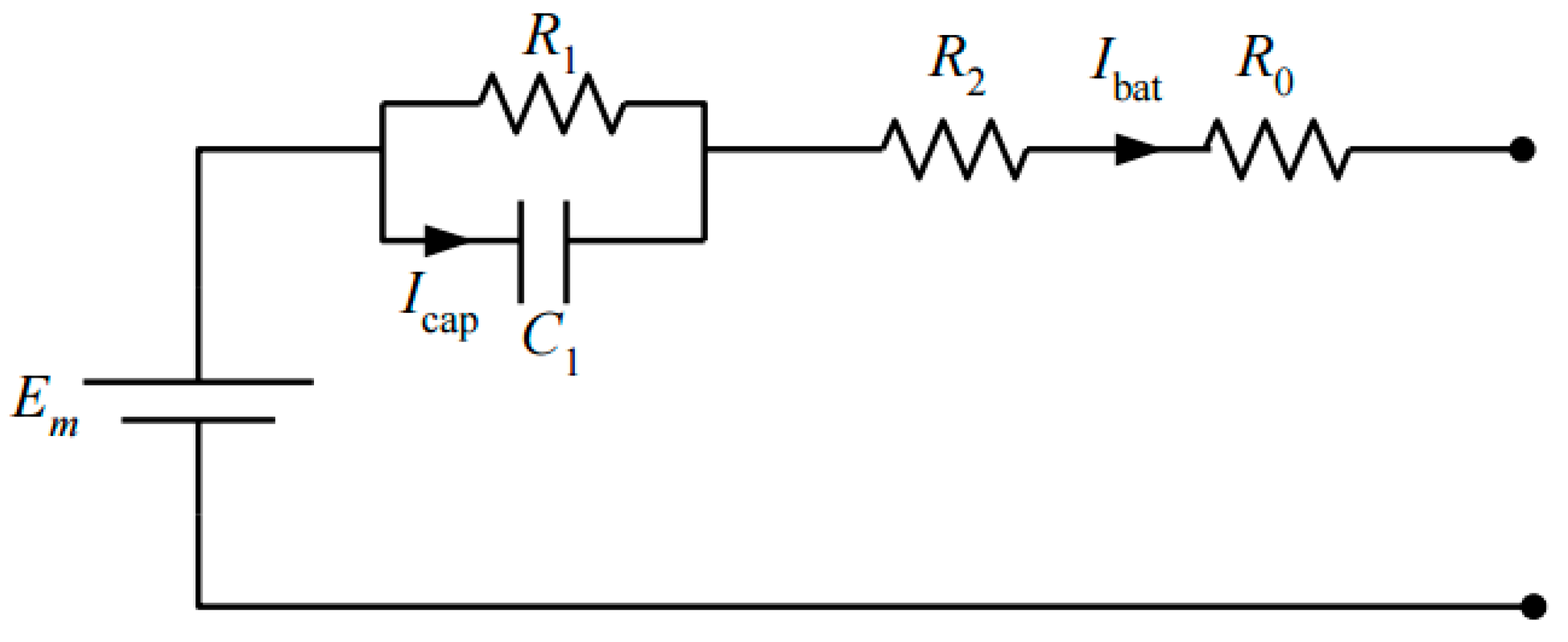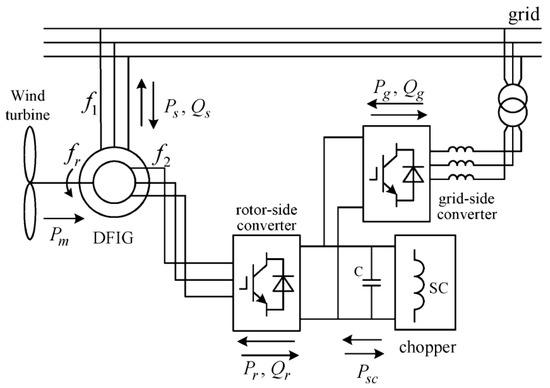 Figure 10.
Configuration of doubly-fed induction generator (DFIG) wind power system based on superconductive magnetic energy storage (SMES). Reprint with permission [
88
]; Copyright 2011, IEEE.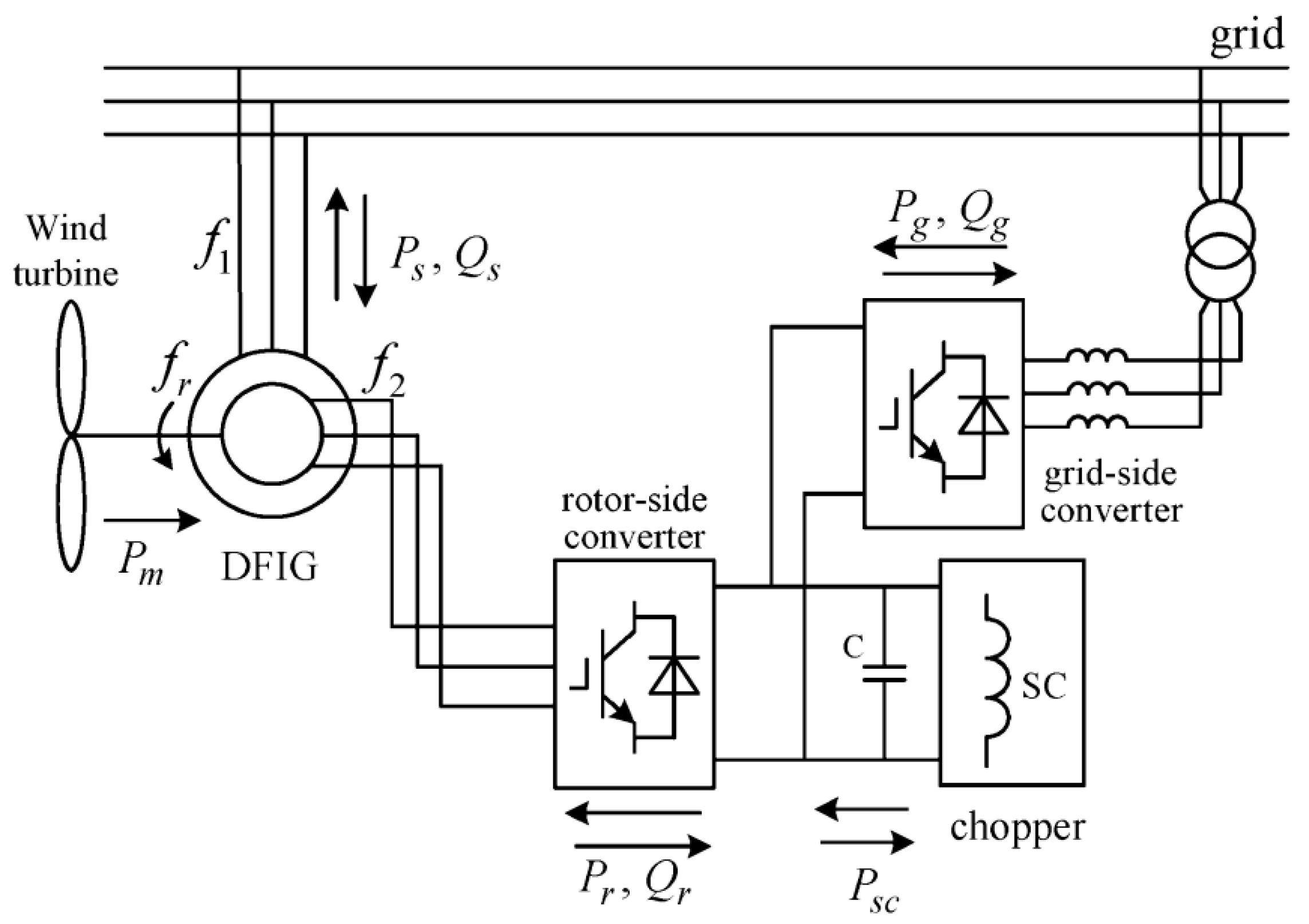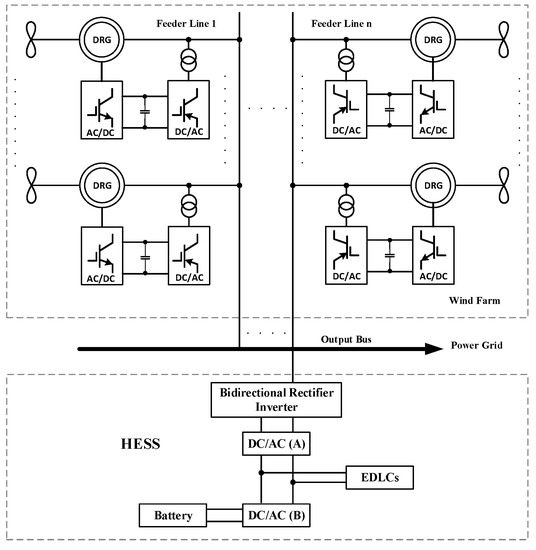 Figure 11. Power system consisting of wind power, electric double-layer capacitor (EDLC) and battery.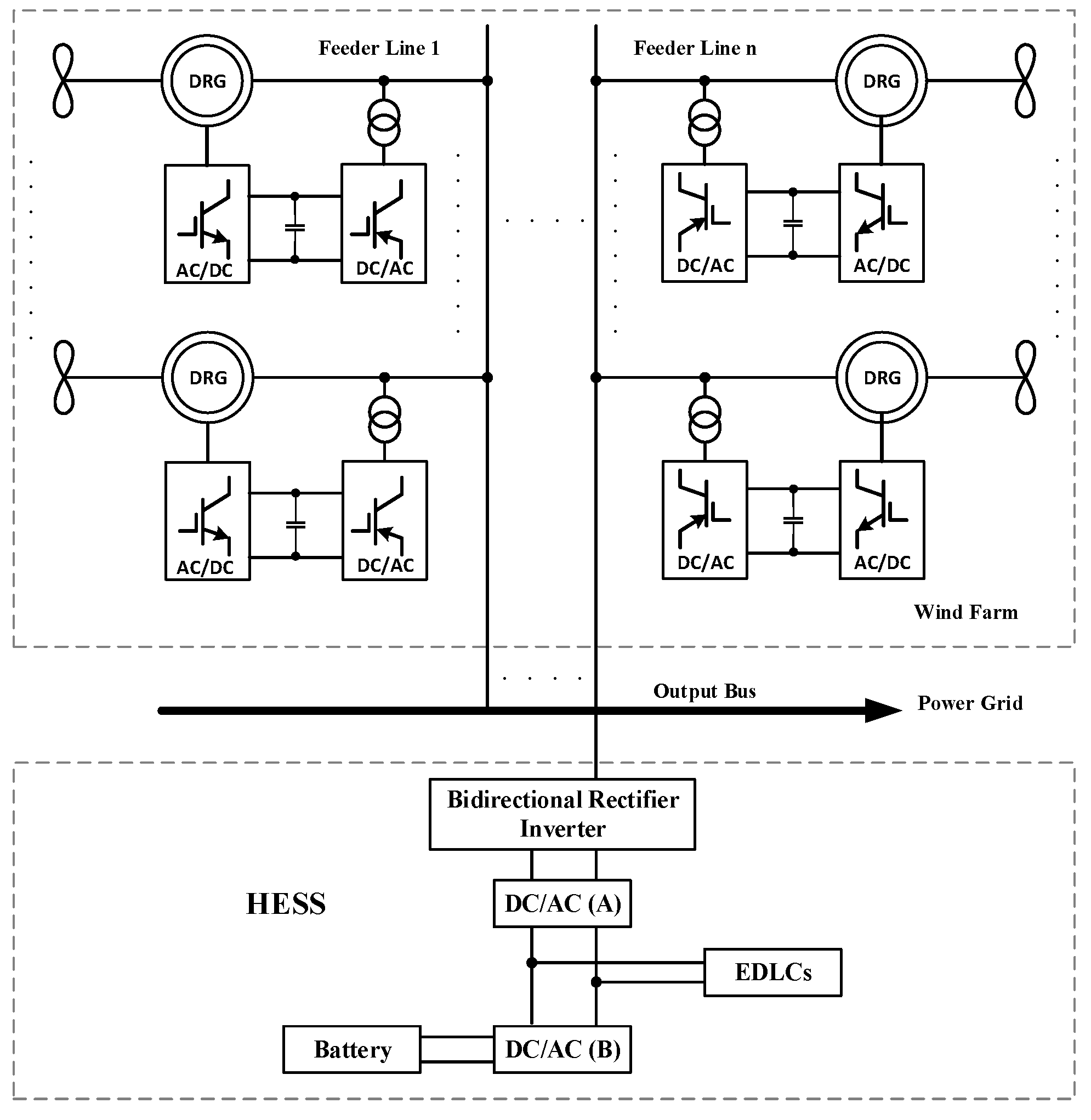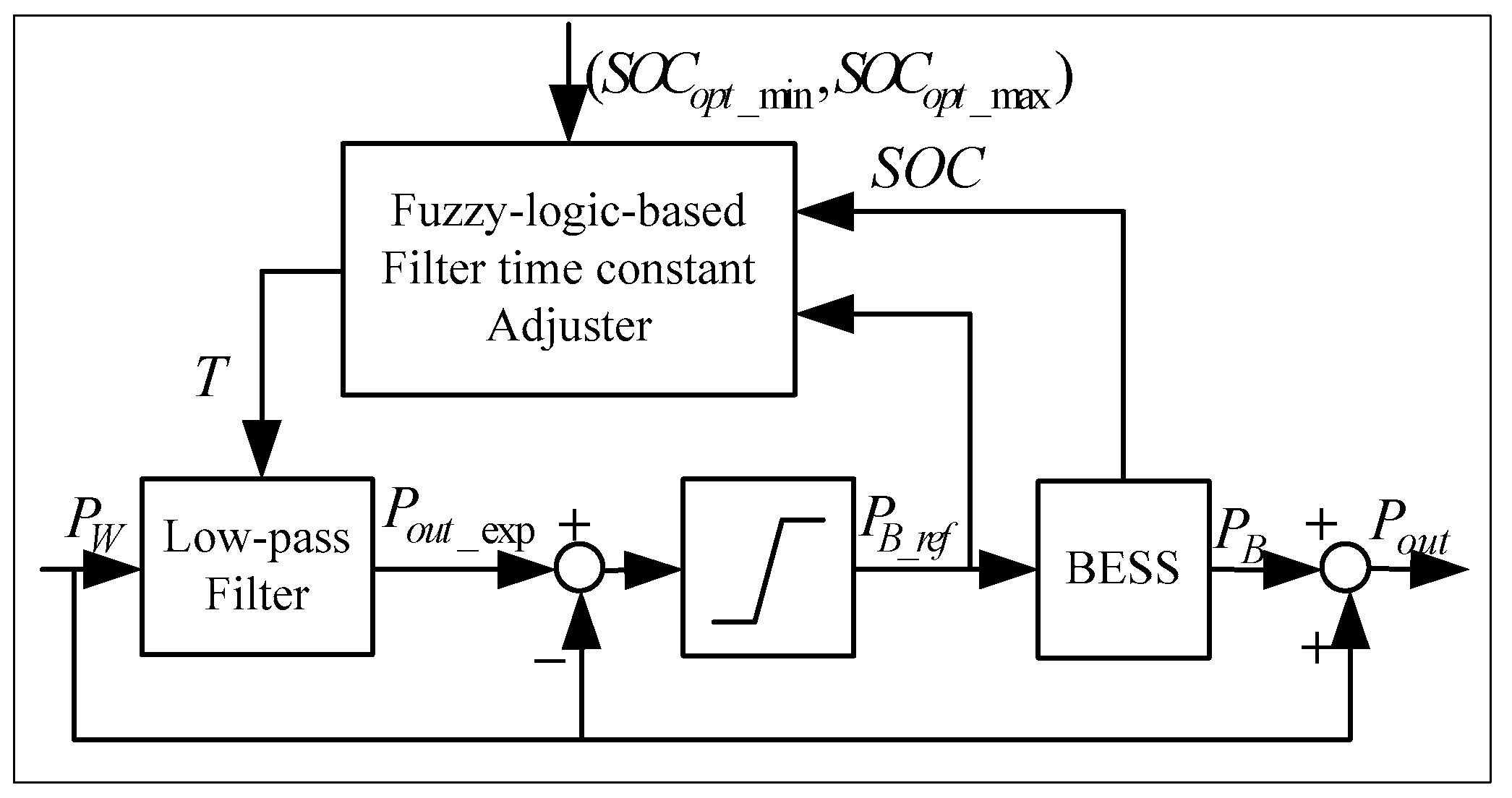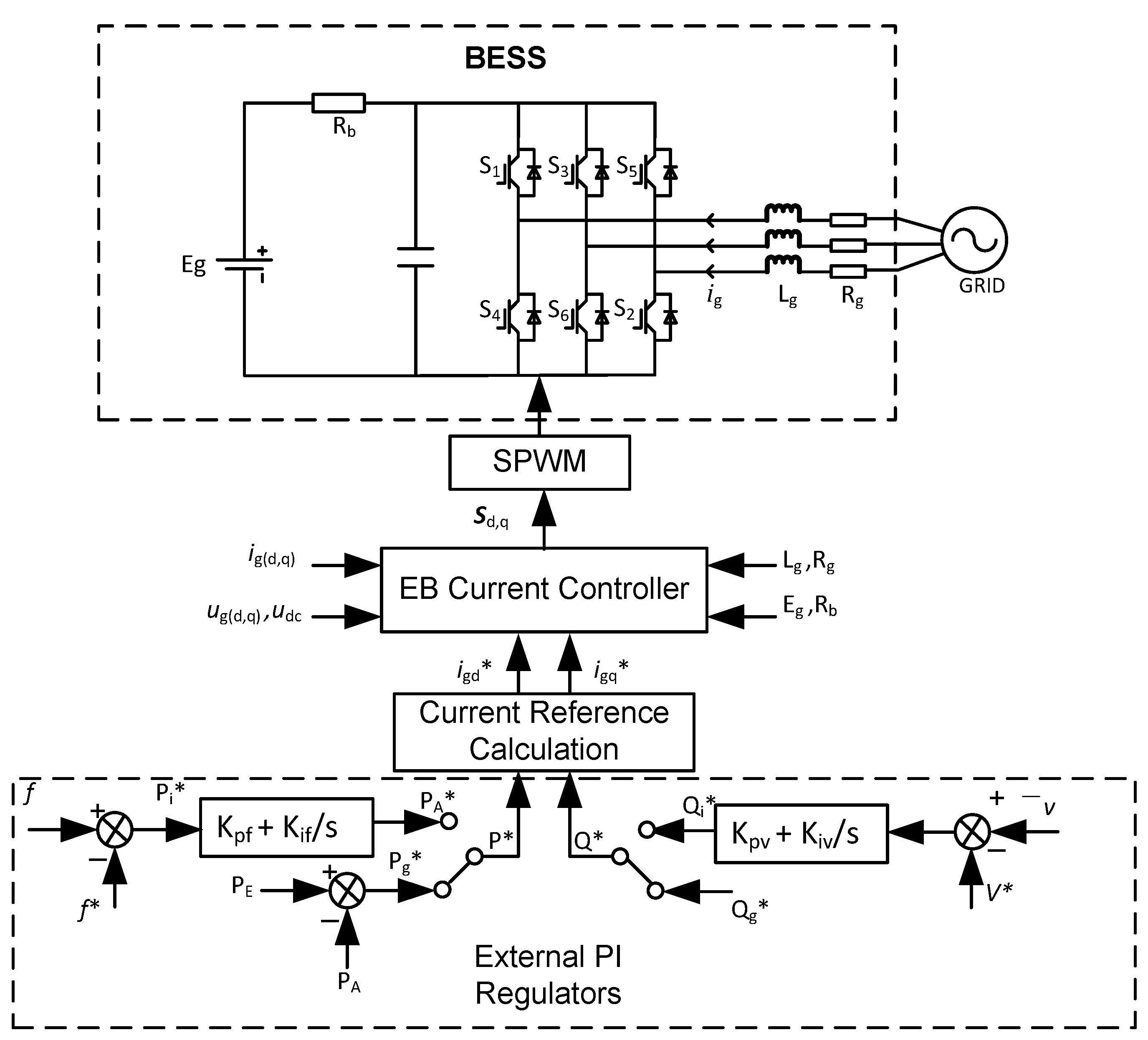 Table 1. Comparison of characteristic features among different intermittent smoothing approaches for mitigating wind power variations.
Table 1. Comparison of characteristic features among different intermittent smoothing approaches for mitigating wind power variations.

| Characteristics | Pitch Control | Flywheel | Battery | Capacitors/SMES/EDLC | MPPT Method |
| --- | --- | --- | --- | --- | --- |
| Response time of Intermittent smoothing approach | Fast | Fast | Fast | Very Fast | Fast |
| Energy Density | N/A | Low | High | Low | N/A |
| Power Density | N/A | High | High | High | N/A |
| Life Period | Large | Very Large | Large | Large | Large |
| Ability to smooth fast ups ramp and downs ramp | Yes (ups ramp only) | Yes | Yes | Yes very fast | Yes |
| Efficiency in mitigating short term wind variation | High | High | High | High | High |
| Ability to mitigate voltage/frequency variations | Yes | Yes | Yes | Yes | Yes |
| Reliability | High | High | High | Very High | High |
| Cost | Low | High | High | Very High | Low |
| Size of wind farm | few MW to large MW scale | Large MW scale | 0 to large MW scale | 0 to few MW scale | 0 to few KW scale |
© 2017 by the authors. Licensee MDPI, Basel, Switzerland. This article is an open access article distributed under the terms and conditions of the Creative Commons Attribution (CC BY) license (http://creativecommons.org/licenses/by/4.0/).