Dynamic Morphological Changes Induced By GM1 and Protein Interactions on the Surface of Cell-Sized Liposomes
School of Material Science, Japan Advanced Institute of Science and Technology, Asahidai Nomi Ishikawa 923-1292, Japan
*
Author to whom correspondence should be addressed.
Received: 25 April 2013 / Revised: 25 May 2013 / Accepted: 29 May 2013 / Published: 19 June 2013
Abstract
It is important to understand the physicochemical mechanisms that are responsible for the morphological changes in the cell membrane in the presence of various stimuli such as osmotic pressure. Lipid rafts are believed to play a crucial role in various cellular processes. It is well established that Ctb (Cholera toxin B subunit) recognizes and binds to GM1 (monosialotetrahexosylganglioside) on the cell surface with high specificity and affinity. Taking advantage of Ctb-GM1 interaction, we examined how Ctb and GM1 molecules affect the dynamic movement of liposomes. GM1 a natural ligand for cholera toxin, was incorporated into liposome and the interaction between fluorescent Ctb and the liposome was analyzed. The interaction plays an important role in determining the various surface interaction phenomena. Incorporation of GM1 into membrane leads to an increase of the line tension leading to either rupture of liposome membrane or change in the morphology of the membrane. This change in morphology was found to be GM1 concentration specific. The interaction between Ctb-GM1 leads to fast and easy rupture or to morphological changes of the liposome. The interactions of Ctb and the glycosyl chain are believed to affect the surface and the curvature of the membrane. Thus, the results are highly beneficial in the study of signal transduction processes.
View Full-Text
►

▼

Figures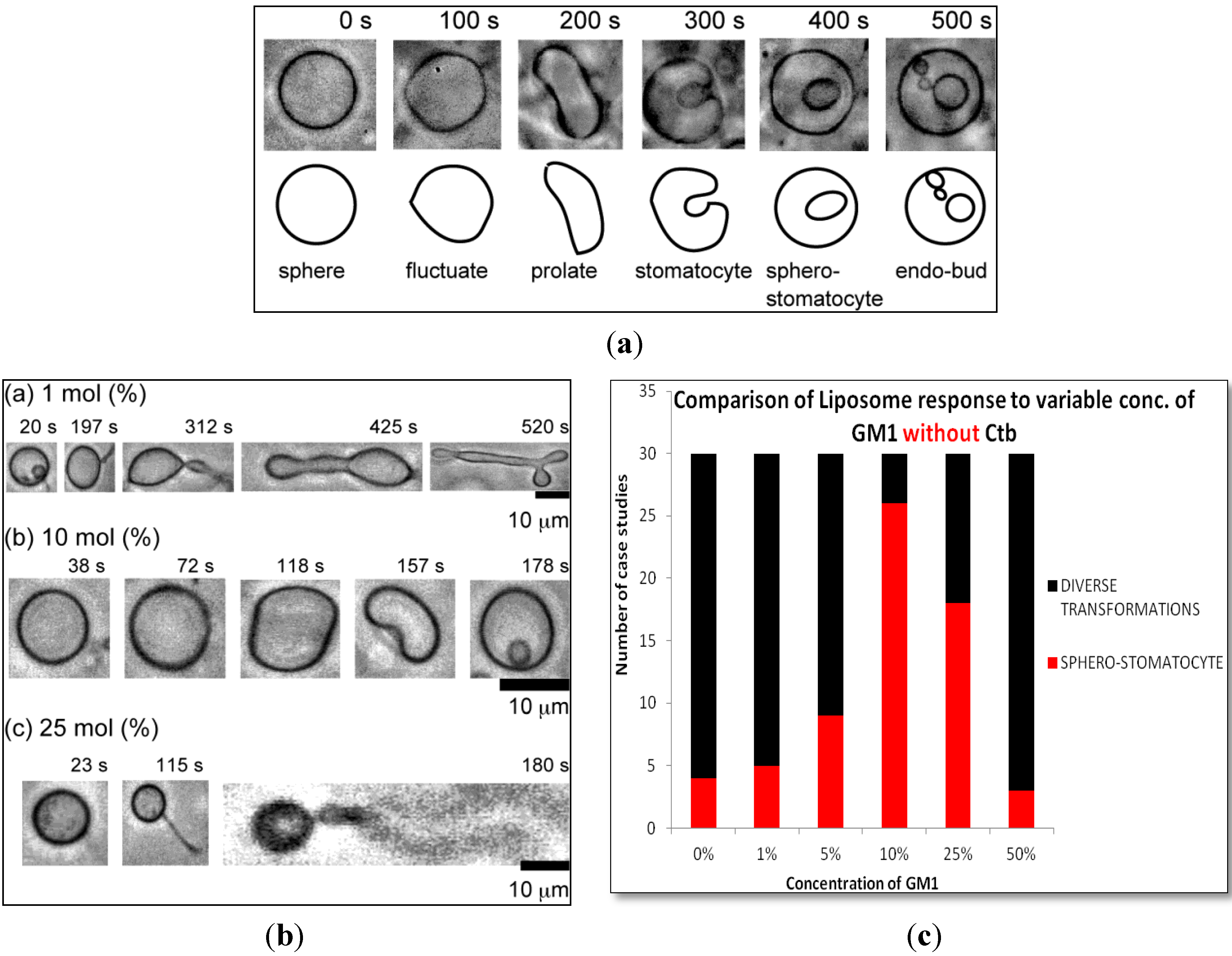 Figure 1
Share & Cite This Article
MDPI and ACS Style
Dhingra, S.; Morita, M.; Yoda, T.; Vestergaard, M.C.; Hamada, T.; Takagi, M. Dynamic Morphological Changes Induced By GM1 and Protein Interactions on the Surface of Cell-Sized Liposomes. Materials 2013, 6, 2522-2533.
Related Articles
Comments
[Return to top]