Development of a Magnetic Electrochemical Bar Code Array for Point Mutation Detection in the H5N1 Neuraminidase Gene
1
Department of Chemistry and Biochemistry, Faculty of Agronomy, Mendel University in Brno, Zemedelska 1, Brno CZ-613 00, Czech Republic
2
Central European Institute of Technology, Brno University of Technology, Technicka 3058/10, Brno CZ-616 00, Czech Republic
3
Department of Microelectronics, Faculty of Electrical Engineering and Communication, Brno University of Technology, Technicka 10, Brno CZ-616 00, Czech Republic
4
Department of Natural Drugs, Faculty of Pharmacy, University of Veterinary and Pharmaceutical Sciences, Palackeho 1-3, Brno CZ-612 42, Czech Republic
5
Department of Chemistry, Faculty of Science, Masaryk University, Kotlarska 2, Brno CZ-611 37, Czech Republic
*
Author to whom correspondence should be addressed.
Received: 17 May 2013 / Revised: 10 June 2013 / Accepted: 1 July 2013 / Published: 15 July 2013
Abstract
Since its first official detection in the Guangdong province of China in 1996, the highly pathogenic avian influenza virus of H5N1 subtype (HPAI H5N1) has reportedly been the cause of outbreaks in birds in more than 60 countries, 24 of which were European. The main issue is still to develop effective antiviral drugs. In this case, single point mutation in the neuraminidase gene, which causes resistance to antiviral drug and is, therefore, subjected to many studies including ours, was observed. In this study, we developed magnetic electrochemical bar code array for detection of single point mutations (mismatches in up to four nucleotides) in H5N1 neuraminidase gene. Paramagnetic particles Dynabeads® with covalently bound oligo (dT)
25
were used as a tool for isolation of complementary H5N1 chains (H5N1 Zhejin, China and Aichi). For detection of H5N1 chains, oligonucleotide chains of lengths of 12 (+5 adenine) or 28 (+5 adenine) bp labeled with quantum dots (CdS, ZnS and/or PbS) were used. Individual probes hybridized to target molecules specifically with efficiency higher than 60%. The obtained signals identified mutations present in the sequence. Suggested experimental procedure allows obtaining further information from the redox signals of nucleic acids. Moreover, the used biosensor exhibits sequence specificity and low limits of detection of subnanogram quantities of target nucleic acids.
View Full-Text
►

▼

Figures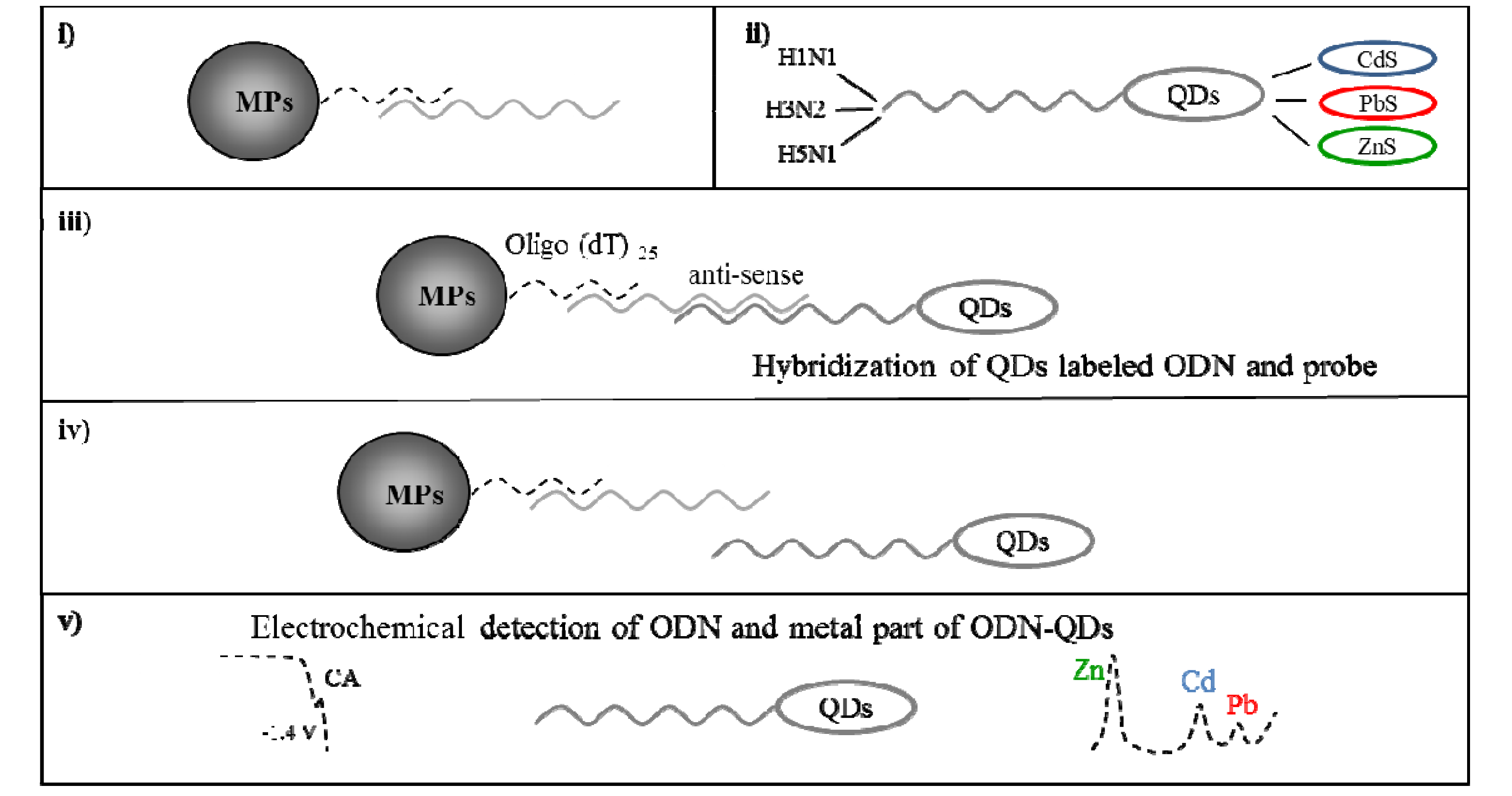 Figure 1
Share & Cite This Article
MDPI and ACS Style
Krejcova, L.; Hynek, D.; Kopel, P.; Rodrigo, M.A.M.; Adam, V.; Hubalek, J.; Babula, P.; Trnkova, L.; Kizek, R. Development of a Magnetic Electrochemical Bar Code Array for Point Mutation Detection in the H5N1 Neuraminidase Gene. Viruses 2013, 5, 1719-1739.
Related Articles
Comments
[Return to top]