Effect of Ethyl Pyruvate on Skeletal Muscle Metabolism in Rats Fed on a High Fat Diet
1
Biochemistry Department, Gdansk University of Physical Education and Sport, Gorskiego 1, 80-336 Gdansk, Poland
2
Physiology Department, Medical University of Gdansk, Debinki 1, 80-211 Gdansk, Poland
3
Department of Bioenergetics and Physiology of Exercise, Medical University of Gdansk, Debinki 1, 80-211 Gdansk, Poland
*
Author to whom correspondence should be addressed.
Received: 4 March 2013 / Revised: 9 June 2013 / Accepted: 14 June 2013 / Published: 1 July 2013
Abstract
Impaired mitochondrial capacity may be implicated in the pathology of chronic metabolic diseases. To elucidate the effect of ethyl pyruvate supplementation on skeletal muscles metabolism we examined changes in activities of mitochondrial and antioxidant enzymes, as well as sulfhydryl groups oxidation (an indirect marker of oxidative stress) during the development of obesity. After 6 weeks feeding of control or high fat diet, Wistar rats were divided into four groups: control diet, control diet and ethyl pyruvate, high fat diet, and high fat diet and ethyl pyruvate. Ethyl pyruvate was administered as 0.3% solution in drinking water, for the following 6 weeks. High fat diet feeding induced the increase of activities 3-hydroxyacylCoA dehydrogenase, citrate synthase, and fumarase. Moreover, higher catalase and superoxide dismutase activities, as well as sulfhydryl groups oxidation, were noted. Ethyl pyruvate supplementation did not affect the mitochondrial enzymes' activities, but induced superoxide dismutase activity and sulfhydryl groups oxidation. All of the changes were observed in soleus muscle, but not in extensor digitorum longus muscle. Additionally, positive correlations between fasting blood insulin concentration and activities of catalase (
p
= 0.04), and superoxide dismutase (
p
= 0.01) in soleus muscle were noticed. Prolonged ethyl pyruvate consumption elevated insulin concentration, which may cause modifications in oxidative type skeletal muscles.
View Full-Text
►

▼

Figures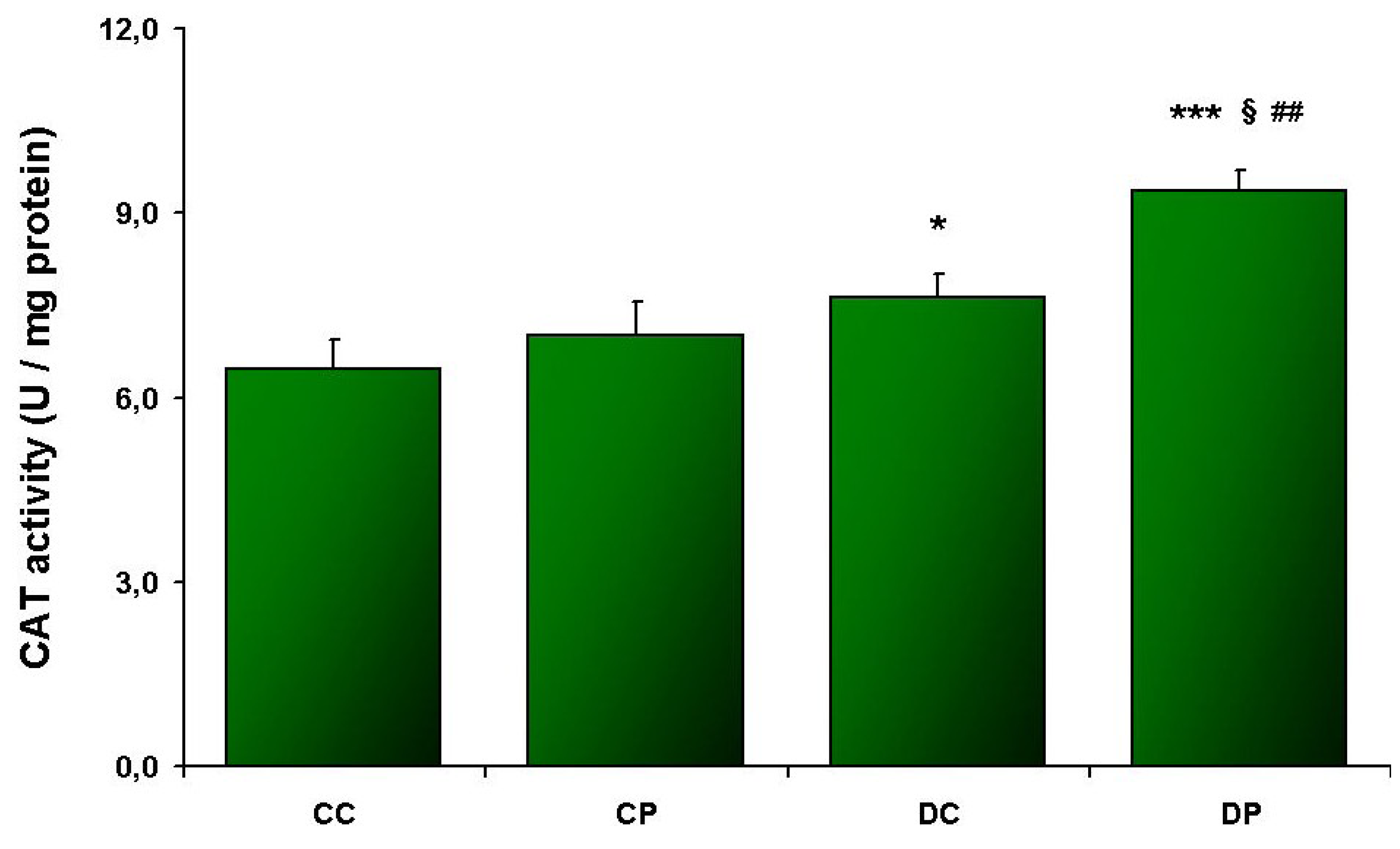 Figure 1
Share & Cite This Article
MDPI and ACS Style
Olek, R.A.; Ziolkowski, W.; Wierzba, T.H.; Kaczor, J.J. Effect of Ethyl Pyruvate on Skeletal Muscle Metabolism in Rats Fed on a High Fat Diet. Nutrients 2013, 5, 2372-2383.
Related Articles
Comments
[Return to top]