Verotoxin A Subunit Protects Lymphocytes and T Cell Lines against X4 HIV Infection in Vitro
1
Department of Biochemistry, University of Toronto, Ontario M5G 1X8, Canada
2
Division of Molecular Structure and Function and Research Institute, The Hospital for Sick Children, Ontario M5G 1X8, Canada
3
Canadian Blood Services, Toronto, Ontario M5G 2M1, Canada
4
Laboratory Medicine & Pathology, University of Toronto, Ontario M5G 1X8, Canada
5
Department of Medical Biophysics & Pharmaceutical Sciences, University of Toronto, Ontario M5G 1X8, Canada
6
Sunnybrook Research Institute, Sunnybrook Health Science Centre, Toronto M4N 3M5, Canada
7
Department of Medicine, University of Toronto, Ontario M5G 1X8, Canada
8
Division of Cell and Molecular Biology, Toronto General Research Institute of the University Health Network, Toronto, Ontario M5G 2M9, Canada
*
Author to whom correspondence should be addressed.
Received: 22 October 2012 / Revised: 24 November 2012 / Accepted: 6 December 2012 / Published: 14 December 2012
Abstract
Our previous genetic, pharmacological and analogue protection studies identified the glycosphingolipid, Gb
3
(globotriaosylceramide, P
k
blood group antigen) as a natural resistance factor for HIV infection. Gb
3
is a B cell marker (CD77), but a fraction of activated peripheral blood mononuclear cells (PBMCs) can also express Gb
3
. Activated PBMCs predominantly comprise CD4
+
T-cells, the primary HIV infection target. Gb
3
is the sole receptor for
Escherichia coli
verotoxins (VTs, Shiga toxins). VT1 contains a ribosome inactivating A subunit (VT1A) non-covalently associated with five smaller receptor-binding B subunits. The effect of VT on PHA/IL2-activated PBMC HIV susceptibility was determined. Following VT1 (or VT2) PBMC treatment during IL2/PHA activation, the small Gb
3
+
/CD4
+
T-cell subset was eliminated but, surprisingly, remaining CD4
+
T-cell HIV-1
IIIB
(and HIV-1
Ba-L
) susceptibility was significantly reduced. The Gb
3
-
Jurkat T-cell line was similarly protected by brief VT exposure prior to HIV-1
IIIB
infection. The efficacy of the VT1A subunit alone confirmed receptor independent protection. VT1 showed no binding or obvious Jurkat cell/PBMC effect. Protective VT1 concentrations reduced PBMC (but not Jurkat cell) proliferation by 50%. This may relate to the mechanism of action since HIV replication requires primary T-cell proliferation. Microarray analysis of VT1A-treated PBMCs indicated up regulation of 30 genes. Three of the top four were histone genes, suggesting HIV protection via reduced gene activation. VT blocked HDAC inhibitor enhancement of HIV infection, consistent with a histone-mediated mechanism. We speculate that VT1A may provide a benign approach to reduction of (X4 or R5) HIV cell susceptibility.
View Full-Text
►

▼

Figures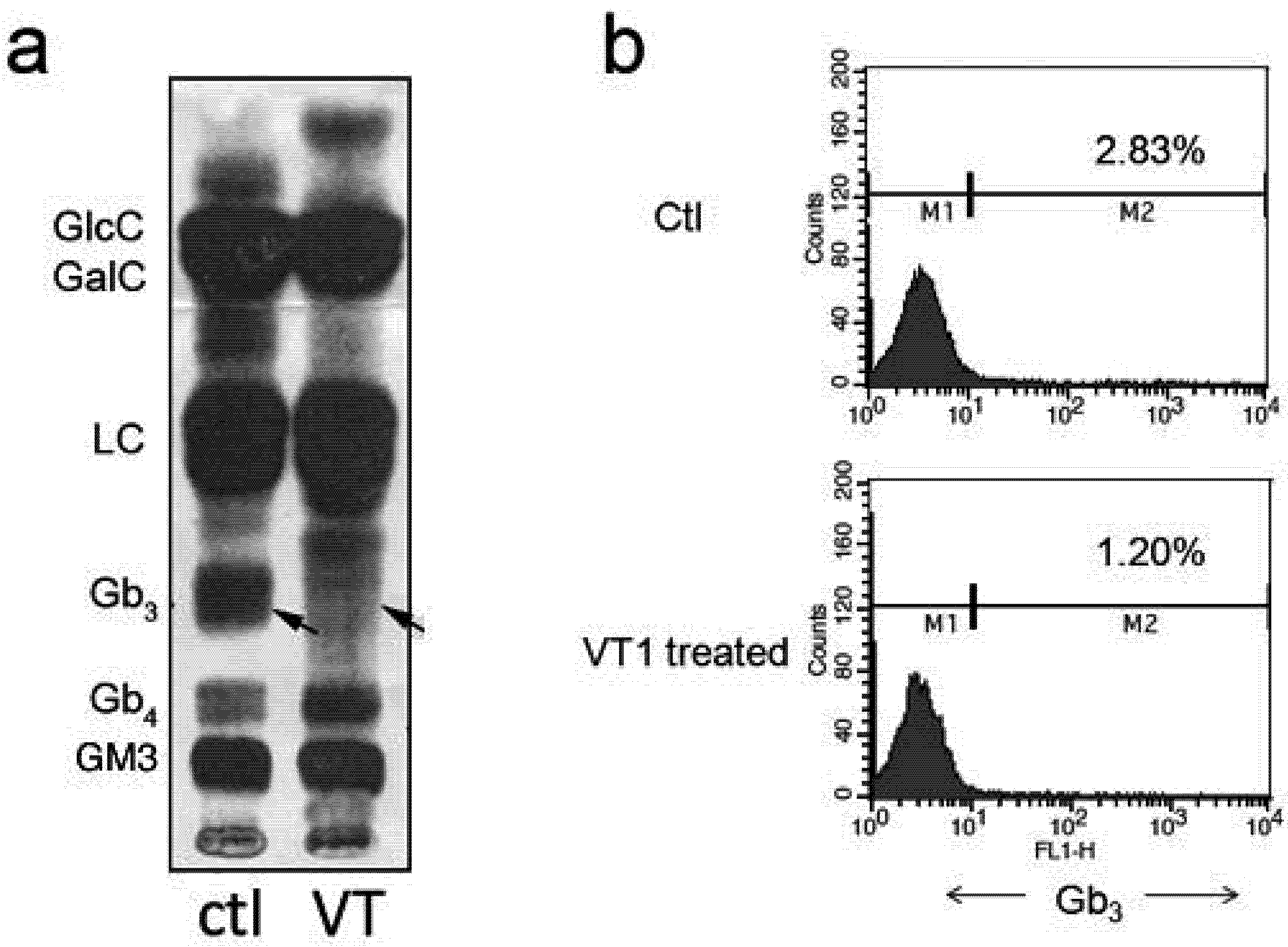 Figure 1
Share & Cite This Article
MDPI and ACS Style
Shi, P.L.; Binnington, B.; Sakac, D.; Katsman, Y.; Ramkumar, S.; Gariepy, J.; Kim, M.; Branch, D.R.; Lingwood, C. Verotoxin A Subunit Protects Lymphocytes and T Cell Lines against X4 HIV Infection in Vitro. Toxins 2012, 4, 1517-1534.
Related Articles
Comments
[Return to top]