Dimethylarginine Dimethylaminohydrolase/Nitric Oxide Synthase Pathway in Liver and Kidney: Protective Effect of Cyanidin 3-O-β-D-Glucoside on Ochratoxin-A Toxicity
1
Department of Drug Sciences, Section of Biochemistry, University of Catania, Italy
2
Department of Agro-forestry, Environmental Science and Technology (STAFA), Mediterranean University of Reggio Calabria, Italy
3
Department of Morphophysiology and Animal Production (DIMORFIPA), University of Bologna, Italy
4
Department of Biochemistry, Section of Human Nutrition, "G. D'Annunzio" University of Chieti, Italy
*
Author to whom correspondence should be addressed.
Received: 24 February 2012 / Revised: 6 April 2012 / Accepted: 27 April 2012 / Published: 8 May 2012
Abstract
The aim of the present study was to evaluate the effect of long-term cyanidin 3-
O
-β-D-glucoside (C3G) and/or Ochratoxin A (OTA)-exposure on dimethylarginine dimethylamino hydrolase/nitric oxide synthase (DDAH/NOS) pathway in rats. The experiments were performed in rats supplemented with C3G (1 g/kg feed), OTA (200 ppb), and OTA + C3G. After 4 weeks of daily treatment, liver and kidneys were processed for eNOS, iNOS and DDAH-1 Western blotting, nitrite levels evaluation and DDAH activity determination. Results show that OTA is able to induce iNOS both in kidney and liver, whereas OTA is able to induce eNOS and DDAH-1 overexpression and DDAH activation only in kidney, resulting in increased nitrite levels. In kidney of OTA + C3G fed rats, iNOS, eNOS and DDAH-1 expression were less pronounced compared with those observed in the OTA-treated group. Coherent with the decreased iNOS, eNOS and DDAH-1 expression a decrease in nitrite levels and DDAH activity was observed in the OTA + C3G group. Results demonstrate that C3G is able to counteract the deleterious effects of chronic consumption of OTA and also suggest a possible involvement of iNOS-eNOS-DDAH impairment in OTA nephrocarcinogenity.
View Full-Text
►

▼

Figures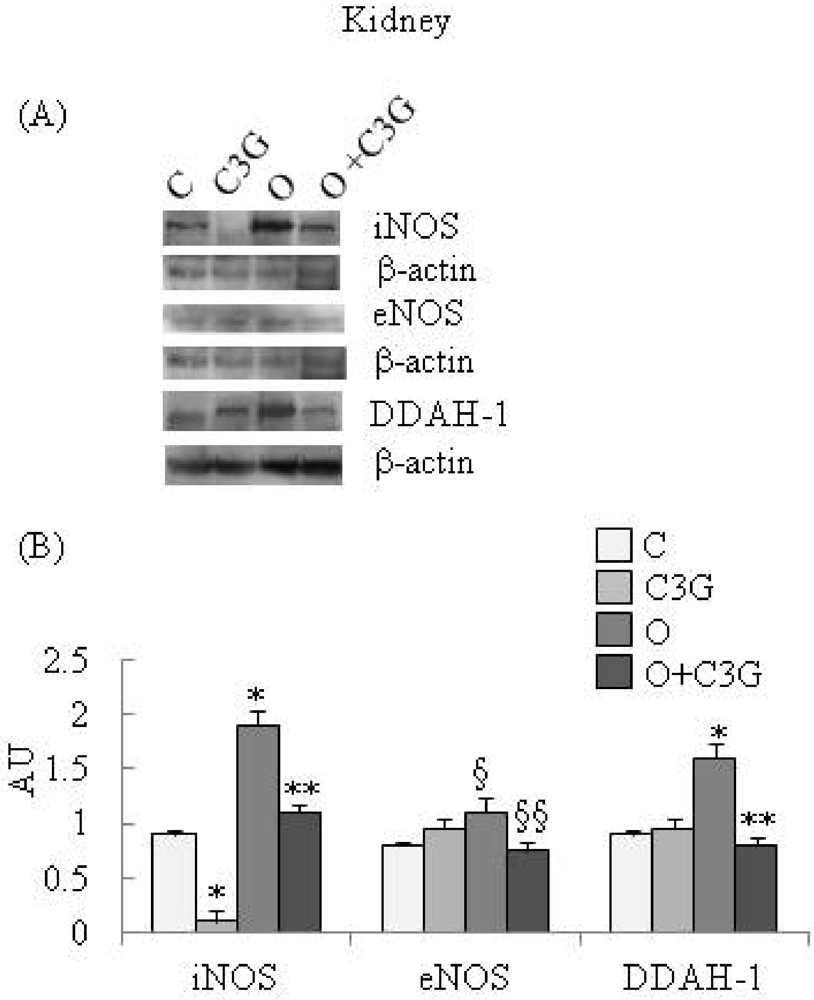 Figure 1
Share & Cite This Article
MDPI and ACS Style
Sorrenti, V.; Di Giacomo, C.; Acquaviva, R.; Bognanno, M.; Grilli, E.; D'Orazio, N.; Galvano, F. Dimethylarginine Dimethylaminohydrolase/Nitric Oxide Synthase Pathway in Liver and Kidney: Protective Effect of Cyanidin 3-O-β-D-Glucoside on Ochratoxin-A Toxicity. Toxins 2012, 4, 353-363.
Related Articles
Comments
[Return to top]