Cytotoxic Indole Alkaloid 3α-Acetonyltabersonine Induces Glioblastoma Apoptosis via Inhibition of DNA Damage Repair
1
Key Laboratory of Bioactive Peptides of Yunnan Province/Key Laboratory of Animal Models and Human Disease Mechanisms of Chinese Academy of Sciences, Kunming Institute of Zoology, Chinese Academy of Sciences, 21 Qingsong Road, Kunming 650203, Yunnan, China
2
State Key Laboratory of Phytochemistry and Plant Resources in West China, Kunming Institute of Botany, Chinese Academy of Sciences, 132 Lanhei Road, Kunming 650201, China
3
Kunming College of Life Science, University of Chinese Academy of Sciences, 19 Qingsong Road, Kunming 650203, China
4
Graduate School, University of Chinese Academy of Sciences, 19 Yuquan Road, Beijing 100049, China
5
Division of Science and Technology, Kunming University of Science and Technology, 727 South Jingming Road, Kunming 650500, China
6
Department of Neurosurgery, Tumor Hospital of Yunnan Province, 519 Kunzhou Road, Kunming 650000, China
7
State Key Lab of Genetic Resources and Evolution, Kunming Institute of Zoology, Chinese Academy of Sciences, 21 Qingsong Road, Kunming 650203, China
8
Kunming Primate Research Center, Chinese Academy of Sciences, 32 East Jiaochang Road, Kunming 650223, China
*
Authors to whom correspondence should be addressed.
Academic Editor: Carmela Fimognari
Received: 5 March 2017 / Revised: 16 April 2017 / Accepted: 19 April 2017 / Published: 28 April 2017
Abstract
Cytotoxic indole alkaloids from
Melodinus suaveolens
, which belongs to the toxic plant family Apocynaceae, demonstrated impressive antitumor activities in many tumor types, but less application in glioblastoma, which is the lethal brain tumor. In the present study, we reported the anti-glioblastoma activity of an indole alkaloid, 3
α
-acetonyltabersonine, which was isolated from
Melodinus suaveolens
. 3
α
-acetonyltabersonine was cytotoxic to glioblastoma cell lines (U87 and T98G) and stem cells at low concentrations. We verified 3
α
-acetonyltabersonine could suppress tumor cell proliferation and cause apoptosis in glioblastoma stem cells (GSCs). Moreover, detailed investigation of transcriptome study and Western blotting analysis indicated the mitogen activated protein kinase (MAPK) pathway was activated by phosphorylation upon 3
α
-acetonyltabersonine treatment. Additionally, we found 3
α
-acetonyltabersonine inhibited DNA damage repair procedures, the accumulated DNA damage stimulated activation of MAPK pathway and, finally, induced apoptosis. Further evidence was consistently obtained from vivo experiments on glioblastoma mouse model: treatment of 3
α
-acetonyltabersonine could exert pro-apoptotic function and prolong the life span of tumor-bearing mice. These results in vitro and in vivo suggested that 3
α
-acetonyltabersonine could be a potential candidate antitumor agent.
View Full-Text
►

▼

Figures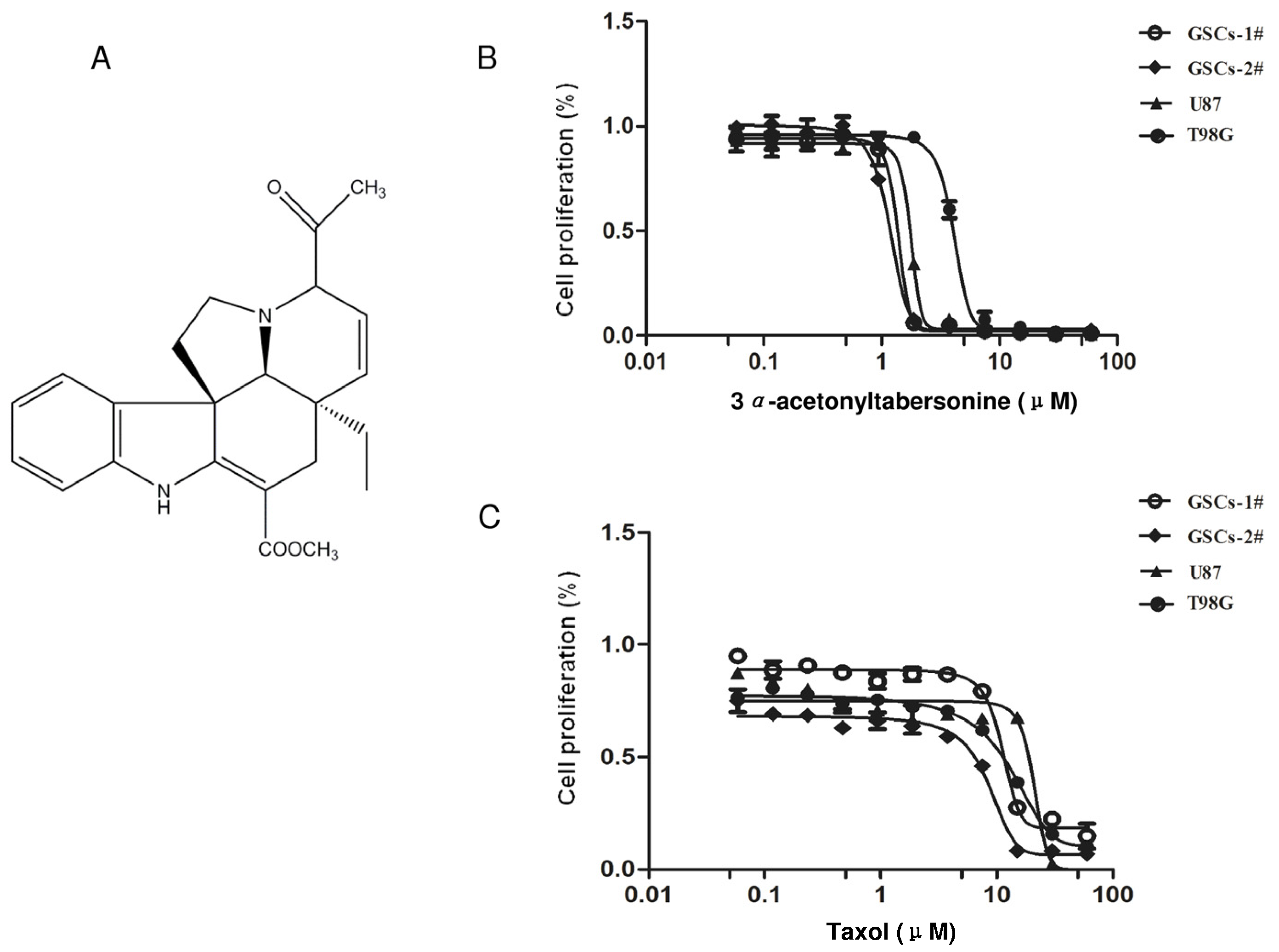 Figure 1
This is an open access article distributed under the
Creative Commons Attribution License
which permits unrestricted use, distribution, and reproduction in any medium, provided the original work is properly cited. (CC BY 4.0).
Share & Cite This Article
MDPI and ACS Style
Li, Y.; Zhao, Y.; Zhou, X.; Ni, W.; Dai, Z.; Yang, D.; Hao, J.; Luo, L.; Liu, Y.; Luo, X.; Zhao, X. Cytotoxic Indole Alkaloid 3α-Acetonyltabersonine Induces Glioblastoma Apoptosis via Inhibition of DNA Damage Repair. Toxins 2017, 9, 150.
Note that from the first issue of 2016, MDPI journals use article numbers instead of page numbers. See further details here.
Related Articles
Comments
[Return to top]