Metallic One-Dimensional Conductors Composed of Axially Ligated (Phthalocyanato)CoIII with Supramolecular Cations of A(EtOH)4 (A = Na and K)
Department of Chemistry, Graduate School of Science, Hokkaido University, Sapporo 060-0810, Japan
†
Current address: Yamamoto Precious Metal Co., Ltd., Konan 781-5451, Japan.
‡
Current address: Research Center for Low Temperature and Materials Sciences, Kyoto University, Kyoto 606-8502, Japan.
§
Current address: NTT Software Corporation, Nishiki, Naka-ku, Nagoya 460-0003, Japan.
||
Current address: Graduate School of Science and Engineering, Ehime University, Matsuyama 790-8577, Japan.
*
Author to whom correspondence should be addressed.
Received: 21 February 2012 / Revised: 29 June 2012 / Accepted: 3 July 2012 / Published: 10 July 2012
Abstract
Electrolysis of Na and K salts of the anion dicyano(phthalocyaninato)cobalt(III) (Co(Pc)(CN)
2
) in ethanol yields one-dimensional partially oxidized salts of A[Co(Pc)(CN)
2
]
2
.4(EtOH) (A = Na and K). The cationic component is the supramolecular cation [A(EtOH)
4
]
+
, which forms hydrogen bonds with the CN ligands of the Co(Pc)(CN)
2
units. The crystal shows metallic conductivity, in contrast to the thermally activated conductivity observed in the isomorphous tetraphenylphosphonium (TPP) salt of TPP[Co(Pc)(CN)
2
]
2
. Since the π-π interactions in these isomorphous crystals are nearly the same, the distinctive behavior of the Na and K salts may be attributed to the difference in the degree of charge disproportionation in these crystals.
View Full-Text
►

▼

Figures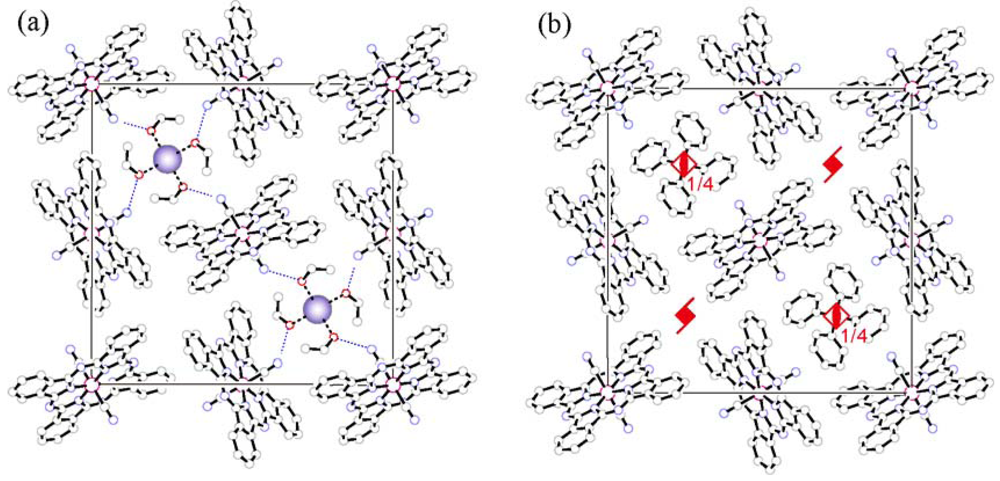 Figure 1
Share & Cite This Article
MDPI and ACS Style
Tanaka, Y.; Ishikawa, M.; Watanabe, N.; Takahashi, Y.; Naito, T.; Inabe, T. Metallic One-Dimensional Conductors Composed of Axially Ligated (Phthalocyanato)CoIII with Supramolecular Cations of A(EtOH)4 (A = Na and K). Crystals 2012, 2, 946-957.
Related Articles
Comments
[Return to top]