Vimentin Levels and Serine 71 Phosphorylation in the Control of Cell-Matrix Adhesions, Migration Speed, and Shape of Transformed Human Fibroblasts
1
Department of Physics, University of the Saarland, 66123 Saarbrücken, Germany
2
INM – Leibniz Institute for New Materials, 66123 Saarbrücken, Germany
3
Department of Applied Physics, KTH Royal Institute of Technology, 100 44 Stockholm, Sweden
4
Science for Life Laboratory, Division of Translational Medicine and Chemical Biology, 171 65 Stockholm, Sweden
5
Department of Medical Biochemistry and Biophysics, Karolinska Institutet, 171 77 Stockholm, Sweden
6
KIST Europe, 66123 Saarbrücken, Germany
†
These authors contributed equally to this work.
*
Author to whom correspondence should be addressed.
Academic Editor: Rudolf E. Leube
Received: 28 October 2016 / Revised: 16 January 2017 / Accepted: 17 January 2017 / Published: 22 January 2017
Abstract
Metastasizing tumor cells show increased expression of the intermediate filament (IF) protein vimentin, which has been used to diagnose invasive tumors for decades. Recent observations indicate that vimentin is not only a passive marker for carcinoma, but may also induce tumor cell invasion. To clarify how vimentin IFs control cell adhesions and migration, we analyzed the nanoscale (30–50 nm) spatial organization of vimentin IFs and cell-matrix adhesions in metastatic fibroblast cells, using three-color stimulated emission depletion (STED) microscopy. We also studied whether wild-type and phospho-deficient or -mimicking mutants of vimentin changed the size and lifetime of focal adhesions (FAs), cell shape, and cell migration, using live-cell total internal reflection imaging and confocal microscopy. We observed that vimentin exists in fragments of different lengths. Short fragments were mostly the size of a unit-length filament and were mainly localized close to small cell-matrix adhesions. Long vimentin filaments were found in the proximity of large FAs. Vimentin expression in these cells caused a reduction in FAs size and an elongated cell shape, but did not affect FA lifetime, or the speed or directionality of cell migration. Expression of a phospho-mimicking mutant (S71D) of vimentin increased the speed of cell migration. Taken together, our results suggest that in highly migratory, transformed mesenchymal cells, vimentin levels control the cell shape and FA size, but not cell migration, which instead is linked to the phosphorylation status of S71 vimentin. These observations are consistent with the possibility that not only levels, but also the assembly status of vimentin control cell migration.
View Full-Text
►

▼

Figures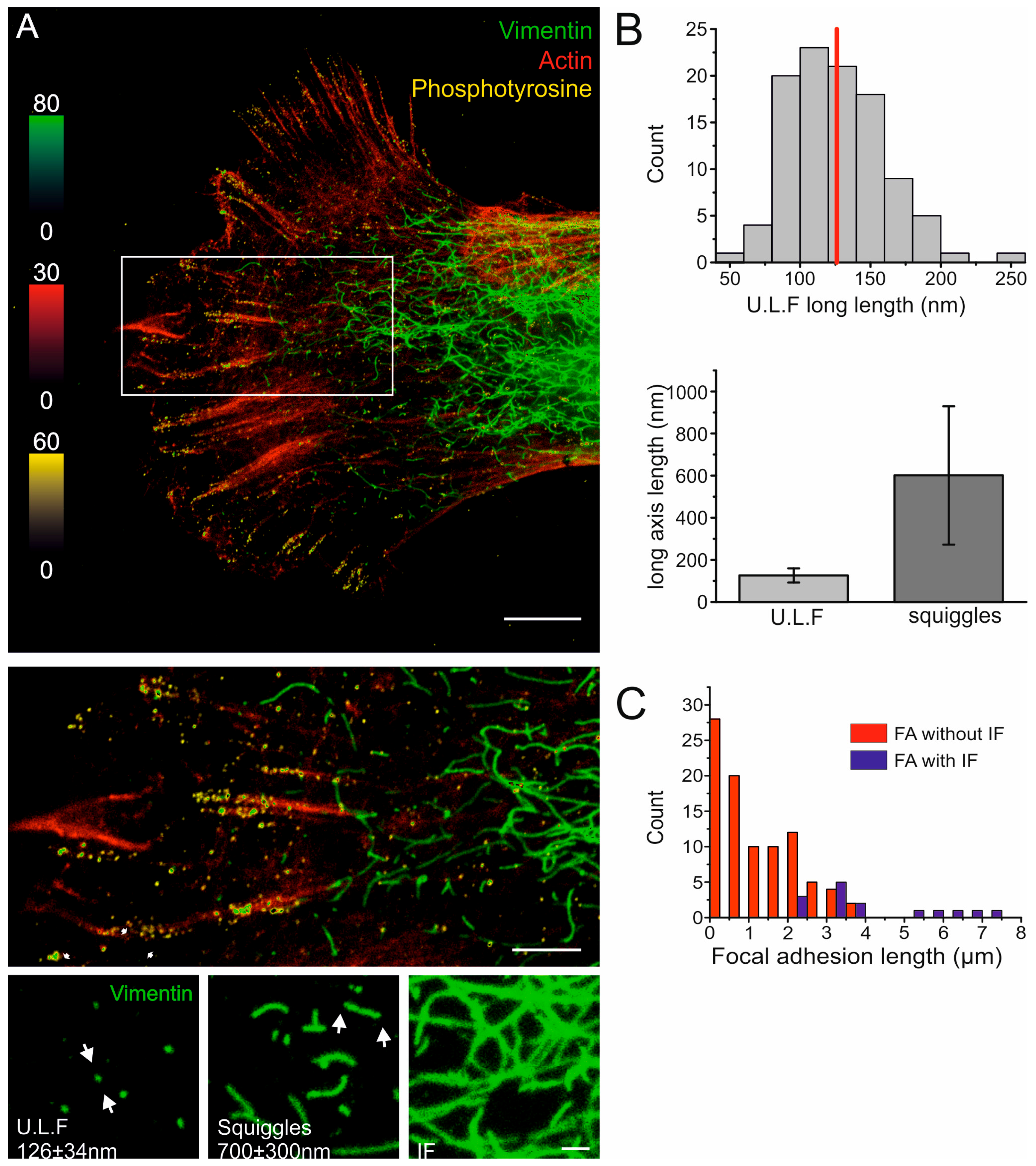 Figure 1
This is an open access article distributed under the
Creative Commons Attribution License
which permits unrestricted use, distribution, and reproduction in any medium, provided the original work is properly cited. (CC BY 4.0).
Supplementary materials
Supplementary File 1:

PDF-Document (PDF, 1728 KB)

Externally hosted supplementary file 1
Doi: no
Link: http://no
Description: Supplementary figures captions : Figure S1. Analysis of the size of the vimentin signal (A) Single color channel of vimentin signal of figure 1. A magnification of the area indicated with a red square in figure 1 is shown at the top of the panel (B), with line profile measurements drown for ULFs and squiggles. The Gaussian fit and an example of the branch length measures are shown in the lower panels. (C) Distribution histograms of measured ULFs vimentin lengths along both longer (upper) and shorter (lower) axis. Figure S2. Soluble vimentin s recruited to the cell edge prior to focal adhesion dissolution and lamellipodium extension Montage of 5 sequential pictures (time frame of 3 minutes) of a movie, recorded by TIRF, of a S71A phosphor-mutant cell. Top row shows the signal for GFP-paxilin, middle row the signal for mcherry-vimentin S71A and bottom row is an overlay of both other (green; paxilin signal, red; vimentin). The arrow indicates soluble vimentin at the cell edge just prior to FA dissassembly. Scale bars are 20 µm. Figure S3. Nanoscale organization of actin in vimentin-overexpressing cells STED images of actin stained with phalloidin-Oregon green488 for (A) Cherry-mock and (B) Cherry-vimentin expressing cells. (C) Dual color confocal images of the cells in A-B, showing endogenous actin and exogenous vimentin. Scale bar; 10 µm.
Share & Cite This Article
MDPI and ACS Style
Terriac, E.; Coceano, G.; Mavajian, Z.; Hageman, T.A.G.; Christ, A.F.; Testa, I.; Lautenschläger, F.; Gad, A.K.B. Vimentin Levels and Serine 71 Phosphorylation in the Control of Cell-Matrix Adhesions, Migration Speed, and Shape of Transformed Human Fibroblasts. Cells 2017, 6, 2.
Note that from the first issue of 2016, MDPI journals use article numbers instead of page numbers. See further details here.
Related Articles
Comments
[Return to top]