A Comprehensive Modeling Study on Regional Climate Model (RCM) Application — Regional Warming Projections in Monthly Resolutions under IPCC A1B Scenario
Department of Civil Engineering, Bangladesh University of Engineering and Technology (BUET), Dhaka 1000, Bangladesh
*
Author to whom correspondence should be addressed.
Received: 10 August 2012 / Revised: 25 September 2012 / Accepted: 2 October 2012 / Published: 31 October 2012
Abstract
Some of the major dimensions of climate change include increase in surface temperature, longer spells of droughts in significant portions of the world, associated higher evapotranspiration rates, and so on. It is therefore essential to comprehend the future possible scenario of climate change in terms of global warming. A high resolution limited area Regional Climate Model (RCM) can produce reasonably appropriate projections to be used for climate-scenario generation in country-scale. This paper features the development of future surface temperature projections for Bangladesh on monthly resolution for each year from 2011 to 2100 applying Providing Regional Climates for Impacts Studies (PRECIS), and it explains in detail the modeling processes including the model features, domain size selection, bias identification as well as construction of change field for the concerned climatic variable, in this case, surface temperature. PRECIS was run on a 50 km horizontal grid-spacing under the Intergovernmental Panel on Climate Change (IPCC) A1B scenario and it was found to perform reasonably well in simulating future surface temperature of Bangladesh. The linear regression between observed and model simulated results of monthly average temperatures, within the 30-year period from 1971 to 2000, gives a high correlation of 0.93. The applied change field in average annual temperature shows only 0.5 °C–1 °C deviation from the observed values over the period from 2005 to 2008. Eventually, from the projected average temperature change during the years 1971–2000, it is apparent that warming in Bangladesh prevails invariably every month, which might eventually result in an average annual increase of 4 °C by the year 2100. Calculated anomalies in country-average annual temperature mostly remain on the positive side throughout the period of 2071–2100 indicating an overall up-shift. Apart from these quantitative analyses of temporal changes of temperature, this paper also illustrates their spatial distribution with a view to identify the most vulnerable zones under consequent warming through future times.
View Full-Text
►

▼

Figures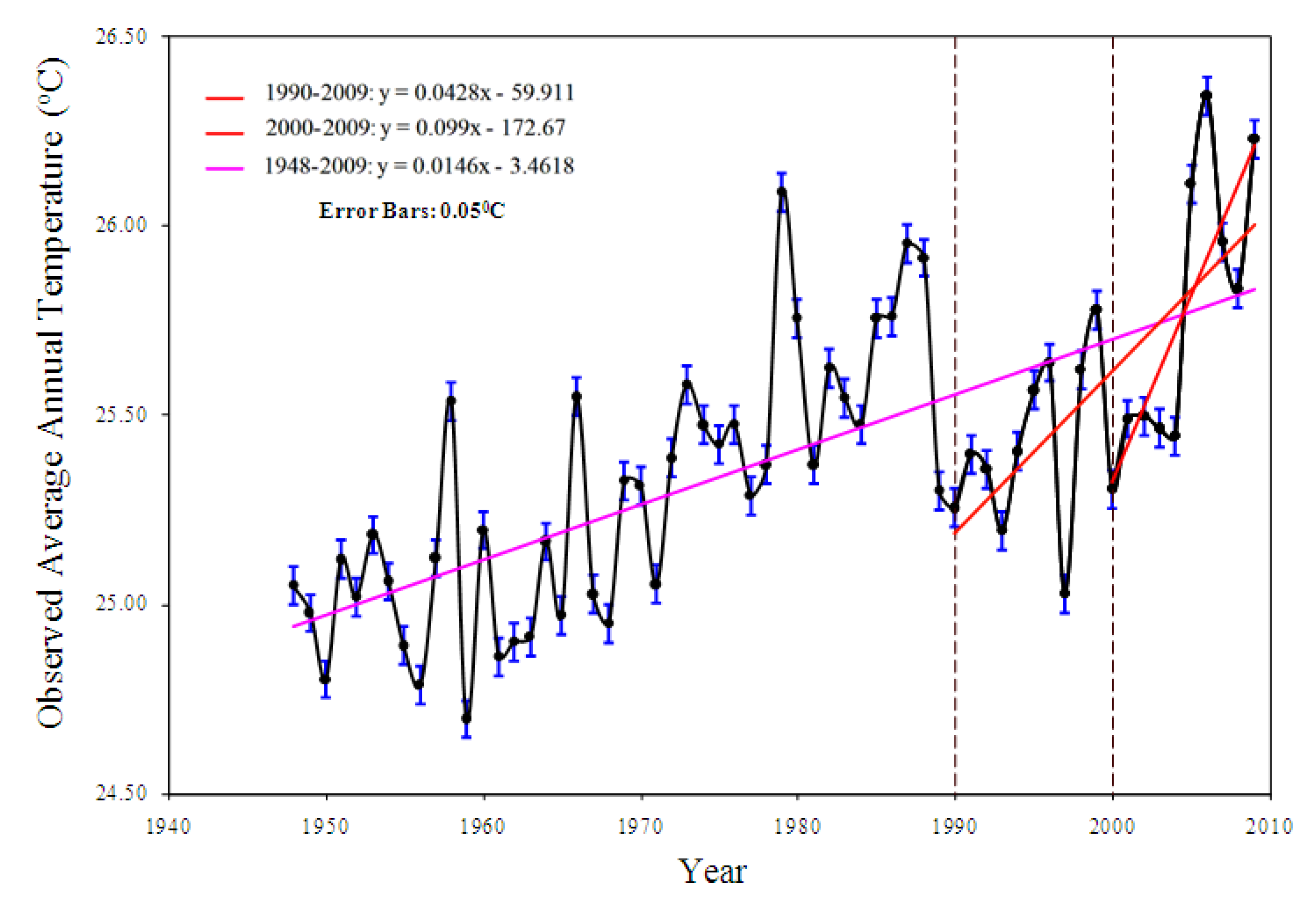 Figure 1
Share & Cite This Article
MDPI and ACS Style
Rajib, M.A.; Rahman, M.M. A Comprehensive Modeling Study on Regional Climate Model (RCM) Application — Regional Warming Projections in Monthly Resolutions under IPCC A1B Scenario. Atmosphere 2012, 3, 557-572.
Related Articles
Comments
[Return to top]