Soluble Human Epidermal Growth Factor Receptor 2 (sHER2) as a Potential Risk Assessment, Screening, and Diagnostic Biomarker of Lung Adenocarcinoma
1
Department of Preventive Medicine, Northwestern University Biomedical Informatics Center, NUCATS 750 N. Lake Shore Dr., 11th Floor, Chicago, IL 60611, USA
2
Mayo Clinic Cancer Center, Mayo Clinic, 200 First Street S.W., Rochester, MN 55905, USA
3
Department of Obstetrics and Gynecology, Division of Gynecologic Oncology, University of Kentucky, Lucille P. Markey Cancer Center, Lexington, KY 40536, USA
4
Department of Family Medicine, University of Kentucky, College of Medicine, 800 Rose Street, Lexington, KY 40536 ,USA
5
University of Massachusetts Medical School, 55 Lake Avenue North, Worcester, MA 01655, USA
6
School of Biological and Population Health Sciences, Oregon State University, Corvallis, OR 97331, USA
7
Department of Health Sciences Research, Mayo Clinic, 200 First Street S.W., Rochester, MN 55905, USA
8
Department of Obstetrics, Gynecology and Reproductive Sciences, Yale University School of Medicine, P.O. Box 2068063, New Haven, CT 06520 ,USA
9
Department of Epidemiology, University of Kentucky, College of Public Health, 111 Washington Avenue, Lexington, KY 40536, USA
*
Author to whom correspondence should be addressed.
Received: 17 November 2012 / Revised: 17 December 2012 / Accepted: 4 January 2013 / Published: 14 January 2013
Abstract
Lung cancer is the leading cause of cancer-related death in the United States. Here, we evaluated the potential clinical utility of soluble human epidermal growth factor receptor 2 (sHER2) for the risk assessment, screening, and diagnosis of non-small cell lung cancer (NSCLC) using an unmatched case-control study design. Serum sHER2 concentrations were measured by immunoassay in 244 primary NSCLC cases and 218 healthy controls. Wilcoxon rank-sum tests, logistic regression models, and receiver operating characteristic plots were used to assess whether sHER2 is associated with lung cancer. Median serum sHER2 concentrations are higher in patients with adenocarcinoma than squamous cell carcinoma regardless of gender, and sHER2 is a weak, independent biomarker of adenocarcinoma, but not of squamous cell carcinoma, adjusted for age and gender. The age-adjusted relative risk (odds) of adenocarcinoma is 3.95 (95% CI: 1.22, 12.81) and 7.93 (95% CI: 2.26, 27.82) greater for women and men with high sHER2 concentrations (≥6.60 ng/mL)
vs.
low sHER2 concentrations (≤1.85 ng/mL), respectively. When adjusted for each other, sHER2, age, and gender discern healthy controls from patients with primary adenocarcinomas of the lung with 85.9% accuracy. We conclude that even though serum sHER2 is not a strong, stand-alone discriminatory biomarker of adenocarcinoma, sHER2 may be a useful, independent covariate in multivariate risk assessment, screening, and diagnostic models of lung cancer.
View Full-Text
►

▼

Figures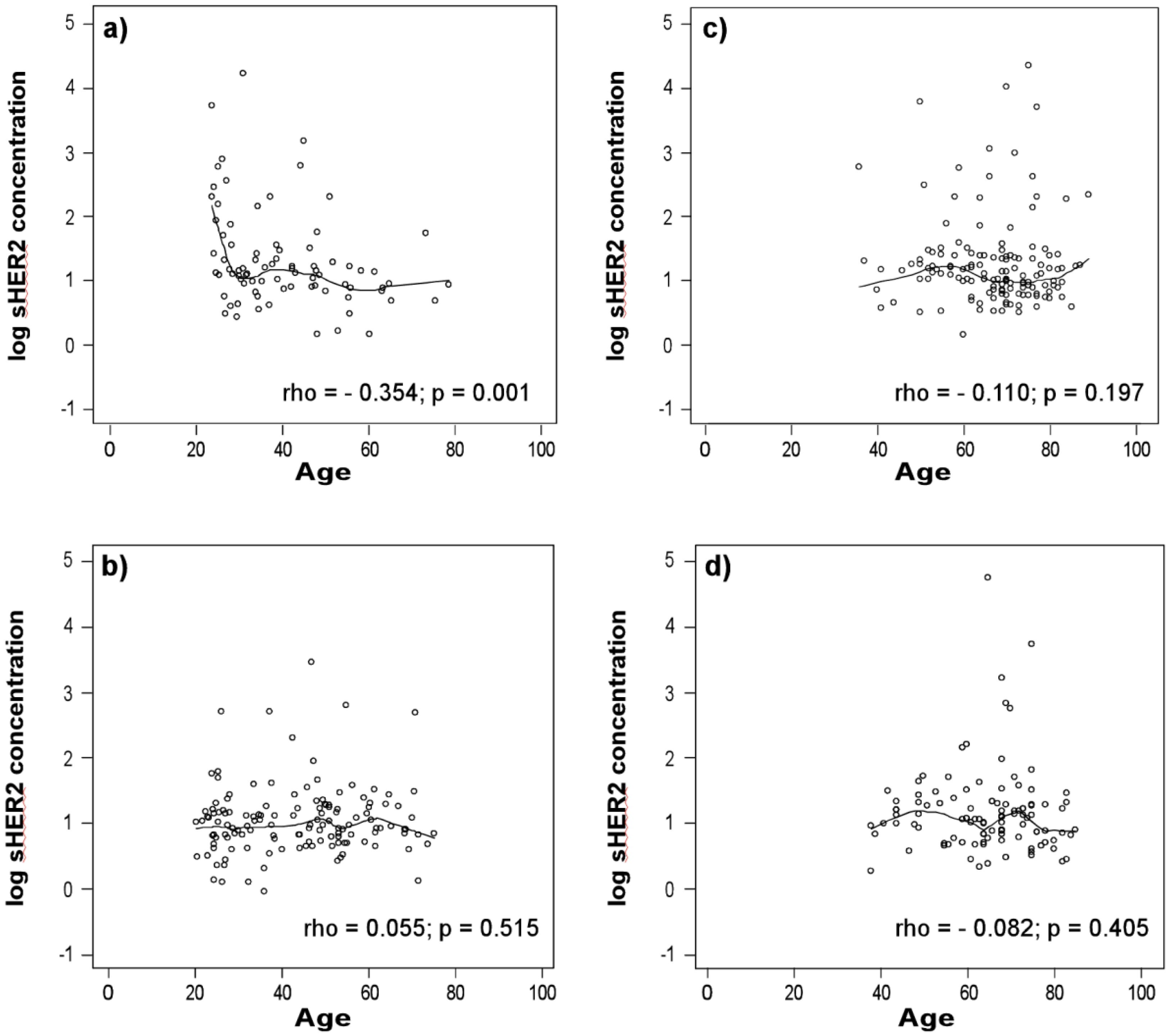 Figure 1
Share & Cite This Article
MDPI and ACS Style
Cosentino-Boehm, A.L.; Lafky, J.M.; Greenwood, T.M.; Kimbler, K.D.; Buenafe, M.C.; Wang, Y.; Branscum, A.J.; Yang, P.; Maihle, N.J.; Baron, A.T. Soluble Human Epidermal Growth Factor Receptor 2 (sHER2) as a Potential Risk Assessment, Screening, and Diagnostic Biomarker of Lung Adenocarcinoma. Diagnostics 2013, 3, 13-32.
Related Articles
Comments
[Return to top]