AZO Thin Films by Sol-Gel Process for Integrated Optics
1
Laboratory of Sciences of Processes and Materials (LSPM), CNRS-UPR 3407, Paris 13 University, Sorbonne Paris Cité, 99-Jean-Baptiste Clément Avenue, Villetaneuse 93430, France
2
Laboratory of Semiconductors, University of Badji Mokhtar, BP 12, Annaba 23000, Algeria
3
Lasers Physics Laboratory (LPL), CNRS-UMR 7538, Paris 13 University, Sorbonne Paris Cité, 99-Jean-Baptiste Clément Avenue, Villetaneuse 93430, France
*
Author to whom correspondence should be addressed.
Received: 25 May 2013 / Revised: 26 June 2013 / Accepted: 26 June 2013 / Published: 3 July 2013
Abstract
Undoped and aluminum-doped zinc oxide (AZO) thin films are prepared by the sol-gel process. Zinc acetate dihydrate, ethanol, and monoethanolamine are used as precursor, solvent, and stabilizer, respectively. In the case of AZO, aluminum nitrate nonahydrate is added to the precursor solution with an atomic percentage equal to 1 and 2 at.% Al. The multi thin layers are deposited by spin-coating onto glass substrates, and are transformed into ZnO upon annealing at 550 °C. Films display a strong preferential orientation, with high values for the Texture Coefficients (TC) of the (002) direction (TC
(002)
≈ 3). The structural, morphological, and optical properties of the thin films as a function of aluminum content have been investigated using X-Ray Diffraction (XRD), Atomic Force Microscopy (AFM), and Scanning Electronic Microscopy (SEM). Waveguiding properties of the thin films have been also studied using m-lines spectroscopy. The results indicate that the films are monomodes at 632.8 nm with optical propagation optical losses estimated around 1.6 decibel per cm (dB/cm).
View Full-Text
►

▼

Figures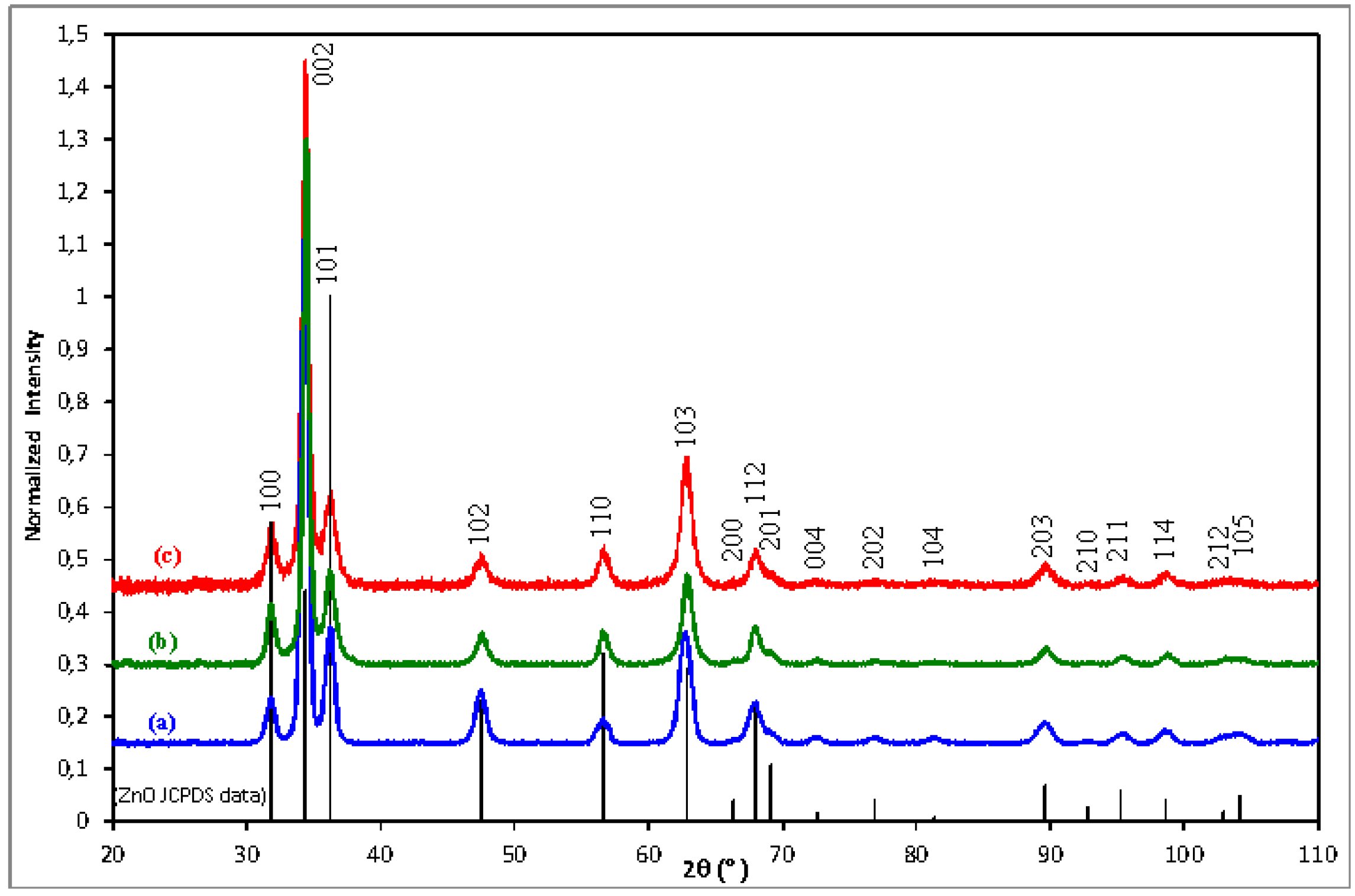 Figure 1
Share & Cite This Article
MDPI and ACS Style
Znaidi, L.; Touam, T.; Vrel, D.; Souded, N.; Yahia, S.B.; Brinza, O.; Fischer, A.; Boudrioua, A. AZO Thin Films by Sol-Gel Process for Integrated Optics. Coatings 2013, 3, 126-139.
Related Articles
Comments
[Return to top]