Isolation and Expression of a cDNA Encoding Methylmalonic Aciduria Type A Protein from Euglena gracilis Z
School of Agricultural, Biological, and Environmental Sciences, Faculty of Agriculture, Tottori University, 4-101 Koyama-Minami, Tottori 680-8553, Japan
*
Author to whom correspondence should be addressed.
Received: 27 December 2012 / Revised: 6 February 2013 / Accepted: 7 February 2013 / Published: 18 February 2013
Abstract
In animals, cobalamin (Cbl) is a cofactor for methionine synthase and methylmalonyl-CoA mutase (MCM), which utilizes methylcobalamin and 5′-deoxyadenosylcobalamin (AdoCbl), respectively. The
cblA
complementation class of inborn errors of Cbl metabolism in humans is one of three known disorders that affect AdoCbl synthesis. The gene responsible for
cblA
has been identified in humans (
MMAA
) as well as its homolog (
meaB
) in
Methylobacterium extorquens
. Recently, it has been reported that human
MMAA
plays an important role in the protection and reactivation of MCM
in vitro.
However, the physiological function of
MMAA
is largely unknown. In the present study, we isolated the cDNA encoding
MMAA
from
Euglena gracilis
Z, a photosynthetic flagellate. The deduced amino acid sequence of the cDNA shows 79%, 79%, 79% and 80% similarity to human, mouse,
Danio rerio
MMAAs
and
M. extorquens
MeaB
, respectively. The level of the MCM transcript was higher in Cbl-deficient cultures of
E. gracilis
than in those supplemented with Cbl. In contrast, no significant differences were observed in the levels of the
MMAA
transcript under the same two conditions. No significant difference in MCM activity was observed between
Escherichia coli
that expressed either MCM together with
MMAA
or expressed MCM alone.
View Full-Text
►

▼

Figures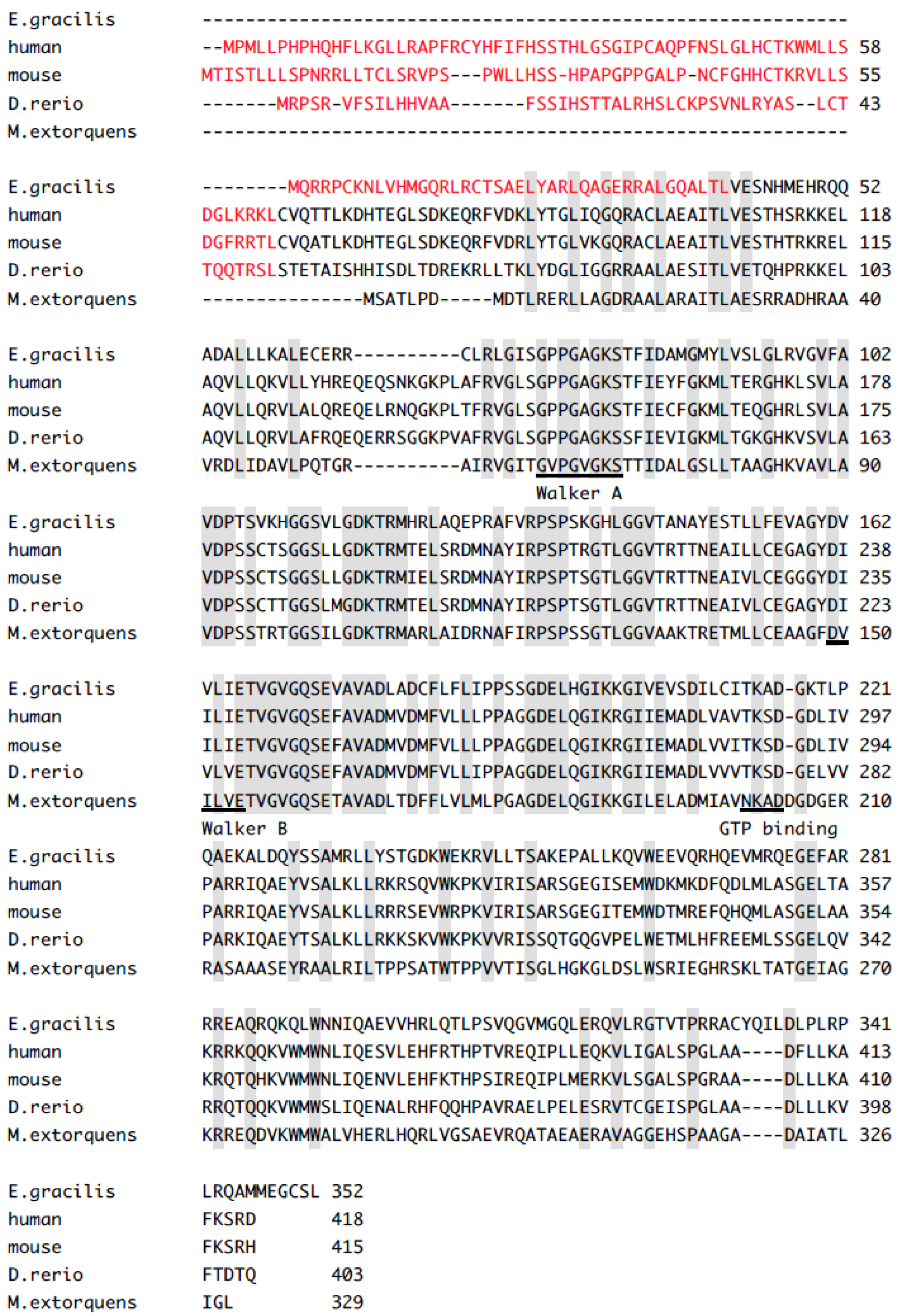 Figure 1
Share & Cite This Article
MDPI and ACS Style
Yabuta, Y.; Takamatsu, R.; Kasagaki, S.; Watanabe, F. Isolation and Expression of a cDNA Encoding Methylmalonic Aciduria Type A Protein from Euglena gracilis Z. Metabolites 2013, 3, 144-154.
Related Articles
Comments
[Return to top]