Facile and Selective Synthetic Approach for Ruthenium Complexes Utilizing a Molecular Sieve Effect in the Supporting Ligand
1
Department of Industrial Systems Engineering, Cluster of Science and Engineering, Fukushima University, 1 Kanayagawa, Fukushima 960-1296, Japan
2
Center for Practical and Project-Based Learning, Cluster of Science and Engineering, Fukushima University, 1 Kanayagawa, Fukushima 960-1296, Japan
†
These authors contributed equally to this work.
*
Author to whom correspondence should be addressed.
Received: 21 October 2013 / Revised: 28 November 2013 / Accepted: 3 December 2013 / Published: 9 December 2013
Abstract
It is extremely important for synthetic chemists to control the structure of new compounds. We have constructed ruthenium-based mononuclear complexes with the tridentate 2,6-di(1,8-naphthyridin-2-yl)pyridine (dnp) ligand to investigate a new synthetic approach using a specific coordination space. The synthesis of a family of new ruthenium complexes containing both the dnp and triphenylphosphine (PPh
3
) ligands, [Ru(dnp)(PPh
3
)(X)(L)]
n
+
(X = PPh
3
, NO
2
−
, Cl
−
, Br
−
; L = OH
2
, CH
3
CN, C
6
H
5
CN, SCN
−
), has been described. All complexes have been spectroscopically characterized in solution, and the nitrile complexes have also been characterized in the solid state through single-crystal X-ray diffraction analysis. Dnp in the present complex system behaves like a "molecular sieve" in ligand replacement reactions. Both experimental data and density functional theory (DFT) calculations suggest that dnp plays a crucial role in the selectivity observed in this study. The results provide useful information toward elucidating this facile and selective synthetic approach to new transition metal complexes.
View Full-Text
►

▼

Figures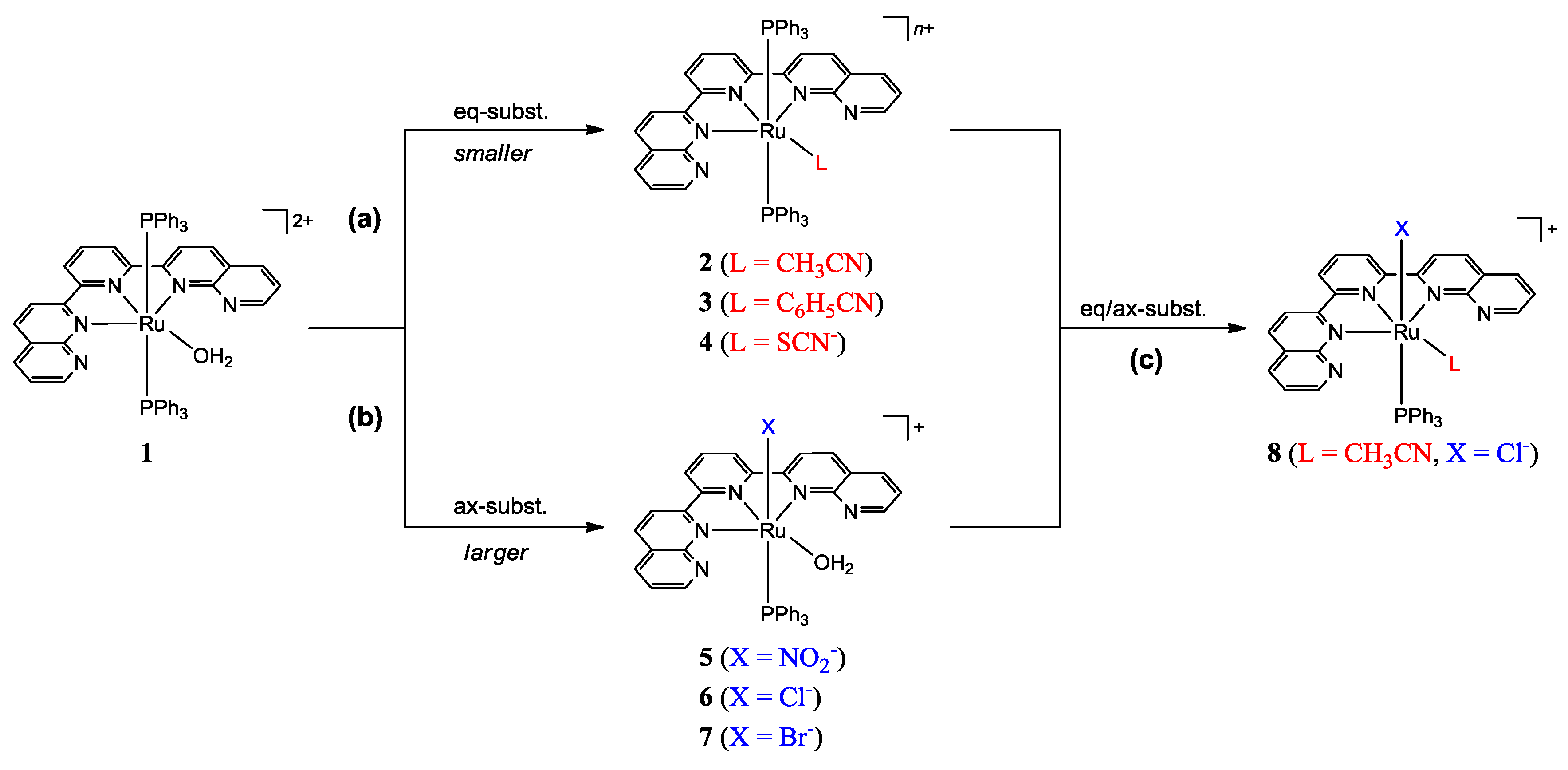 Figure 1
Share & Cite This Article
MDPI and ACS Style
Oyama, D.; Fukuda, A.; Yamanaka, T.; Takase, T. Facile and Selective Synthetic Approach for Ruthenium Complexes Utilizing a Molecular Sieve Effect in the Supporting Ligand. Inorganics 2013, 1, 32-45.
Related Articles
Comments
[Return to top]