Special Issue "Charisma, Medieval and Modern"
A special issue of Religions (ISSN 2077-1444).
Deadline for manuscript submissions: closed (30 November 2012)
Special Issue Editors
Guest Editor
Dr. Gary Dickson
School of History, Classics, and Archaeology, University of Edinburgh, William Robertson Wing, Old Medical School, Teviot Place, Edinburgh EH8 9AG, Scotland, UK
E-Mail
Phone: 0131-669-5176
Interests:
medieval revivalism; medieval crowd psychology; cult of saints
Guest Editor
Prof. Dr. Peter Iver Kaufman
1. Professor Emeritus, University of North Carolina, Chapel Hill, NC 27514, USA
2. George Mathews and Virginia Brinkley Modlin Chair, Jepson School, University of Richmond, Room 133, Jepson Hall, 28 Westhampton Way, Richmond, VA 23173, USA
Website
|
E-Mail
Phone: 804-289-8003
Fax: +1 804 2876062
Interests:
christian traditions: late antique, medieval and early modern European spirituality, politics and drama
Special Issue Information
Dear Colleagues,
Gary Dickson has composed the lead essay for this special topics issue of Religions. Dr. Dickson is the author of an acclaimed Children's Crusade (2008), which sifts contemporary evidence for that controversial and compelling phenomenon and studies it alongside other religious revivals to enrich our understanding of religious enthusiasm and the writing of "mythistory." With his wide-ranging study of "charisma" in this journal, Dickson asks if (how and why) the term "charisma," which Weber "half-secularized" and "granted right of entry into the academic world," can still serve scholars studying religious leadership, cultic practice, contemporary demagogues, and devotees. Religions welcomes brief comments/responses to Dickson's essay, "Charisma, Medieval and Modern" (ca. 1,500 to 3,000) words and longer contributions on leadership, charisma, and hagiography.

Dr. Gary Dickson
Prof. Dr. Peter Iver Kaufman
Guest Editors
Print Edition available!
A Print Edition of this Special Issue is available
here
.
Hardcover: 36.50 CHF*
Pages:
10
, 152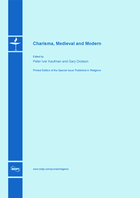 *For contributing authors or bulk orders special prices may apply.
Prices include shipping.
Keywords
celebrity
charisma
cult
heroism
social memory
Weber