Production of Flavours and Fragrances via Bioreduction of (4R)-(-)-Carvone and (1R)-(-)-Myrtenal by Non-Conventional Yeast Whole-Cells
1
Department of Agricultural, Environmental and Food Sciences & Industrial Yeasts Collection DBVPG, University of Perugia, Borgo XX Giugno 74, Perugia 06121, Italy
2
Department of Life Sciences, University of Modena & Reggio Emilia, via G. Campi 183, Modena 41125, Italy
*
Authors to whom correspondence should be addressed.
Received: 29 March 2013 / Revised: 29 April 2013 / Accepted: 10 May 2013 / Published: 16 May 2013
Abstract
As part of a program aiming at the selection of yeast strains which might be of interest as sources of natural flavours and fragrances, the bioreduction of (4
R
)-(−)-carvone and (1
R
)-(−)-myrtenal by whole-cells of non-conventional yeasts (NCYs) belonging to the genera
Candida
,
Cryptococcus
,
Debaryomyces
,
Hanseniaspora
,
Kazachstania
,
Kluyveromyces
,
Lindnera
,
Nakaseomyces
,
Vanderwaltozyma
and
Wickerhamomyces
was studied. Volatiles produced were sampled by means of headspace solid-phase microextraction (SPME) and the compounds were analysed and identified by gas chromatography–mass spectroscopy (GC-MS). Yields (expressed as % of biotransformation) varied in dependence of the strain. The reduction of both (4
R
)-(−)-carvone and (1
R
)-(−)-myrtenal were catalyzed by some ene-reductases (ERs) and/or carbonyl reductases (CRs), which determined the formation of (1
R,
4
R
)-dihydrocarvone and (1
R
)-myrtenol respectively, as main flavouring products. The potential of NCYs as novel whole-cell biocatalysts for selective biotransformation of electron-poor alkenes for producing flavours and fragrances of industrial interest is discussed.
View Full-Text
►

▼

Figures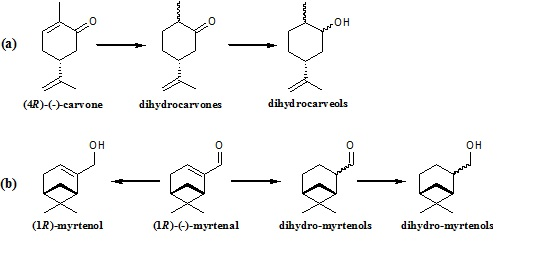 Share & Cite This Article
MDPI and ACS Style
Goretti, M.; Turchetti, B.; Cramarossa, M.R.; Forti, L.; Buzzini, P. Production of Flavours and Fragrances via Bioreduction of (4R)-(-)-Carvone and (1R)-(-)-Myrtenal by Non-Conventional Yeast Whole-Cells. Molecules 2013, 18, 5736-5748.
Related Articles
Comments
[Return to top]