Mercury(II) Removal with Modified Magnetic Chitosan Adsorbents
1
Department of Chemistry, Aristotle University of Thessaloniki, Thessaloniki GR-541 24, Greece
2
Department of Petroleum and Natural Gas Technology, Technological Educational Institute of Kavala, Kavala GR-654 04, Greece
*
Author to whom correspondence should be addressed.
Received: 6 April 2013 / Revised: 15 May 2013 / Accepted: 20 May 2013 / Published: 24 May 2013
Abstract
Two modified chitosan derivatives were prepared in order to compare their adsorption properties for Hg(II) removal from aqueous solutions. The one chitosan adsorbent (CS) is only cross–linked with glutaraldehyde, while the other (CSm), which is magnetic, is cross-linked with glutaraldehyde and functionalized with magnetic nanoparticles (Fe
3
O
4
). Many possible interactions between materials and Hg(II) were observed after adsorption and explained via characterization with various techniques (SEM/EDAX, FTIR, XRD, DTG, DTA, VSM, swelling tests). The adsorption evaluation was done studying various parameters as the effect of pH (optimum value 5 for adsorption and 2 for desorption), contact time (fitting to pseudo–first, –second order and Elovich equations), temperature (isotherms at 25, 45, 65 °C), in line with a brief thermodynamic analysis (ΔG
0
< 0, ΔH
0
> 0, ΔS
0
> 0). The maximum adsorption capacity (fitting with Langmuir and Freundlich model) of CS and CSm at 25 °C was 145 and 152 mg/g, respectively. The reuse ability of the adsorbents prepared was confirmed with sequential cycles of adsorption-desorption.
View Full-Text
►

▼

Figures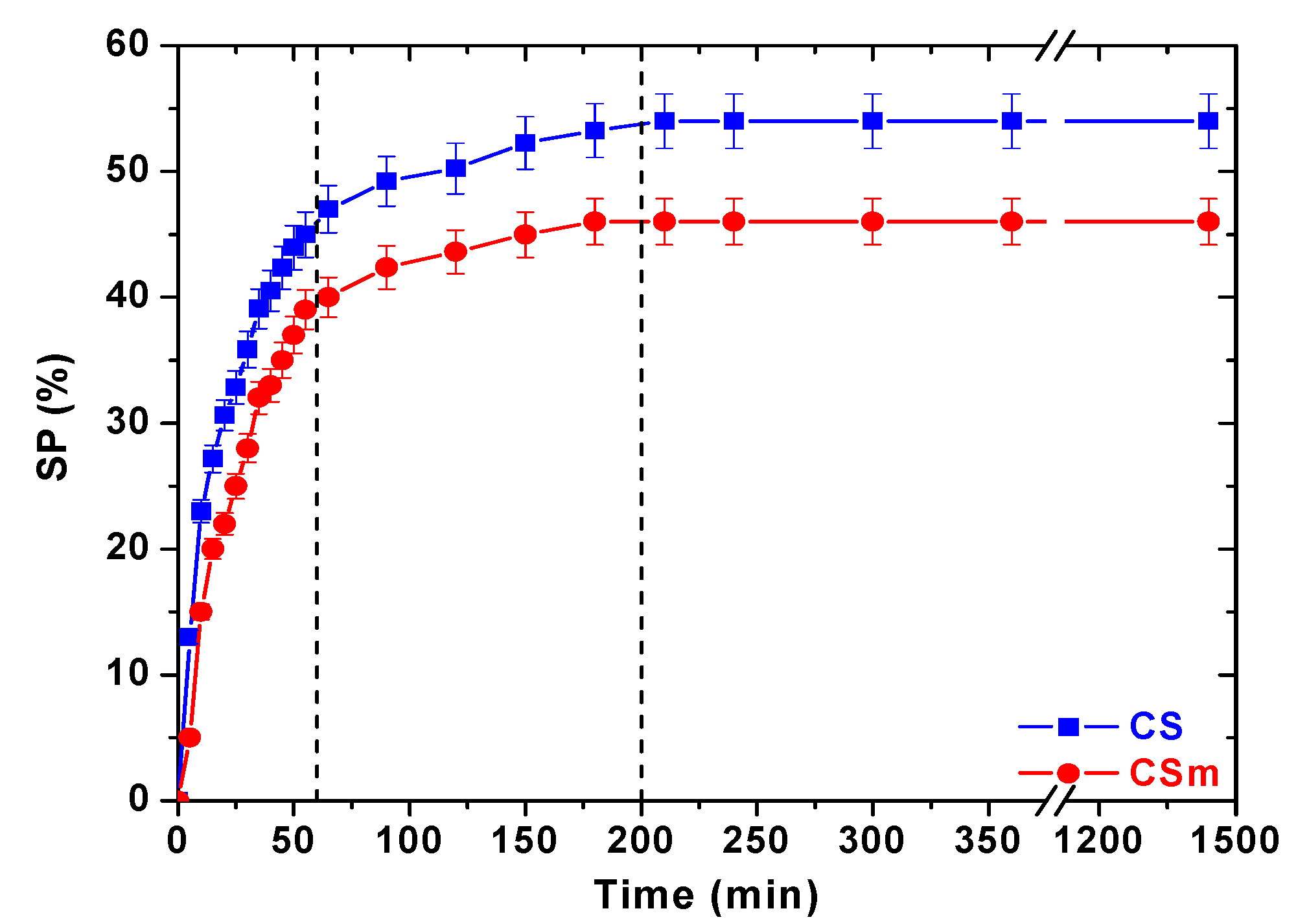 Figure 1
Share & Cite This Article
MDPI and ACS Style
Kyzas, G.Z.; Deliyanni, E.A. Mercury(II) Removal with Modified Magnetic Chitosan Adsorbents. Molecules 2013, 18, 6193-6214.
Related Articles
Comments
[Return to top]