Synthetic Fluororutaecarpine Inhibits Inflammatory Stimuli and Activates Endothelial Transient Receptor Potential Vanilloid-Type 1
1
Graduate Institute of Medical Sciences, College of Medicine, Taipei Medical University, Taipei 11031, Taiwan
2
Institute of Chemical Engineering, College of Engineering, National Taipei University of Technology, Taipei 10608, Taiwan
3
Department of Food and Beverage Management, Taipei College of Maritime Technology, Taipei 11174, Taiwan
4
Department of Internal Medicine, School of Medicine, College of Medicine, Taipei Medical University, Taipei 11031, Taiwan
5
Department of Biochemistry, School of Medicine, College of Medicine, Taipei Medical University, Taipei 11031, Taiwan
6
Institute of Biochemical and Biomedical Engineering, College of Engineering, National Taipei University of Technology, Taipei 10608, Taiwan
†
These authors contributed equally to this work.
*
Authors to whom correspondence should be addressed.
Received: 24 March 2017 / Revised: 14 April 2017 / Accepted: 18 April 2017 / Published: 19 April 2017
Abstract
The natural product, rutaecarpine (RUT), is the main effective component of Evodia rutaecarpa which is a widely used traditional Chinese medicine. It has vasodilation, anticoagulation, and anti-inflammatory activities. However, further therapeutic applications are limited by its cytotoxicity. Thus, a derivative of RUT, 10-fluoro-2-methoxyrutaecarpine (F-RUT), was designed and synthesized that showed no cytotoxicity toward RAW264.7 macrophages at 20 μM. In an anti-inflammation experiment, it inhibited the production of nitric oxide (NO) and tumor necrosis factor (TNF)-α in lipopolysaccharide (LPS)-stimulated RAW264.7 macrophages; cyclooxygenase (COX)-2 and inducible NO synthase (iNOS) induced by LPS were also downregulated. After 24 h of treatment, F-RUT significantly inhibited cell migration and invasion of ovarian A2780 cells. Furthermore, F-RUT promoted expressions of transient receptor potential vanilloid type 1 (TRPV1) and endothelial (e)NOS in human aortic endothelial cells, and predominantly reduced the inflammation in ovalbumin/alum-challenged mice. These results suggest that the novel synthetic F-RUT exerts activities against inflammation and vasodilation, while displaying less toxicity than its lead compound.
View Full-Text
►

▼

Figures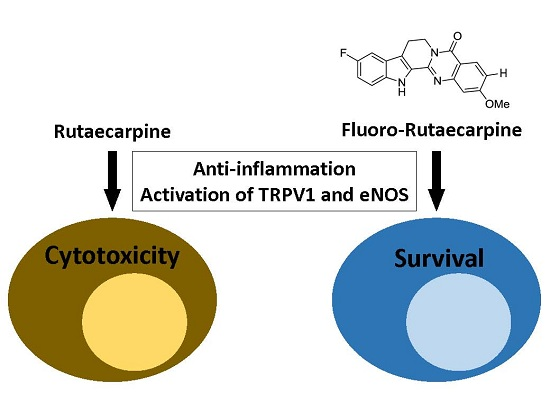 This is an open access article distributed under the
Creative Commons Attribution License
which permits unrestricted use, distribution, and reproduction in any medium, provided the original work is properly cited. (CC BY 4.0).
Share & Cite This Article
MDPI and ACS Style
Lee, C.-M.; Gu, J.-A.; Rau, T.-G.; Wang, C.; Yen, C.-H.; Huang, S.-H.; Lin, F.-Y.; Lin, C.-M.; Huang, S.-T. Synthetic Fluororutaecarpine Inhibits Inflammatory Stimuli and Activates Endothelial Transient Receptor Potential Vanilloid-Type 1. Molecules 2017, 22, 656.
Note that from the first issue of 2016, MDPI journals use article numbers instead of page numbers. See further details here.
Related Articles
Comments
[Return to top]