A Bead-Based Multiplexed Immunoassay to Evaluate Breast Cancer Biomarkers for Early Detection in Pre-Diagnostic Serum
1
Julius Center for Health Sciences and Primary Care, University Medical Center Utrecht, Universiteitsweg 100, 3584 CG Utrecht, The Netherlands
2
Department of Pharmacy and Pharmacology, The Netherlands Cancer Institute and Slotervaart Hospital, Louwesweg 6, 1066 EC Amsterdam, The Netherlands
3
Laboratory for Health Protection Research, National Institute for Public Health and the Environment (RIVM), A. van Leeuwenhoeklaan 9, 3721 MA Bilthoven, The Netherlands
4
Department of Pharmaceutical Sciences, Division of Biomedical Analysis, Section of Drug Toxicology, Faculty of Science, Utrecht University, Sorbonnelaan 16, 3584 CA Utrecht, The Netherlands
5
Department of Epidemiology, Public Health and Primary Care, Faculty of Medicine, Imperial College, Norfolk Place, London W2 1PG, UK
*
Author to whom correspondence should be addressed.
Received: 30 August 2012 / Revised: 20 September 2012 / Accepted: 25 September 2012 / Published: 22 October 2012
Abstract
This study investigates whether a set of ten potential breast cancer serum biomarkers and cancer antigens (osteopontin (OPN), haptoglobin, cancer antigen 15-3 (CA15-3), carcinoembryonic antigen (CEA), cancer antigen 125 (CA-125), prolactin, cancer antigen 19-9 (CA19-9), α-fetoprotein (AFP), leptin and migration inhibitory factor (MIF)) can predict early stage breast cancer in samples collected before clinical diagnosis (phase III samples). We performed a nested case-control study within the Prospect-EPIC (European Prospective Investigation into Cancer and nutrition) cohort. We examined to what extent the biomarker panel could discriminate between 68 women diagnosed with breast cancer up to three years after enrollment and 68 matched healthy controls (all 56-64 years at baseline). Using a quantitative bead-based multiplexed assay, we determined protein concentrations in serum samples collected at enrollment. Principal Component Analysis (PCA) and Random Forest (RF) analysis revealed that on the basis of all ten proteins, early cases could not be separated from controls. When we combined serum protein concentrations and subject characteristics related to breast cancer risk in the RF analysis, this did not result in classification accuracy scores that could correctly classify the samples (sensitivity: 50%, specificity: 50%). Our findings indicate that this panel of selected tumor markers cannot be used for diagnosis of early breast cancer.
View Full-Text
►

▼

Figures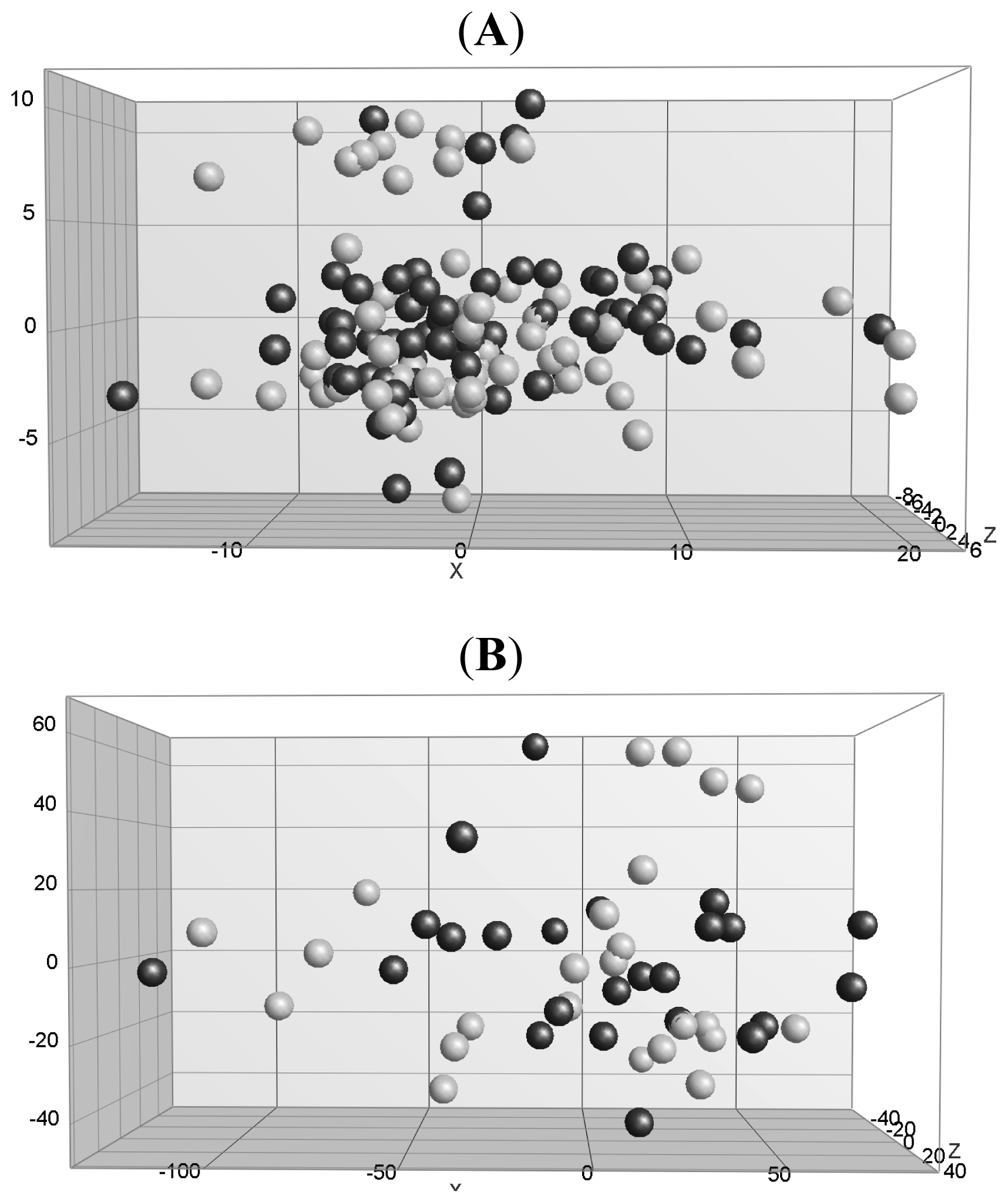 Share & Cite This Article
MDPI and ACS Style
Opstal-van Winden, A.W.J.; Rodenburg, W.; Pennings, J.L.A.; van Oostrom, C.T.M.; Beijnen, J.H.; Peeters, P.H.; van Gils, C.H.; de Vries, A. A Bead-Based Multiplexed Immunoassay to Evaluate Breast Cancer Biomarkers for Early Detection in Pre-Diagnostic Serum. Int. J. Mol. Sci. 2012, 13, 13587-13604.
Related Articles
Comments
[Return to top]