Profiling the Proteome of Exhaled Breath Condensate in Healthy Smokers and COPD Patients by LC-MS/MS
1
Department of Biology and Biotechnology, University of Pavia, Via Taramelli 3/B, 27100 Pavia, Italy
2
Lab Analysis Inc., Casanova Lonati, 27041 Pavia, Italy
3
Department of Molecular Medicine, Division of Pneumology, University of Pavia & IRCCS Policlinico San Matteo, Via Taramelli 5, 27100 Pavia, Italy
4
Department of Pulmonology, Leiden University Medical Center, 2333 Leiden, The Netherlands
5
Department of Molecular Medicine, Division of Biochemistry, University of Pavia, Via Taramelli 3/B, 27100, Pavia, Italy
6
Centro Grandi Strumenti, University of Pavia, Via Bassi 6, 27100 Pavia, Italy
7
Biometric Unit, IRCCS San Matteo Hospital Foundation, 27100 Pavia, Italy
*
Author to whom correspondence should be addressed.
Received: 29 August 2012 / Revised: 16 October 2012 / Accepted: 18 October 2012 / Published: 29 October 2012
Abstract
Three pools of exhaled breath condensate (EBC) from non-smokers plus healthy smokers (NS + HS,
n
= 45); chronic obstructive pulmonary disease (COPD) without emphysema (COPD,
n
= 15) and subjects with pulmonary emphysema associated with α
1
-antitrypsin deficiency (AATD,
n
= 23) were used for an exploratory proteomic study aimed at generating fingerprints of these groups that can be used in future pathophysiological and perhaps even clinical research. Liquid chromatography-tandem mass spectrometry (LC-MS/MS) was the platform applied for this hypothesis-free investigation. Analysis of pooled specimens resulted in the production of a "fingerprint" made of 44 proteins for NS/HS; 17 for COPD and 15 for the group of AATD subjects. Several inflammatory cytokines (IL-1α, IL-1β, IL-2; IL-12, α and β subunits, IL-15, interferon α and γ, tumor necrosis factor α); Type I and II cytokeratins; two SP-A isoforms; Calgranulin A and B and α1-antitrypsin were detected and validated through the use of surface enhanced laser-desorption ionization mass spectrometry (SELDI-MS) and/or by Western blot (WB) analysis. These results are the prelude of quantitative studies aimed at identifying which of these proteins hold promise as identifiers of differences that could distinguish healthy subjects from patients.
View Full-Text
►

▼

Figures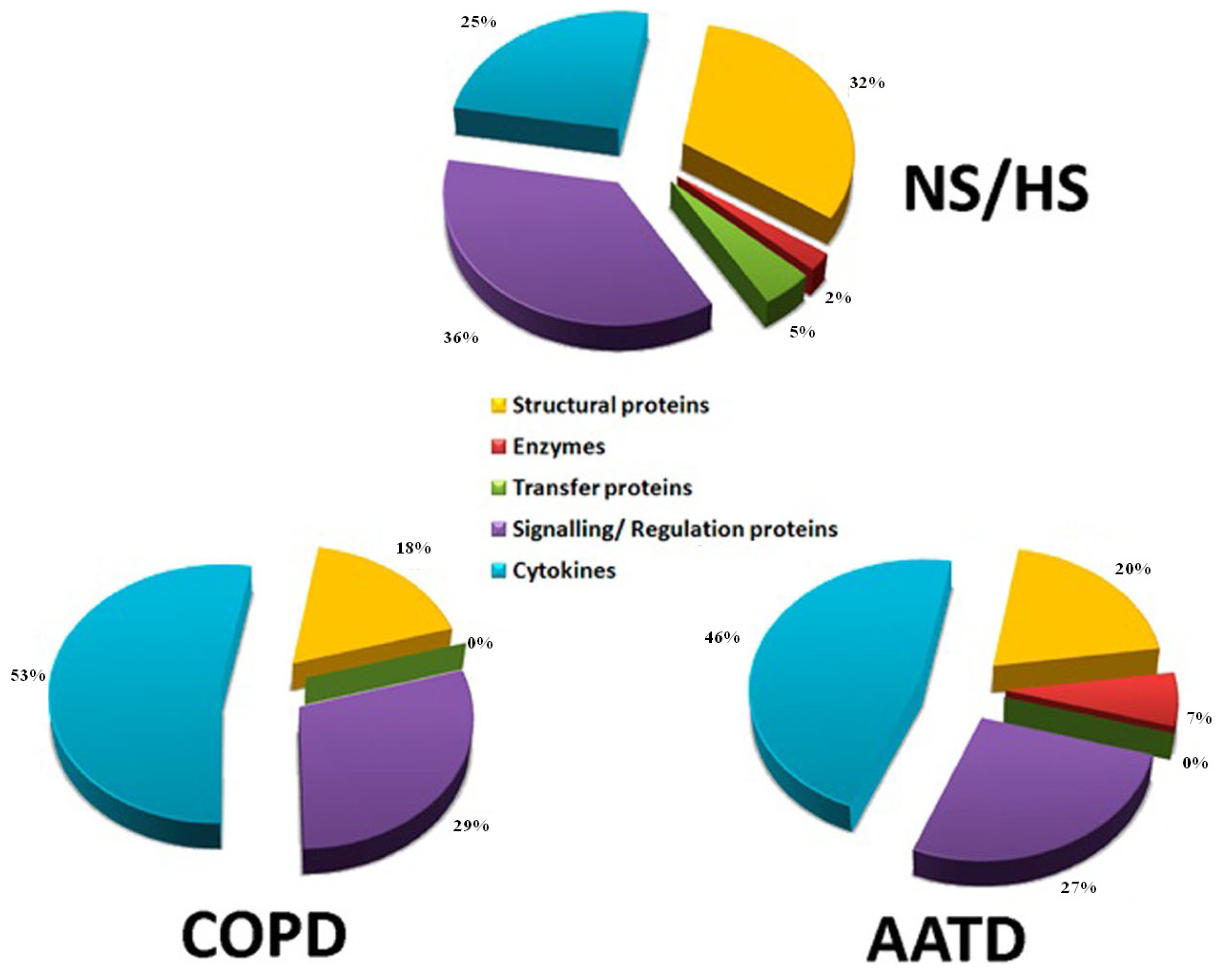 Share & Cite This Article
MDPI and ACS Style
Fumagalli, M.; Ferrari, F.; Luisetti, M.; Stolk, J.; Hiemstra, P.S.; Capuano, D.; Viglio, S.; Fregonese, L.; Cerveri, I.; Corana, F.; Tinelli, C.; Iadarola, P. Profiling the Proteome of Exhaled Breath Condensate in Healthy Smokers and COPD Patients by LC-MS/MS. Int. J. Mol. Sci. 2012, 13, 13894-13910.
Related Articles
Comments
[Return to top]