Genome-Wide Analysis of DNA Methylation and Expression of MicroRNAs in Breast Cancer Cells
1
Laboratory of Genome Science, Biosignal Genome Resource Center, Institute for Molecular and Cellular Regulation, Gunma University, Gunma 371-8512, Japan
2
Division of Molecular and Cellular Medicine, National Cancer Center Research Institute, 5-1-1, Tsukiji, Chuo-ku, Tokyo 104-0045, Japan
3
Department of Integrative Genomics, Medical Megabank Organization, Tohoku University, 6-3-09, aza Aoba, Aramaki, Aobaku, Sendai 980-8579, Japan
4
Center for Genetic Resource Information, National Institute of Genetics, Shizuoka 411-8540, Japan
5
Human Genome Center, Institute of Medical Science, University of Tokyo, 4-6-1 Shirokanedai, Minato-ku, Tokyo 108-8639, Japan
6
Laboratory of Epigenetics, Institute for Protein Research, Osaka University, 3-2 Yamadaoka, Suita, Osaka 565-0871, Japan
7
DNA Chip Research Inc., 1-1-43 Suehirocho, Tsurumi-ku, Yokohama, Kanagawa 230-0045, Japan
*
Author to whom correspondence should be addressed.
Received: 30 May 2012 / Revised: 19 June 2012 / Accepted: 27 June 2012 / Published: 3 July 2012
Abstract
DNA methylation of promoters is linked to transcriptional silencing of protein-coding genes, and its alteration plays important roles in cancer formation. For example, hypermethylation of tumor suppressor genes has been seen in some cancers. Alteration of methylation in the promoters of microRNAs (miRNAs) has also been linked to transcriptional changes in cancers; however, no systematic studies of methylation and transcription of miRNAs have been reported. In the present study, to clarify the relation between DNA methylation and transcription of miRNAs, next-generation sequencing and microarrays were used to analyze the methylation and expression of miRNAs, protein-coding genes, other non-coding RNAs (ncRNAs), and pseudogenes in the human breast cancer cell lines MCF7 and the adriamycin (ADR) resistant cell line MCF7/ADR. DNA methylation in the proximal promoter of miRNAs is tightly linked to transcriptional silencing, as it is with protein-coding genes. In protein-coding genes, highly expressed genes have CpG-rich proximal promoters whereas weakly expressed genes do not. This is only rarely observed in other gene categories, including miRNAs. The present study highlights the epigenetic similarities and differences between miRNA and protein-coding genes.
View Full-Text
►

▼

Figures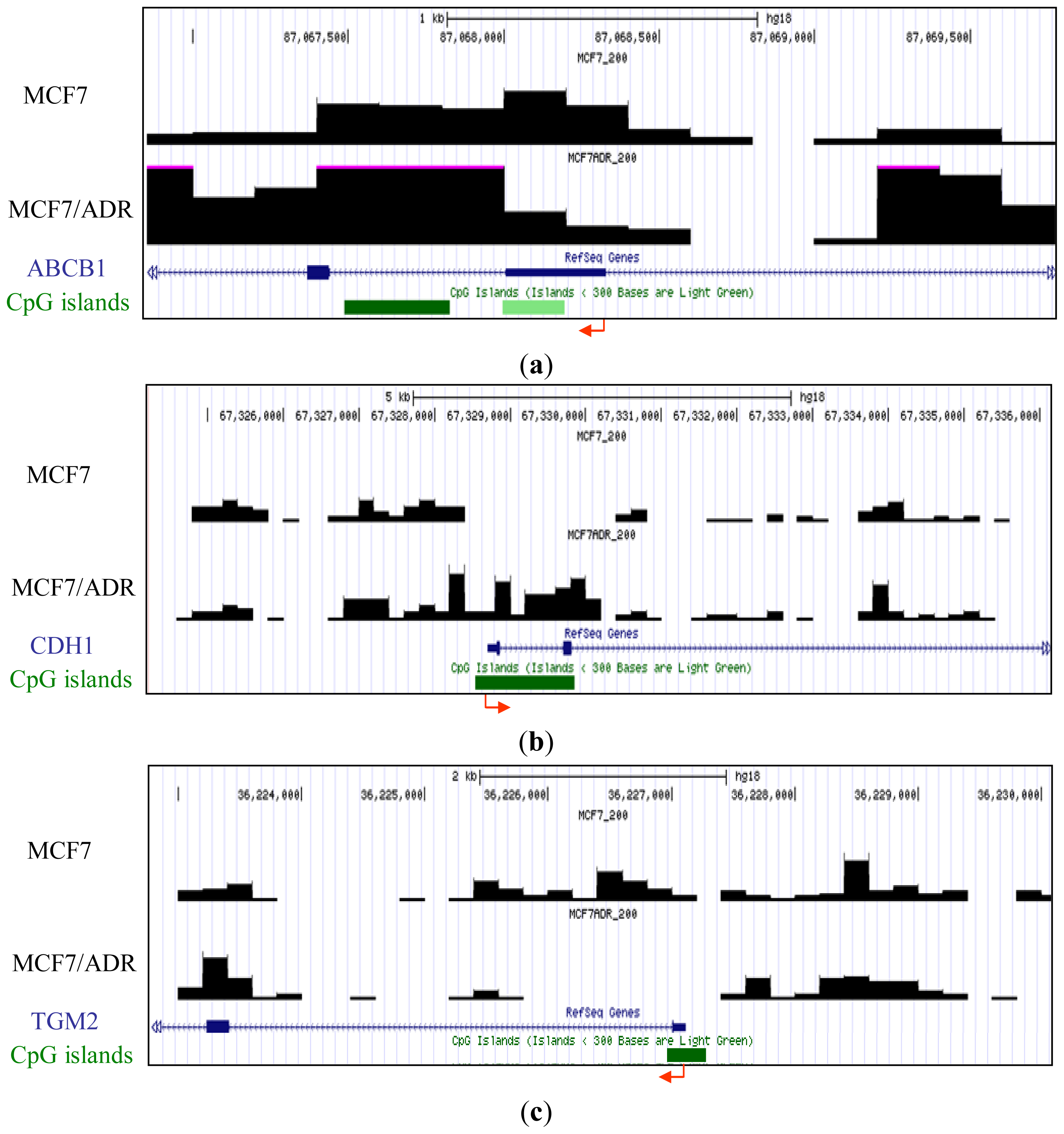 Share & Cite This Article
MDPI and ACS Style
Morita, S.; Takahashi, R.-U.; Yamashita, R.; Toyoda, A.; Horii, T.; Kimura, M.; Fujiyama, A.; Nakai, K.; Tajima, S.; Matoba, R.; Ochiya, T.; Hatada, I. Genome-Wide Analysis of DNA Methylation and Expression of MicroRNAs in Breast Cancer Cells. Int. J. Mol. Sci. 2012, 13, 8259-8272.
Related Articles
Comments
[Return to top]