BTG1 Expression Correlates with the Pathogenesis and Progression of Ovarian Carcinomas
1
Department of Gynecology, the First Affiliated Hospital of China Medical University, Shenyang 110001, China
2
Department of Biochemistry and Molecular Biology, Institute of Pathology and Pathophysiology, College of Basic Medicine, China Medical University, Shenyang 110001, China
3
Clinical Cancer Institute, Kanagawa Cancer Center, Yokohama 241-0815, Japan
*
Author to whom correspondence should be addressed.
Received: 13 May 2013 / Revised: 5 September 2013 / Accepted: 6 September 2013 / Published: 27 September 2013
Abstract
BTG
(B-cell translocation gene) can inhibit cell proliferation, metastasis, and angiogenesis and regulate cell cycle progression and differentiation in a variety of cell types. We aimed to clarify the role of
BTG1 in ovarian carcinogenesis and progression. A BTG1
-expressing plasmid was transfected into ovarian carcinoma cells and their phenotypes and related proteins were examined.
BTG1
mRNA expression was detected in ovarian normal tissue (
n
= 17), ovarian benign tumors (
n
= 12), and ovarian carcinoma (
n
= 64) using real-time RT-PCR. Ectopic
BTG1
expression resulted in lower growth rate, high cisplatin sensitivity, G
1
arrest, apoptosis, and decreased migration and invasion. Phosphoinositide 3-kinase, protein kinase B, Bcl-xL, survivin, vascular endothelial growth factor, and matrix metalloproteinase-2 mRNA and protein expression was reduced in transfectants as compared to control cells. There was higher expression of
BTG1
mRNA in normal tissue than in carcinoma tissue (
p
= 0.001) and in benign tumors than in carcinoma tissue (
p
= 0.027).
BTG1
mRNA expression in International Federation of Gynecology and Obstetrics (FIGO) stage I/II ovarian carcinomas was higher than that in FIGO stage III/IV ovarian carcinomas (
p
= 0.038). Altered
BTG1
expression might play a role in the pathogenesis and progression of ovarian carcinoma by modulating proliferation, migration, invasion, the cell cycle, and apoptosis.
View Full-Text
►

▼

Figures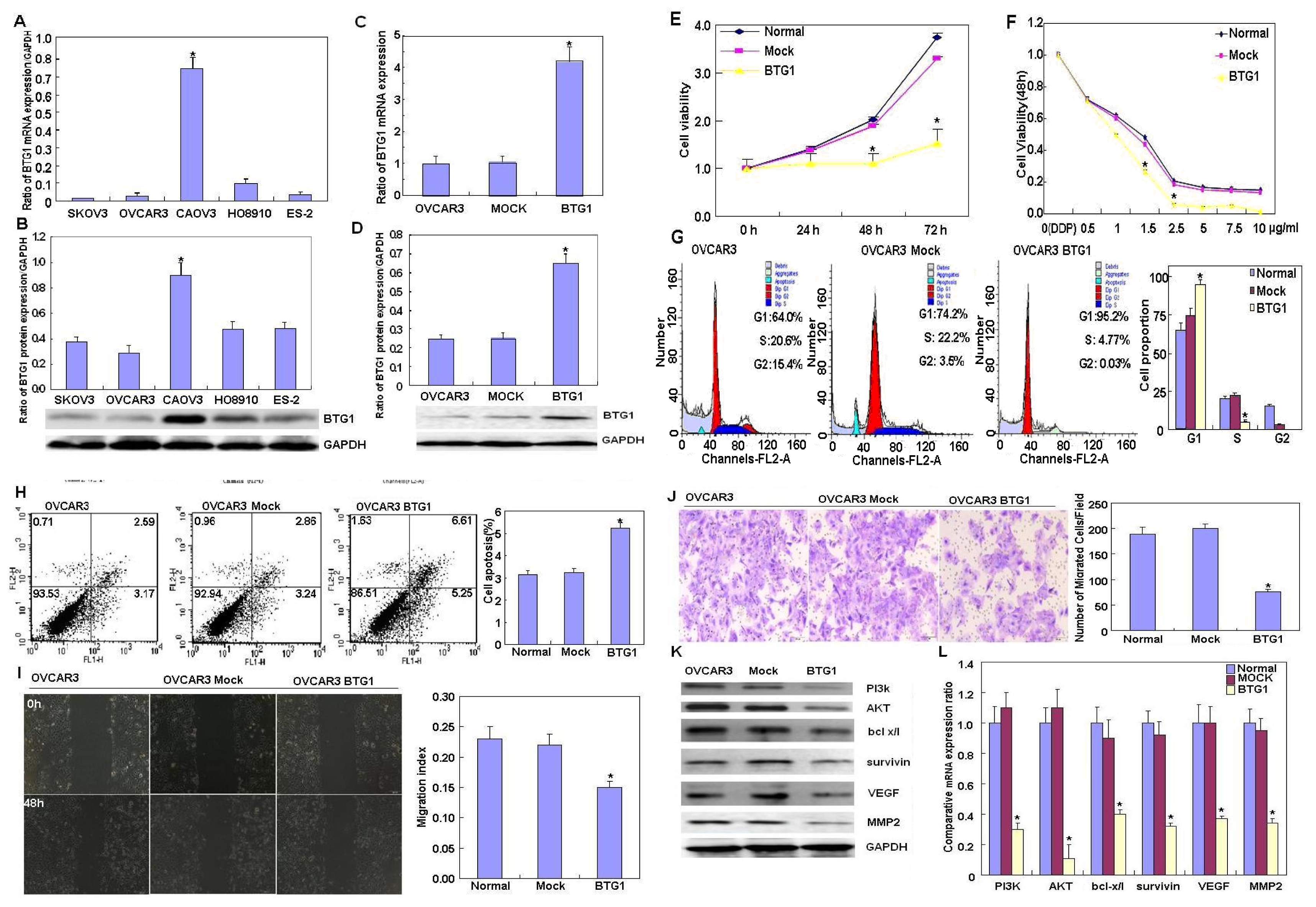 Share & Cite This Article
MDPI and ACS Style
Zhao, Y.; Gou, W.-F.; Chen, S.; Takano, Y.; Xiu, Y.-L.; Zheng, H.-C. BTG1 Expression Correlates with the Pathogenesis and Progression of Ovarian Carcinomas. Int. J. Mol. Sci. 2013, 14, 19670-19680.
Related Articles
Comments
[Return to top]